WINTER KALE SUPER SALAD – a gorgeous salad is perfect for the holidays. Full of nutrients, amazing flavor & makes enough to feed a crowd.
This WINTER KALE SUPER SALAD brings a balance to my holiday diet. Because I am the first to admit I love the holidays because of all the sugar. From pies, candies, cookies and cakes I am one happy camper. And while I could literally eat sweets several times a day (and I do), I love to have a balance. Literally my body starts to crave it. And honestly, I feel better as well.
But just because you are making a salad, doesn't mean it has to be a bore. It can be delicious and gorgeous simultaneously. No sense to make guest shutter at the thought of kale and Brussels sprouts. You can throw together a bowl full of nutritious food and have it look and taste divine.
This Winter Kale Super Salad is my new favorite. I made this large batch for a family Christmas party. I added goat cheese to add some white for a more Christmas effect. But it is a even better without it (to me) but my hubby loves it better without it.
I actually prefer to make this a few hours before hand because I love all of the veggies "marinating" in the dressing.
NOTE this dressing isn't your typical dressing – it is thick not runny. But once you toss all the ingredients together you'll taste it trust me. This salad will become one of your favorites too this holiday season. XOXO San
My favorite kitchen items I used to make this WINTER KALE SUPER SALAD.
KNIVES: A good set of kitchen knives is essential for preparing any meal. I just recently invested in some Cutco knives and I have not regretted it one bit. These are hands down my favorite knives I have owned.
CUTTING BOARD: For me this is a kitchen must-have and kitchen counter saver. While we have counter tops you can cut on, I find that this extra step will preserve my counter. I also find that using a cut board makes for less clean up afterwards. I love this cutting board because it has a groove all the way around the board prevent juices from running all of the counter.
MIXING BOWLS: I love having a variety of sizes of mixing bowls. From small to large, I find that having at least 3 bowls of different sizes has been an essential in my kitchen. I prefer Pyrex because of the durability.
SALAD BOWL: I love having a beautiful salad bowl to serve my salads in. It makes a real center piece for the table and ties it all together, I love wood ones – this is one of my favorites.
Don't forget to pin this to your favorite Pinterest board for later.
WINTER KALE SUPER SALAD - a gorgeous salad is perfect for the holidays. Full of nutrients, amazing flavor & makes enough to feed a crowd.
Ingredients
Dressing

5 shallots
1 1/2 cups chopped dried cranberries
1 whole lemon, juice and zested
1 tablespoon honey
3 tablespoons olive oil
4 tablespoons red wine vinegar
1/2 teaspoon salt
1/4 teaspoon pepper
12 cups kale, chopped
24 Bussels sprouts, thinly sliced/shredded
1 1/2 cups bacon bites, I used fresh bacon, cook and roughly chopped
3 small heads of broccoli, finely chopped
1 pomegranate, you will want just to use all of the seeds inside
1 cup pistachios
3 apples, I used Honeycrisp, chopped
Optional
8 ounces crumbled goat cheese
Directions
Over medium high heat, add 2 tablespoons of olive oil in a large saute pan. Add finely sliced shallots and cook for at least 5 minutes or until tender. Add garlic and saute for 2-3 minute. Then add chopped cranberries, red wine vinegar, honey, remaining tablespoon of olive oil and lemon juice and zest, and stir to combine. Season with salt and pepper. Remove from heat, set aside until you are ready to combine salad.
In a large salad bowl add kale, Brussels sprouts, broccoli, pomegranate seeds, apples, pistachios and bacon. Toss to combine. Add dressing and goat cheese if desired and toss to combine.
Serve immediately or set in the refrigerator until ready to serve. This Winter Kale Super Salad can be make 2-3 hours in advance, I love the dressing "marinating" the kale and everything else.
Notes
https://www.dashofsanity.com/winter-kale-super-salad/
This post may contain affiliate links. See my Full Disclosure for further details.
Love this salad? Be sure to check out a few more.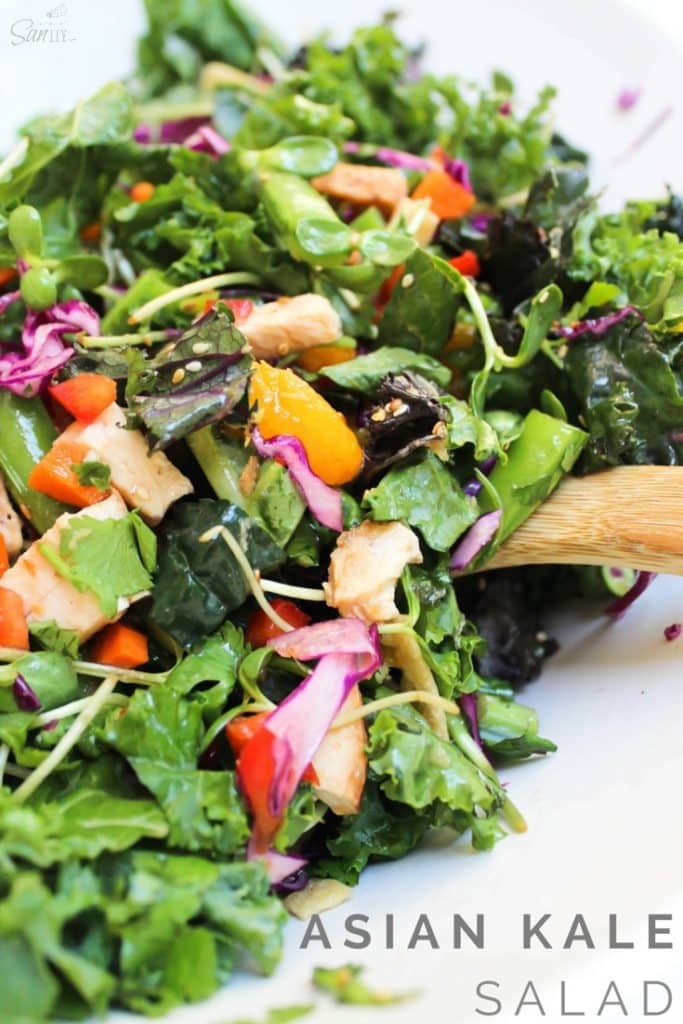 Save