This shop has been compensated by Collective Bias, Inc. and its advertiser. All opinions are mine alone.
#CollectiveBias #shop #AddCoolWhip 
This recipe is inspired by my favorite ice cream flavor. And yes, like most of you, I am seriously addicted to all ice cream. I decided to make a rendition of it in the form of a no-bake cheesecake, and this yummy recipe turned out amazing!
I already had many of the ingredients on hand, making this a fuss-free dessert.
I'm never without Cool Whip in my freezer or Jell-O instant puddings in my cupboard.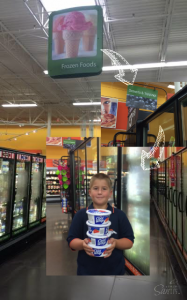 Especially when I can easily find them at my local Walmart, and even better yet when I have a $1 off coupon! BONUS!
Click  for coupon.
I love incorporating Cool Whip and Jell-O instant pudding into many of my recipes.
For instance, I love that Cool Whip adds a touch of panache to a dessert and Jell-O instant puddings bring unique flavors and the perfect moistness to my pastries and cakes.
Sometimes I use both of them, like I did today, making this recipe easier to prepare and delicious to devour!
This White Chocolate Raspberry Truffle No Bake Cheesecake can be made in 30 minutes. The truffle chunks and raspberry preserve laced throughout this rich and creamy white chocolate cheesecake will win the hearts of all those around you.
From our dessert addicted family to yours, enjoy!
XOXO San
White Chocolate Raspberry Truffle No Bake Cheesecake
A rich and creamy white chocolate cheesecake cake, laced with raspberry preserves and truffle chunks, an easy dessert to prepare in less than 30 minutes, and so delicious that it you'll want to make it again, and again, and again.
Ingredients
Chocolate Crust

1 ½ cups Oreo crumbs, I used 2 row of Oreos, removed the cream in the center
6 tablespoons butter, melt

Easy Truffle

1/3 cup semi-sweet chocolate chips
1/3 cup sweetened condensed milk
- OR to make this easy, substitute the truffle for 1 cup mini semi-sweet chocolate chips

White Chocolate Raspberry Truffle Cheesecake

4 – 8 ounce cream cheese
½ cup white granulated sugar
1 container Cool Whip
½ cup white chocolate chips, melted
2 boxes Jell-O White Chocolate Instant Pudding
½ cup raspberry preserves
¼ cup butter, softened
2 pints fresh raspberries
¼ cup chocolate candy melts, melted
Directions
Chocolate Crust
In a food processor add Oreos and grind until they resemble coarse crumbs. Pour 1 ½ cups of crumbs into medium mixing bowl, add melted butter and mix together until it starts to stick together. Press into the bottom of cheesecake or 9x13 pan. Set in the fridge until ready to use.
Truffles
Combine sweetened condensed milk and chocolate chips in a double boiler over medium heat, stir together until melted. Spread out in to a ¼ layer on a plate, stick in the fridge and let it harden. 45 minutes -1 hour. Break into small chunks, or small pea sized pieces. Set aside.
Cheesecake
In a small mixing bowl or glass measuring cup, melt white chocolate in microwave for 1 minute, stir until completely melted, you may need to stick it back in the microwave for another 30 seconds. Set aside.
In a medium mixing bowl or your KitchenAid mixer beat together cream cheese, butter, both instant pudding boxes and sugar. Until well combined and creamy, then mix in the Cool Whip. Gradually add in the the cooled in melted white chocolate and chocolate chips or truffles chunks. Until well combined. Add ½ of the cream cheese mixture on top of the crust and spread evenly. Then drizzle, ¼ cup of raspberry preserves over the cheesecake. I do this by sticking the preserves in a small sandwich Ziplock, cut off the tip, then draw lines using ½ of the preserves. Add the other ½ of the cheesecake on top of the raspberry preserves. Using the remainder of the raspberry preserves, drizzle over cheesecake. Top with 2 pints of fresh raspberries, drizzle with chocolate and set in fridge 1-2 hours until set. I did this for 1 hour, and it was set but ideally 2 hours is best.
Notes
Total time includes time to refrigerate cheesecake.
https://www.dashofsanity.com/white-chocolate-raspberry-truffle-bake-cheesecake/
Kids Review – Amazing! I even had my sister, Tami, tell me that it tasted like the one from the Cheesecake Factory! Huge compliment!
Save