Turtle Cheesecake Fudge Brownies: rich fudge brownies with a caramel cheesecake swirl, topped with chopped pecans. #Spreadcheer with this decadent treat; just stand there and wait for the smiles to come right after first bite.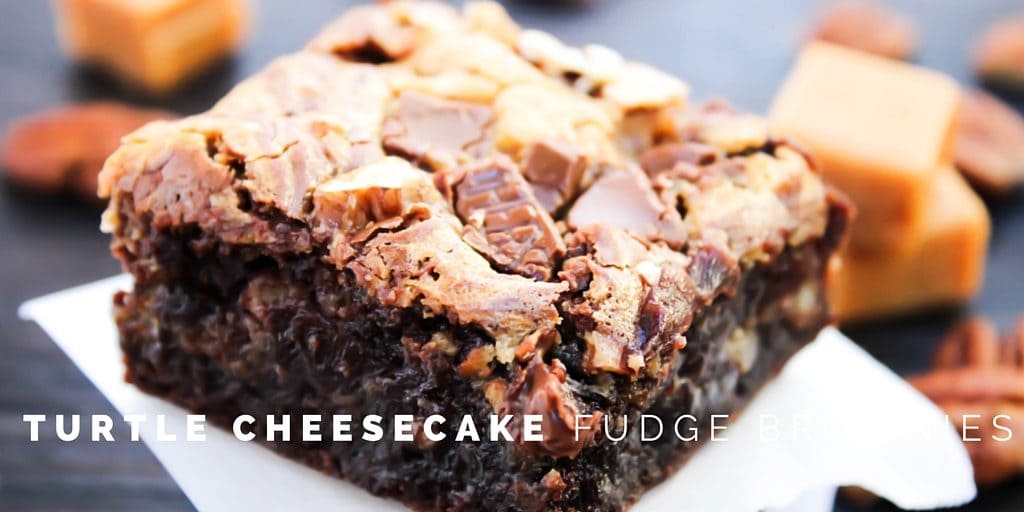 I love this time of year. A time of giving. A time of cheer. A time for baking.
Yesterday, while I was making a batch of these Turtle Cheesecake Fudge Brownies, my son Aiden called me from school and asked if we could bake that night so he could bring in some treats for the front office ladies. I told him I had just made some brownies and could bring them when I pick him up from school. He was so excited. When I got to school, he ran out to the car, grabbed the treats and skipped back into the school. If you are a mom of a pre-teen boy, you know that if they are skipping, it must be a big deal as they are way too cool to do that anymore. He came back out with the biggest smile. I asked who he gave them too. He said the front office lady who is literally the sweetest person. Then the other two bags went to the media center ladies who are so nice even though sometimes the kids are rude to them, so he thought a treat would help make them feel appreciated. I am thinking he is right. Treats, cards, a Merry Christmas, or even just a simple thank you or thinking of you line every now and then can make anyone feel some love. Aiden truly understands what it means to #spreadcheer.
This holiday season, bake up some treats and #spreadcheer with your family.
Betty Crocker™ and Hershey's® have made it easy for you to make some amazing holiday delights. Create some never before seen/new recipes that you can find from Safeway.com with your family or friends. Simple treats made by you that are sure to taste amazing.
While I was picking up my ingredients at Safeway, I decided to grab a Starbucks for my son and I – we love getting hot chocolate together. The Safeway worker was literally the nicest person I have met. Kind, generous, asked about my day, asked my son his name, told us she was happy that we came into Safeway today. I haven't had someone engage me like that in the grocery store in a while. She genuinely was happy I was there. This lady knew how to #spreadcheer.


Whether you want to make these Turtle Cheesecake Fudge Brownies, Classic Peanut Butter Blossoms, Chocolate Snowballs, or Candy Kissed Snowman Cookies – Safeway, Betty Crocker™ and Hershey's® have made it easy for you. So start today and whip up a batch of these Turtle Cheesecake Fudge Brownies and #spreadcheer.
XOXO San
Turtle Cheesecake Fudge Brownies
Ingredients
Filling

6 ounces cream cheese, softened
1 egg
1/2 cup caramel sauce
1/3 cup sugar

Brownies

2 boxes Betty Crocker™ Original Supreme Premium brownie mixes

Prepare according to box directions and ingredients.

½ cup coarsely chopped pecans

Topping

1 Hershey's Milk Chocolate candy bar, coarsely chopped
2 tablespoons coarsely chopped pecans
2 tablespoons caramel sauce
Directions
Heat oven to 350°F (325°F for dark or nonstick pan). Grease bottom only of 9x13-inch pan with cooking spray. In small mixing bowl, beat filling ingredients with electric mixer on low speed until smooth. Set aside.
Make brownie batter according to package directions.
Spread the brownie batter in prepared pan. Spoon filling by tablespoonful's over batter; carefully swirl the cream cheese filling into the brownie batter, making sure not to over mix.
Top batter with chopped Hershey's bar. Drizzle with 2 tablespoons of caramel and add pecans on the caramel, then give the batter one more swirl.
Place in oven and bake 52-57 minutes or until toothpick inserted 1 inch from side of pan comes out almost clean. Cool about 1 hour (brownies will still be warm). Cut into 6 by 4 rows. Store covered in refrigerator.
Notes
https://www.dashofsanity.com/turtle-cheesecake-fudge-brownies/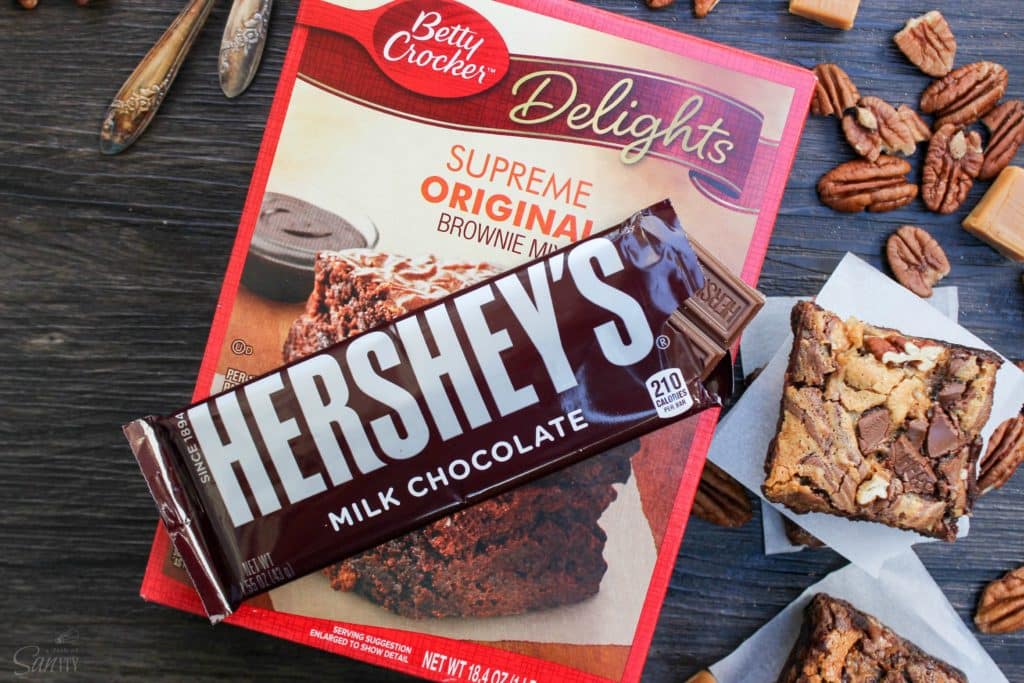 Don't forget to pin this to your favorite Pinterest board!
This is a sponsored conversation written by me on behalf of Betty Crocker™ and Hershey's® . The opinions and text are all mine.
Save