Sweet & Tangy Barbecue Meatballs are ready to devour in just 30-minutes. Made with orange marmalade, whole cranberry sauce and barbecue sauce and they are great to serve as a holiday appetizer and perfect as  meal.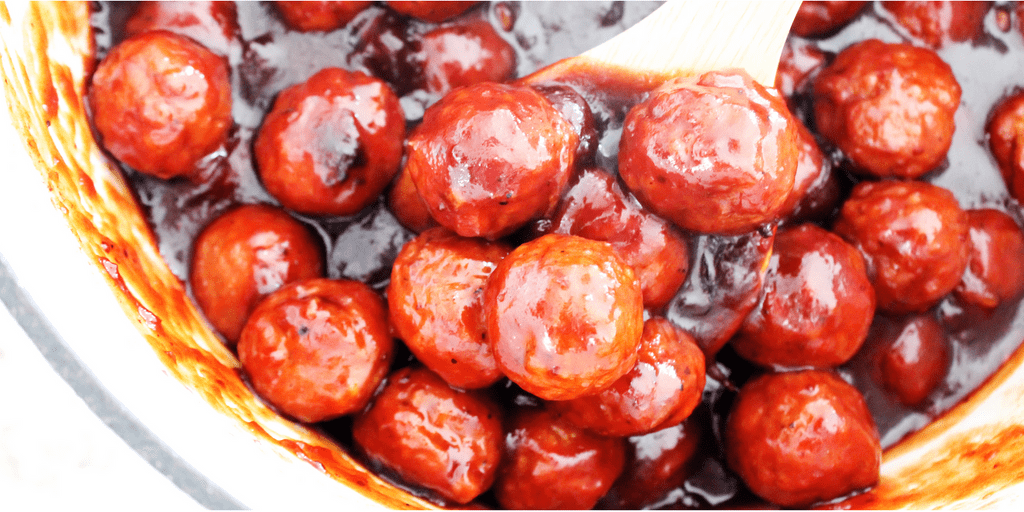 My family loves meatballs, especially my homemade ones. They also love barbecue sauce over anything and  orange chicken. This combination inspired today's recipe of Sweet & Tangy Barbecue Meatballs. Not only do they make and easy delicious dinner for the family, best served over rice with some steamed vegetables, our favorite edamame. But they also make a stunning holiday appetizer.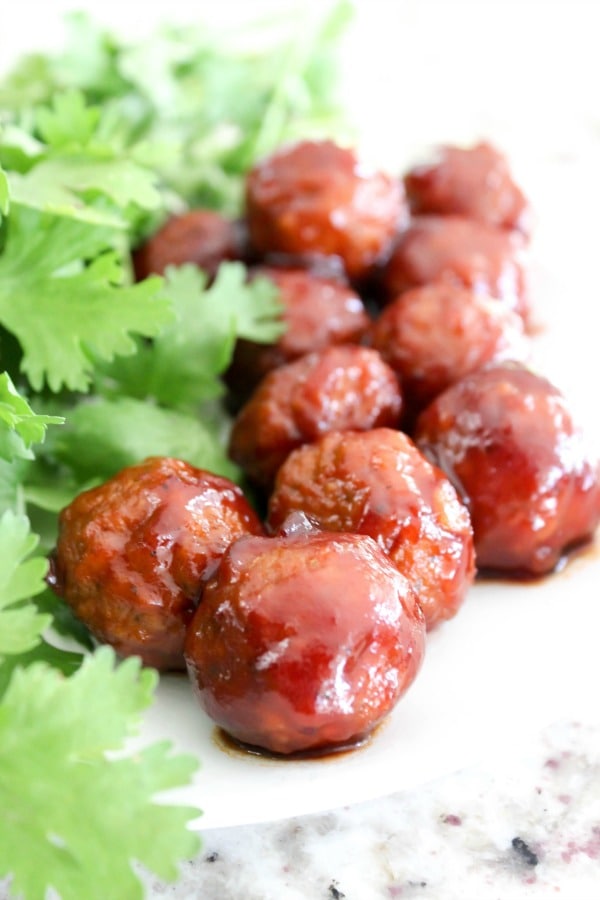 Yesterday I published the 50 of the Best Holiday Appetizers, well I need to change that to 51! And these rank in our top 10 for sure. These Sweet & Tangy Barbecue Meatballs are so easy to throw together. With only 4 ingredients and 25 minutes baking time, you are 30 minutes away from meatball heaven.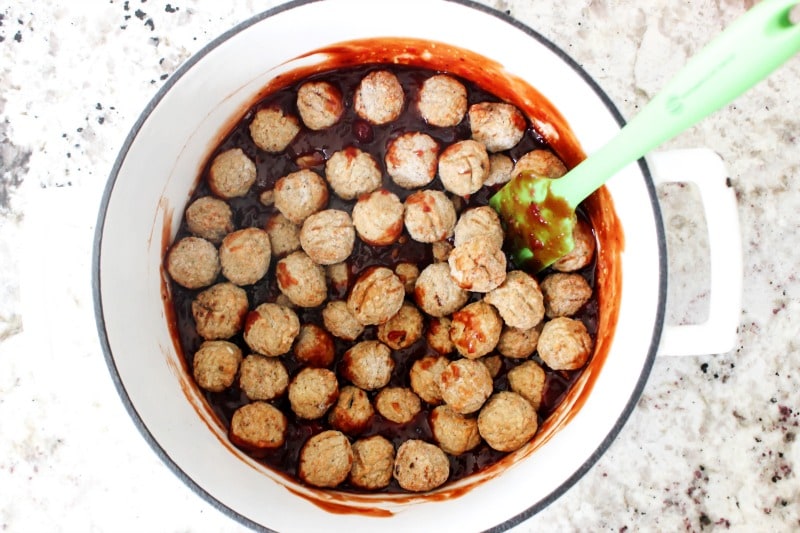 Every holiday season it is pretty much a guarantee that at every party there are meatballs and mini-hot dogs, right? I always feel that the meatballs are lacking and just need a little more pzazz. And the addition of the orange marmalade in this recipe does exactly that. I love the hint of sweetness.
What is also fun about this recipe is that you can use spicy barbecue sauce to give this a touch of heat. I would totally advise doing this, but for this batch (photographed) I didn't because I knew that our family would be eating it for dinner that night. And I didn't want any complaints.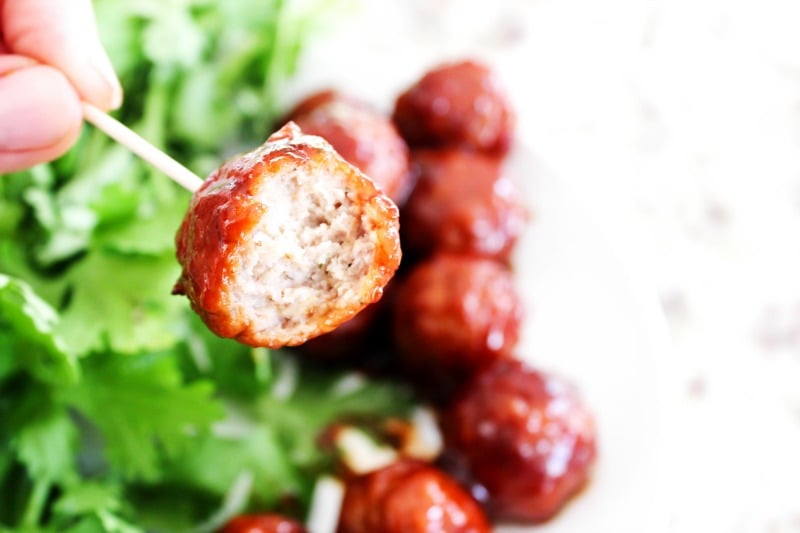 If you wanted to make this a slow cooker meal, making it easy to transport and keep warm just toss all of the ingredients into a slow cooker, stir to combine and the cook on low for a few hours. Your guest will love this either way and these little meatballs are dressed to impress. I mean just take a look at that sauce, yum! I love to use the extra sauce to drizzle over my rice and if serving as an appetizer just leave the meatballs in the sauce so they don't dry out.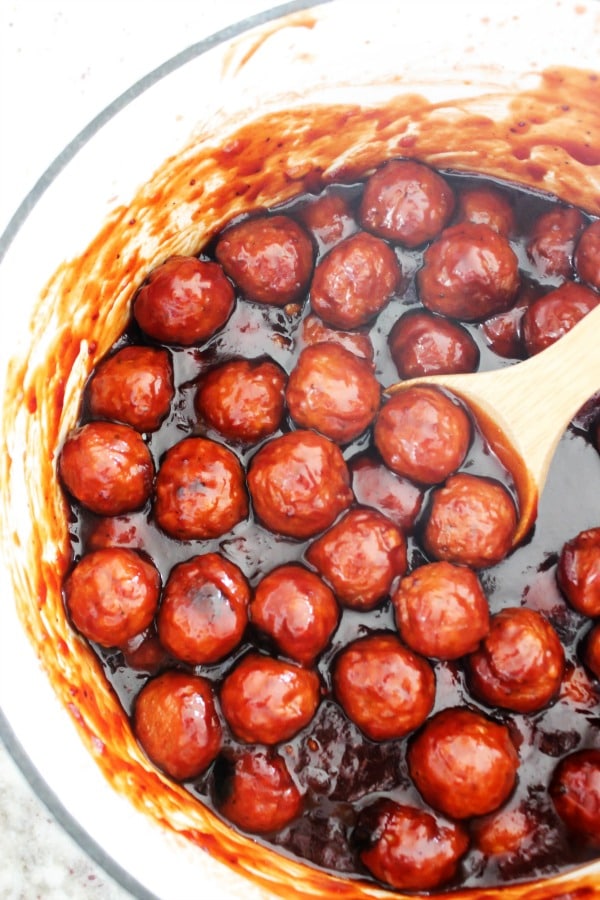 While I am not the biggest meatball fan, unless they are homemade I couldn't stop eating this at 2pm in the afternoon, spoiling my dinner not because I over ate but because I already ate my portion…and I know there will not be any leftovers. So whether you are looking for an easy dinner or a gorgeous holiday appetizer, these Sweet & Tangy Barbecue Meatballs will become a crowd favorite. Enjoy friends! XOXO San
Spicy Cranberry Orange Meatballs
Ingredients
1 1/2 cups barbecue sauce
1/2 orange marmalade
14 ounce can whole berry cranberry sauce
32 ounce package frozen meatballs, 64 count (1/2 ounce size)
Directions
In a large cooking pot add the barbecue sauce, orange marmalade and whole cranberry sauce, stir to combine. Cook over medium heat until mixture comes to a slow boil.
Add meatballs and stir to coat. Reduce heat to medium-low and cover pot. Cook for 15 minutes.
Keeping the meatballs over the heat, remove the lid and stir sauce and meatballs. Cook for another 10 minutes to allow sauce to thicken over the meatballs.
Remove from heat and serve.
I love to serve these as an appetizer, but if serving as a meal serve with rice and cilantro as a garnish.
Notes
https://www.dashofsanity.com/sweet-tangy-barbecue-meatballs/
Pin this recipe to your favorite Pinterest board for later.

Save