Colorful medley of flavors this Southwestern Quinoa Salad is a delightful combination of fresh vegetables, black beans, and quinoa; dressed in a cumin vinaigrette. Grab a fork and dig in, quinoa has never tasted so good.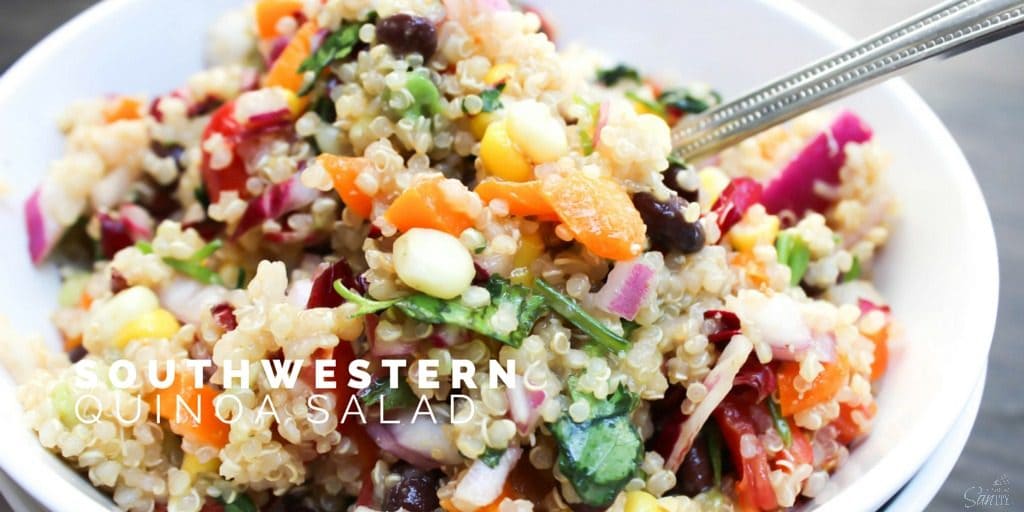 If I were to give our summer a foodie theme, it would be the "Summer of Quinoa and Kale". Literally I am addicted. And I will be honest, I surprise myself in saying that. I was never a big quinoa fan, then I had it served cold in a salad and I was sold. I love this grain dressed with a light vinaigrette and fresh vegetables.
Last week I shared my favorite way to eat quinoa in my Italian Quinoa Salad, but then I made this Southwestern Quinoa Salad. And well, I think we have a tie.
This salad was inspired by my favorite Southwestern Chicken Salad that my mother-in-law makes. It is literally the best salad ever! She makes it on special occasions for me, like birthdays. The best part of the salad is the Cumin Vinaigrette. It is so light and refreshing but it has that hint of cumin. I am drooling just thinking about it.
When I say grab a fork and dig in, it is just because I don't want you to forget the fork. You may just find yourself loving this salad that you will want to skip the fork and just inhale. I may or may not have done that myself. (Wink.)
Enjoy!
XOXO San
Southwestern Quinoa Salad
Ingredients
1 ½ cups cooked quinoa
1 cup black beans, drained and rinses
1 yellow bell pepper, diced
1 cup radicchio, chopped
1 cup quartered cherry tomatoes
1 small purple onion, diced
1 ¼ cups fresh cilantro, coarsely chopped
1 ½ cup frozen corn, prepared
2 avocados

Cumin Vinaigrette

½ cup red wine vinegar
¼ cup honey
4 tablespoons canola or vegetable oil
4 teaspoons cumin
Salt, to taste
Directions
Make the vinaigrette by mixing together red wine vinegar, oil, honey, cumin and salt in a small Mason jar or bowl. Set in the fridge to chill until ready to serve.
Prepare quinoa according to package directions.
Once quinoa is cooked, set in the fridge and chill until completely cooled. Prepare frozen corn according to package directions.
Meanwhile chop yellow bell pepper, radicchio, purple onion and cilantro. In a large salad or serving bowl add black beans, corn, chopped yellow bell pepper, purple onion, and cilantro. Quarter tomatoes and add to bowl. Add chilled quinoa. Drizzle all of the prepared dressing over the salad and gently toss to combine and coat.
Serve immediately or set in the fridge until ready to serve.
https://www.dashofsanity.com/southwestern-quinoa-salad/
Save