S'mores No Bake Cheesecake inspired by the infamous campfire treat. Marshmallow cream, graham cracker crust and a rich chocolate ganache, you just can't go wrong.
My family loves roasting marshmallows then crafting them into S'mores. Such and easy and fun dessert to make for all ages.
My kids could literally eat these every night in the summer. And then one of them "suggested" I make it into a cheesecake I couldn't resist. Such a fantastic idea. But here is the thing, I didn't want to be by the oven in the summer heat, so I went the direction of a no bake cheesecake which was even better. And  so easy too! While I love cheesecake, I honestly can say that no bake recipes are my favorite. Cold, creamy and you can add almost any of your favorite toppings or ingredients. Like I did today using my favorite ganache, marshmallows and graham crackers. Mainly ganache.
Please note that this cheesecake is best made with regular cream cheese, the fat-free just doesn't hold its form as well with the marshmallow cream.
No need to light up the fire for this summer treat, but you could sure reminisce about some of your favorite camping moments while enjoying a piece.
Enjoy!
XOXO San
Like this recipe? Check out my No Bake S'mores Bites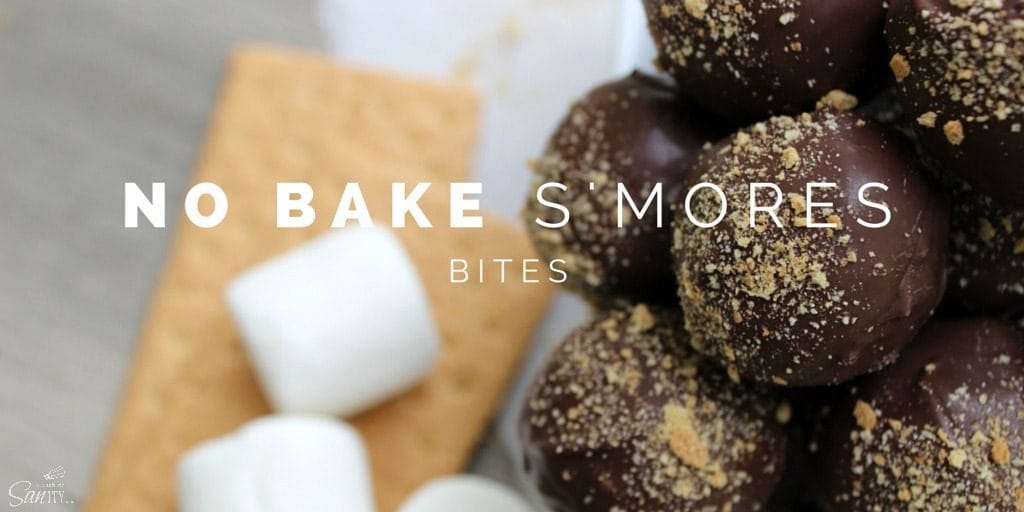 S'mores No Bake Cheesecake
This S'mores No Bake Cheesecake layers of marshmallow, chocolate and graham cracker goodness topped with chocolate ganache; it puts a new twist on your traditional summer must have.
Ingredients
Graham Cracker Crust

2 ½ packages graham crust, equal to 2 ½ cups
6 tablespoons butter, melt
2 tablespoons of sugar, optional

Chocolate Ganache

1 cup heavy cream
½ cup Ghirardelli 60% Cocoa Chocolate Chips
1 teaspoon vanilla extract

Marshmallow Cheesecake

2 – 8 ounce cream cheese
½ cup white granulated sugar
1 container Cool Whip
1 - 7 ounce container marshmallow creme
1 ½ cups miniature marshmallows

Chocolate Cheesecake

1 – 8 ounce cream cheese
½ cup white granulated sugar
1 container Cool Whip
½ cups Ghirardelli chocolate chips
1 ½ teaspoons vanilla extract
Directions
Graham Cracker Crust
In a food processor add both packages and process until cookies resemble coarse crumbs. Pour 1 ½ cups of crumbs into medium mixing bowl, add melted butter and mix together until it starts to stick together, add sugar at this point if you choose to add it. Press into the bottom of 9x13 or spring foam pan. Set in the fridge until ready to use.
Marshmallow Cheesecake
Beat cream cheese, sugar, and marshmallow crème in large bowl until smooth. Now stir in Cool Whip and miniature marshmallows until they are well combined; spread over prepared crust. Chill and set in refrigerator while you prepare chocolate cheesecake layer.
Chocolate Cheesecake
In a small mixing bowl or large glass measuring cup, melt chocolate in microwave for 1 minute, stir until completely melted, you may need to stick it back in the microwave for another 30 seconds. Set aside and cool to room temp, or cool to the touch.
Beat cream cheese, sugar, and chocolate in medium mixing bowl until smooth. Now stir in Cool Whip until mixture is well combined; spread over marshmallow layer.
Spread evenly the remaining 1 cup of graham crackers crumb on top of chocolate cheesecake layer, press in a bit so that the crumbs stick. Stick in the refrigerator while you prepare the ganache.
Chocolate Ganache
On a small sauce pan over medium heat bring heavy cream to a rolling boil. Once it has started to boil remove from heat and add chocolate chips. Let it sit for 2-3 minutes, then stir chocolate and cream together until smooth, add vanilla. Pour ½ of the ganache over the cheese cake, on top of the last graham cracker crust layer. If you want to pour it all by all means go ahead. But I like to set the rest of the ganache as a dipping for fruit and animal crackers.
Now chill until filling is firm, about 1 hour.
Notes
You can make this into a 9x13 or a 10 in round spring foam pan, like pictured.
https://www.dashofsanity.com/smores-bake-cheesecake/
Want some other fantastic cheesecake creations to try, check out these Dash of Sanity recipes below.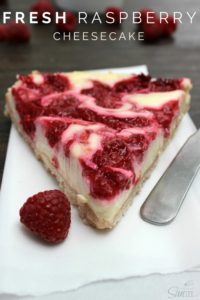 Fudge Brownie No Bake Cheesecake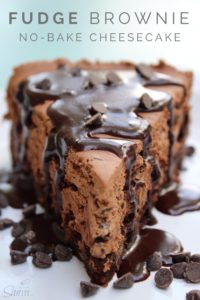 Save