This post may contain affiliate links. See my Full Disclosure for further details.
This Slow Cooker Sicilian Chicken Soup cooks all day, leaving little work for you. A peppery broth, fresh vegetables and tender chicken, this Slow Cooker Sicilian Chicken Soup is comfort served in a bowl.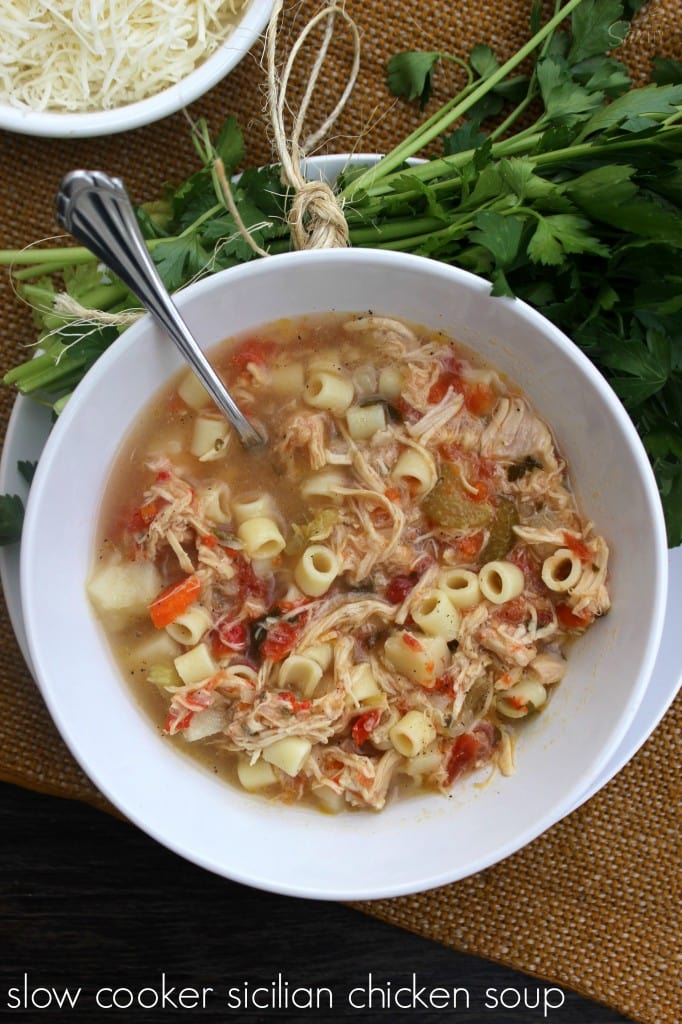 Since I originally posted the Sicilian Chicken Soup, I have had several request for my slow cooker version.
I am sorry that I am just now getting around to posting it.
This soup is inspired from the original Sicilian Chicken Soup from Carrabba's and while this has all of the same ingredients, this is made with chicken breast instead of a whole chicken, making it a lot easier when it comes to the preparation.
But I will say, while this soup is amazing I love cooking the original recipe with a whole chicken just because the flavor is so much better. But it is more complicated.
What we found is that we added a little more pepper and cheese to the top of the soup when serving, making it just perfect.
So, if you are short on time and still want a soup with a peppery broth, fresh vegetables and tender chicken, then this is the one for you. Little prep time, easy to serve and just delicious.
XOXO San
Slow Cooker Sicilian Chicken Soup
Slow Cooker Sicilian Chicken Soup with a peppery broth, fresh vegetables and tender most chicken.
Ingredients
2 chicken breast
8 cups water
4 heaping tablespoons chicken broth base
1 yellow onion, finely chopped
4 celery ribs, diced
3 carrots, diced
1 red bell pepper, diced
2 medium russet potatoes, peeled and diced
1 – 14.5 ounce can diced tomatoes
½ cup fresh flat-leaf Italian parsley
5 garlic cloves, chopped, I use my garlic press
Kosher salt and black pepper, to taste
½ lb. ditalini pasta, cooked and set aside
2 cups shredded asiago or parmesan cheese
Directions
In slow cooker add chicken breast, water, chicken base, onion, celery, carrots, and potatoes, diced tomatoes with their juices, garlic, parsley, 2 teaspoons salt and pepper.
Cook on high for 6 hours, remove chicken breast and shred, place back in soup and bake another 2 hours.
At the end of 8 hours, use a potato masher, mash the soup around a few times, letting some of the potatoes get a little smashed. I don't try too hard on this, I just mash 2-3 times and call it good. Add noodles to the slow cooker and season with additional salt and pepper if needed.
Serve with ¼ cup of sharp cheese on top, we like Asiago and parmesan both.
**We actually like to serve the serve the soup with the noodles on the side, letting each person add the amount of noodles they want.*
Notes
Recipe adapted from Carrabba's Italian Grill Recipes from Around Our Family Table
https://www.dashofsanity.com/slow-cooker-sicilian-chicken-soup/
Save