I am excited to pair up today with Litehouse, Inc. and Simply Artisan Reserve to bring you this cheese inspired classic with twist. All opinions expressed are my own.
Slow Cooker Blue Cheese French Onion Soup – a bold and flavorful twist on the classic French Onion Soup. Simple & delicious, wow your guests this holiday season with something traditional stepped up a notch.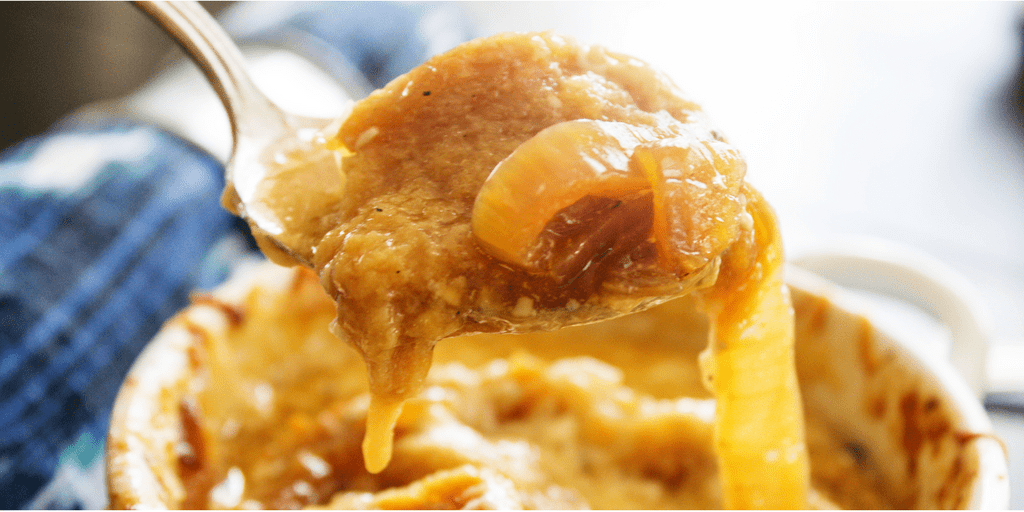 I love making soup in my slow cooker, and one of my favorite soups to order when dining out is French Onion. I knew I needed to make a version that I loved just as much at home.
During the holiday season, cheese seems to be the star at all of our parties and get-togethers, from cheese & meat trays to fondues and salads. Cheese is found on our table at all times. I was inspired by Simply Artisan Reserve™ Simple Seasons™ Blue Cheese to add this on top of my French Onion Soup. These Simple Seasons cheeses are so fresh and easy to add to any dish with just a shake. Since blue cheese can be a little potent, I love the ease with which Simple Seasons makes it to add my favorite cheese to any dish.
While soup isn't the only thing I love to add cheese as a topper to, it is one of my favorites. A close second would be salad, and Simple Seasons Feta is a perfect way to spruce up your holiday salad. I love being inspired while I cook and using products that make it easy as well. This holiday season I would love to know how you are going add some festive cheese spirit to your dinner table.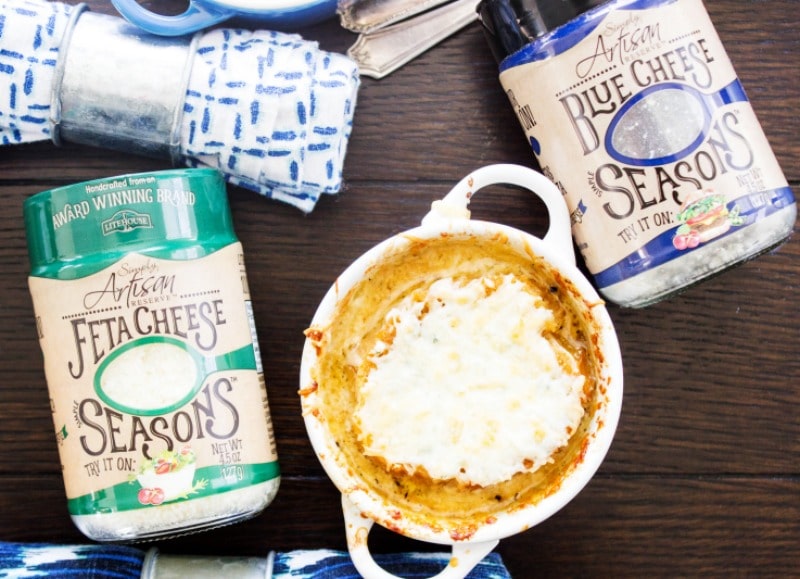 Simple Seasons is hosting a Social Media Photo Contest November 21 through December 5. Share your favorite holiday eats on Facebook or Instagram using #TisTheSeasonsPromo for a chance to win $500 for your family, as well as a $500 donation to a charity of your choice!  Be sure to enter here!
Tis' the "Seasons" to celebrate, give and receive, and I know I will be with this Slow Cooker Blue Cheese French Onion Soup & Simple Seasons soft cheeses. Cheers! XOXO San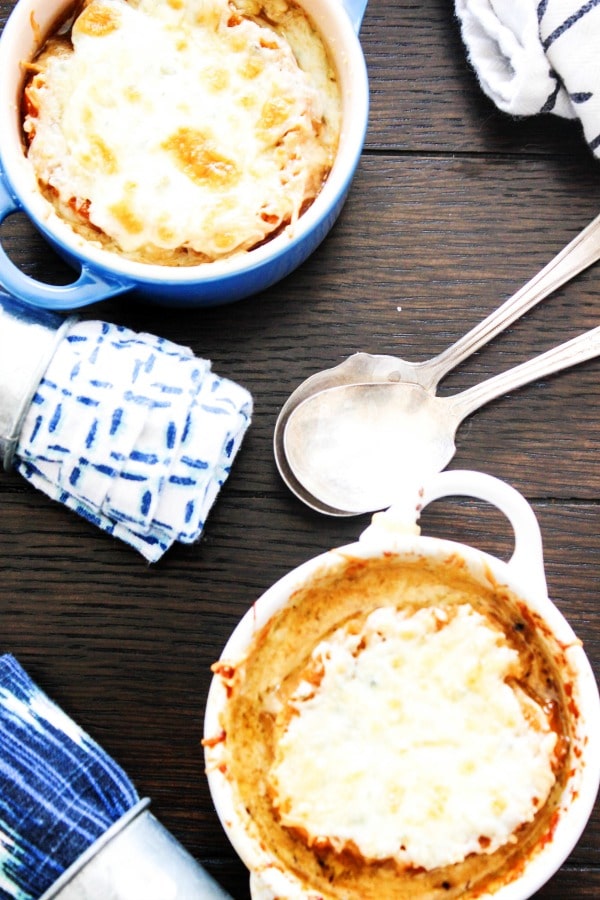 Slow Cooker Blue Cheese French Onion Soup
Ingredients
6 tablespoons butter
4 large yellow onions, sliced and separated into rings
1 tablespoon white granulated sugar, optional
2 cloves garlic, minced
1/2 cup cooking sherry
7 cups beef broth
1/4 teaspoon dried thyme
1 bay leaf

Topping

8-12 slices toasted baguette or French Bread
1/2 cup shredded Gruyere cheese
1/3 cup Simple Seasons Blue Cheese
1/4 cup freshly shredded Parmesan cheese
Directions
In a large pot add butter and cook over medium-high heat. Once melted, add onions; cook and stir onions until they become translucent, about 10 minutes. Optional - sprinkle onions with sugar; reduce heat to medium. Continue to cook, stirring frequently for another 20-25 minutes or until onion are soft and caramelized. Stir in garlic and add mixture to your slow cooker.
Pour in sherry, beef broth and stir in thyme and bay leaf. Cover slow cooker, set on high and cook 4 hours. Or on low and cook 8 hours.
Right before serving toast baguettes.
Combine Gruyere, Simple Seasons Blue Cheese and Parmesan cheeses in a bowl, tossing lightly. Fill oven-safe soup crocks 3/4 full of onion soup and top with a toasted slice of bread 2 tablespoons of cheese mixture on top of each bowl.
Place bowls onto a baking sheet and set in oven on broil until cheese topping is lightly browned and bubbling, about 3-4 minutes.
Remove from oven top with a few sprinkles of Simple Seasons Blue Cheese and serve immediately.
Notes
https://www.dashofsanity.com/slow-cooker-blue-cheese-french-onion-soup/
Don't forget to pin this Slow Cooker Blue Cheese French Onion Soup to your favorite Pinterest board to make for later.
This is a sponsored post written by me on behalf of Litehouse, Inc. and Simply Artisan Reserve
Save