It was a pleasure working with Kroger & Genova on this post. I love being inspired to create recipes from products that my family loves.
A twist on a classic Italian dish, this Seafood Margherita Pasta is a light pasta dish made with fresh tomatoes and herbs. Seafood, pasta and traditional Margherita sauce make for a mouthwatering, gorgeous dish that will quickly become a favorite.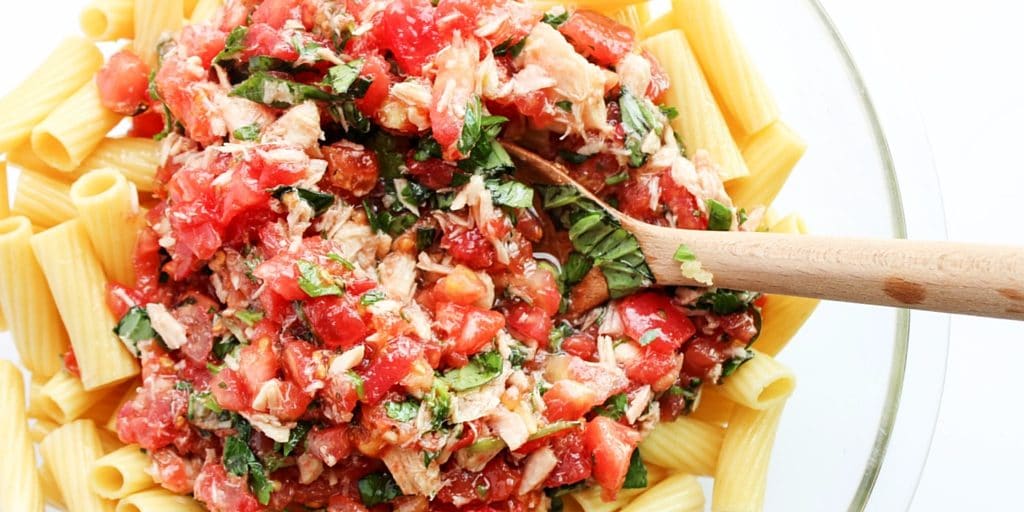 My husband loves every kind of seafood. I prefer sushi. But I always love dishes that pair my favorite fish with fresh herbs and vegetables, creating a perfect balance.
My goal for this summer is to incorporate more healthy seafood-focused recipes that my family can enjoy. They love my mom's Tuna Noodle Casserole because it is loaded with butter and cheese. But I want some meals where I can easily incorporate more veggies too. While I was shopping at my neighborhood King Soopers grocery store, literally only seven blocks away, I saw Genova Albacore Tuna. I instantly decided to try it because I loved that it's packed in pure olive oil. I knew I could add it straight from the can to my Margherita Sauce with no problem. I love too that the product was all natural, certified wild caught, and canned with no preservatives or additives – just olive oil.
Once I incorporated the tuna into my sauce, voila… dinner was made. What I love about this seafood Margherita sauce is that I can easily serve it over spinach, on bruschetta or noodles (like I did for my family for dinner). It's freshly made and delicious.
Making new recipes and dishes the entire family will love can be a challenge. Add in seafood with kids, and well, it gets even harder. But this beautiful dish is something everyone is sure to enjoy.
Enjoy!
San
Ingredients
10 plum tomatoes
1 ½ cups olive oil
1 cup fresh basil, chopped
½ cup fresh parsley, chopped
1-2 teaspoons salt
1 teaspoon pepper
3-5 cloves of garlic, diced
2 cans [Genova Albacore Tunahttp://www.genovaseafood.com/?utm_source=kroger&utm_medium=bp&utm_campaign=asm2016] in pure olive oil
1 box Rigatoni pasta, cooked & drained
Directions
Blanch the tomatoes by bringing a large pot of water to a boil. Then take one tomato and lightly cut an X on it, you can do this on the bottom of the tomato but I like to do it on the side.
Repeat with the other 9 tomatoes. Once the water is boiling, add the tomatoes 5 at a time and let them cook for 1-2 minutes. Repeat with the remaining tomatoes. Remove from water and let them cool. Once cooled, peel and dice. Then place in a large mixing bowl.
Add the rest of the ingredients and let it sit at room temp for 3-4 hours. If it sits longer, that is okay.
Right before serving, add in both cans of Genova Albacore Tuna in pure olive oil; stir to combine.
Add cooked & drained pasta to a large serving bowl. Top with Seafood Margherita Sauce and ½ cup shaved parmesan cheese. Toss to combine and serve.
This is great to serve as a main dish or side. I love this pasta served at room temperature, but it's also great served cold, more like a pasta salad.
*If you don't have time to let the sauce sit for 3-4 hours, that's just fine. It will still taste divine. I just love the flavor of the sauce once it has had time to marinate. To make this easy, prepare the sauce the day before and store in the refrigerator until ready to make the pasta.
https://www.dashofsanity.com/seafood-margherita-pasta/
Save