These Samoa Donuts are like the real deal – Girl Scout cookie but made with a soft, buttery bakery donut. Oh, yeah wipe the drool from your computer screen and take a bite. I mean not from your computer, but make these donuts and dive on in! There won't be any leftovers, trust me!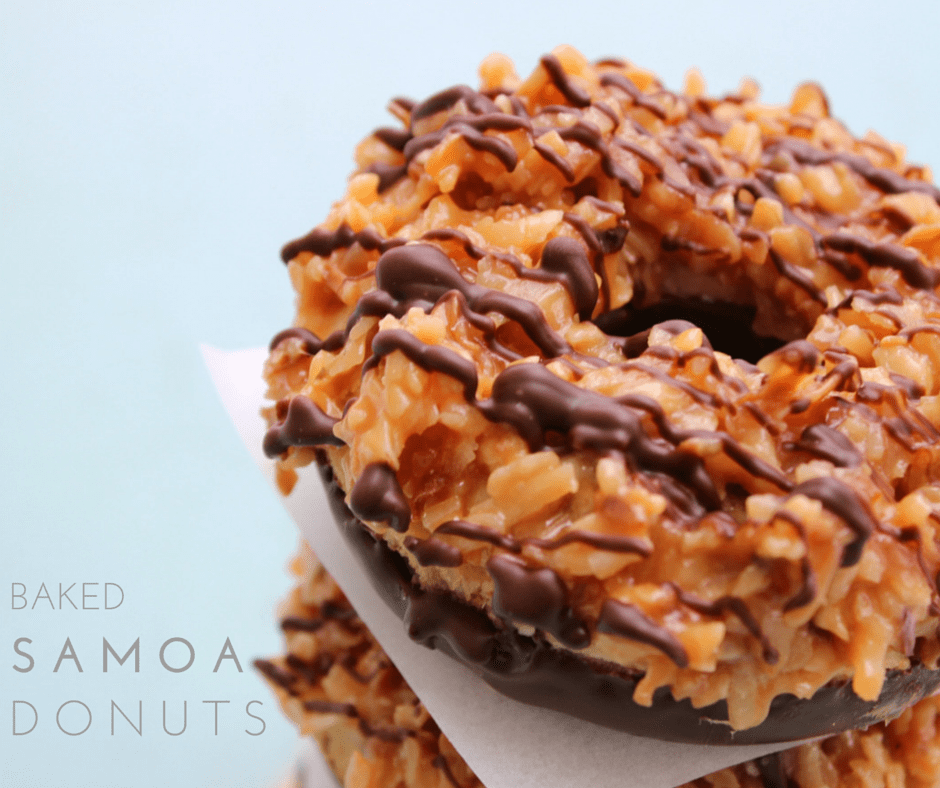 Those of you who know me, know I am more of a Tagalong Cookie lover. I mean come one, peanut butter and chocolate are one of the best food combinations known to man. But bored one afternoon & I was thinking about my recent overdose of my Tagalong Blondies, to which I was still recovering from, I decided I was in the mood to make another Girl Scout Cookie inspired recipe. That is when I came up with the idea for Samoa Donuts. Oh the idea delighted me! And in all honesty I thought I would be safe from a sugar and chocolate over load with these since I am not the biggest Samoa fan. So I whipped these up, and realized that I was wrong, oh so very wrong! These are amazing! Like out of the world, to to die for! Better than the original Girl Scout Samoa Cookie! There I said it, really it is! I also learned  that one should never assume they won't like something that is until they have tried it, hmmm sounds like something I would say to my kids.
Now to all those Tagalong lovers out there, I am sorry these donut may have you changing your mind on your favorite Girl Scout cookie.
Enjoy! XOXO San
Ingredients
Baked Donut

1 cup all-purpose flour
1 teaspoon cornstarch
1 teaspoon baking powder
1/4 teaspoon baking soda
1/8 teaspoon ground nutmeg
1/3 cup granulated sugar
1/4 cup milk
1/4 cup sour cream
1 large egg
2 Tablespoons unsalted butter, melted
1 and 1/2 teaspoons vanilla extract

Samoa Cookie Topping

15 ounce bag of caramel, unwrap all of the caramels, set aside
3 cups shredded sweetened coconut, toasted
3 tablespoons milk
¼ teaspoon salt
1 cup dark chocolate melting wafers, I used Ghirardelli
Directions
Preheat oven to 350 degrees and spray donut pan with cooking oil.
In a medium mixing bowl add flour, cornstarch, baking powder, baking soda, nutmeg, and sugar.
Shift together, then add in milk, sour cream, egg, melted butter and vanilla extract. Stir together until well combined and smooth.
If you don't have a piping bag, cut the corner of a Ziploc bag, add batter and pipe the dough evenly into the prepared pans, about 2/3 full in each donut ring.
Set in oven and bake for 9-10 minutes, remove from oven and cool on baking rack.
Remove donuts from baking rack once cooled.
Melt dark chocolate melting wafers in the microwave following package directions. Dip the bottom half of the donut into the chocolate, tap off the extra chocolate and set upside down, chocolate side up on cooling rack and let the chocolate harden. Repeat with remaining donuts.
Once chocolate has hardened, making topping. Melt unwrapped caramels and milk in a medium mixing bowl for 1 minutes, remove from microwave and stir, then place back in microwave for 30 seconds and stir again. Repeat process until caramel is completely melted and smooth, stir in salt and toasted coconut.
Immediately frost the top of each donut and place back on cool rack to let topping harden. Frost all of the donuts, then use remaining chocolate and drizzle using a zig-zag motion over the donuts, to get the chocolate lines.
Serve immediately or store on counter until ready to serve.
To store leftovers, if you have any and store in a container with lid or Ziploc bag.
Notes
https://www.dashofsanity.com/samoa-donuts/
Save