This post may contain affiliate links. See my Full Disclosure for further details.
This PUMPKIN ZUCCHINI CAKE literally is my new favorite pumpkin treat.
Move over Starbucks PSL (steamer) I have a new favorite. And this Pumpkin Zucchini Cake not only looks like heaven it is taste just absolutely dreamy. Pumpkin dreams are more than just turning into carriages for princesses they come in cakes as well.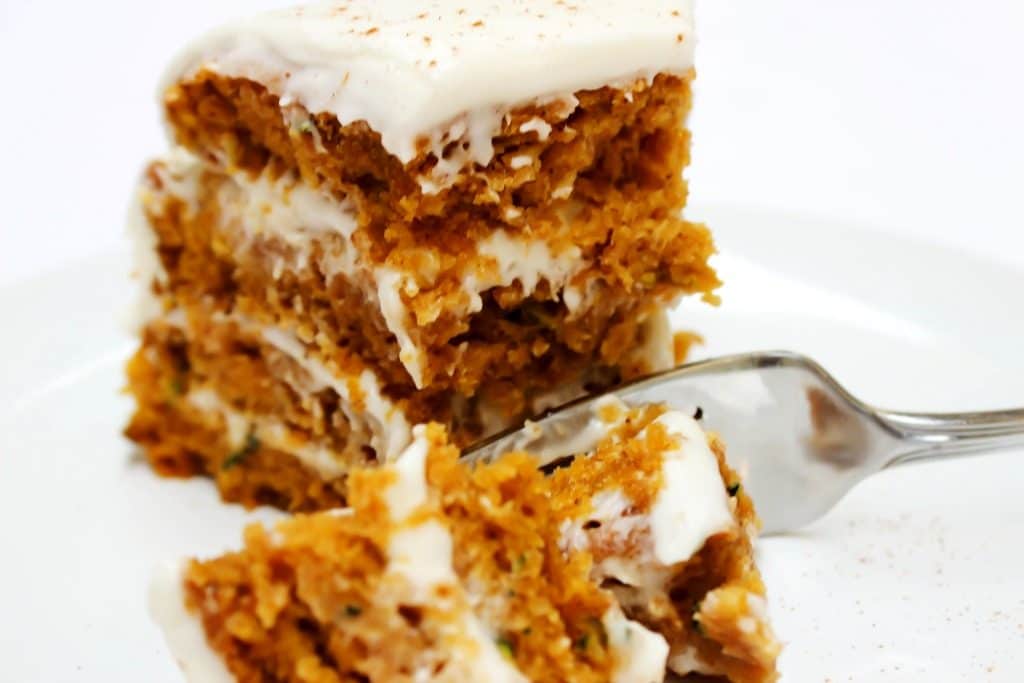 I love cakes! Literally if I could have cake for every meal I would. And this Pumpkin Zucchini Cake is no exception. I tried to only eat one piece, really I did. But I kept finding myself at the cake plate nibbling little bites here and there. Well, maybe not all of the bites were little. But you know what I mean.
Then I began to just lick the frosting off the cake plate….I know gross. But it is oh so that good.
The zucchini and pumpkin combination makes this cake so moist, there is no such thing of a dry crumbly cake when it comes to this Pumpkin Zucchini Cake, so if that is what you are looking for close the page now, this cake is not meant for you.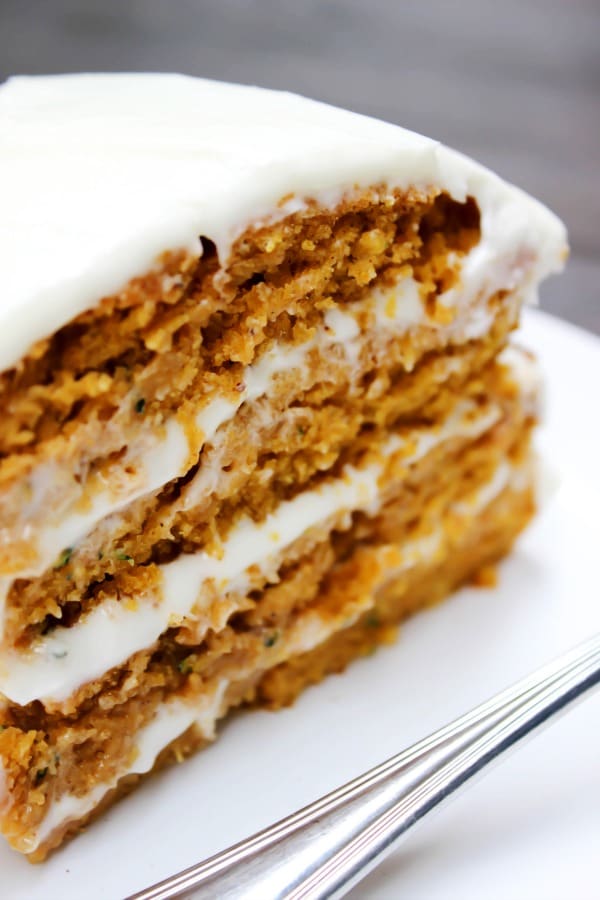 I know this will be featured at Halloween, Thanksgiving, Christmas and the whole rest of the year. There is no stopping me from making this cake. I love it way too much and I can't wait for you to dive right into this dreamy Pumpkin Zucchini Cake. Enjoy! XOXO San
Love the pumpkin zucchini combination? Check out these too: Double Chocolate Pumpkin Zucchini Bread, Pumpkin Zucchini Bread, Chocolate Pumpkin Zucchini Cake and Low Carb Creamy Pumpkin Zucchini Noodles.
Want to see how easy this cake is to make? Check out this video with step by step directions.
My favorite kitchen items I used to make this PUMPKIN ZUCCHINI CAKE.
Round Cake Pans – my favorite size to use for a round cake pan is the 9-inch and I prefer dark over light pans. I always have 2 on hand because layered cakes are on of my favorite things to make for dessert.
Kitchen Aid Mixer: I love my Kitchenaid mixer and use it almost daily. For cookies, breads, sauces, frostings and dough – I find many recipes that I can use my Kitchen Aid to reduce prep time. I have two that I couldn't live without.
Hand Mixer: I love these for small batches or quick and easy recipes that don't require a lot of ingredients. I love that you can have so many color options now, I love personally love teal.
Mixing Bowls: I love having a variety of sizes of mixing bowls. From small to large, I find that having at least 3 bowls of different sizes has been an essential in my kitchen. I prefer Pyrex because of the durability.

Don't forget to pin this PUMPKIN ZUCCHINI CAKE to your favorite Pinterest board for later.

Ingredients
4 eggs
1 cup canola oil
1 cup sugar
3/4 cup brown sugar
2 teaspoons vanilla
2 cups grated zucchini
1 cup canned pumpkin
3 cups flour
2 teaspoons baking soda
1 teaspoon salt
1 teaspoon baking powder
1 teaspoons ginger
1 1⁄2 teaspoons cinnamon
3⁄4 teaspoon fresh ground nutmeg

Cream Cheese Frosting

5 cups powdered sugar
8 oz cream cheese, softened
¼ cup butter, melted
4 tablespoons milk, optional

NOTE

to frost the entire cake you will need to double the recipe for the frosting. We typically don't frost the entire cake just between the layers and then the top - for special occasions we do the entire cake.
Directions
Preheat oven to 350 degrees.
Prepare 2 9-inch round cake pans by spraying with cooking oil and line the bottom with parchment paper. Set aside.
Combine all ingredients in order as listed above, beat on medium-high until well combined.
Bake for 20-25 minutes or until toothpick inserted in center comes out clean. If not completely cooked add another 5 minutes until cake is done. Remove from oven and cool on baking rack.
Once cake is completely cool make cream cheese frosting.
Beat together cream cheese and melted butter until smooth and there are no cream cheese chunks. Add in powder sugar and cream together by beating on medium-high. Add in milk one tablespoon at a time, until you get your desired consistency, if you want to make the frosting a little runnier, like pictured add al 4 tablespoons.
Cut each round cake in half. Place one layer on a cake plate or the serving plate you will be using. Add ¾ cup frosting, then add another cake layer. Repeat with remaining cake and frosting. After the last cake layer add the remaining frosting. I just poured mine in the center and then using a knife gently pushed it from the center out and let it run naturally down the sides of the cake.
Notes
Zucchini Cake adapted by Food.com
Total time does not include the time to cool.
https://www.dashofsanity.com/pumpkin-zucchini-cake/
This post was recently updated, original post was Sept. 2015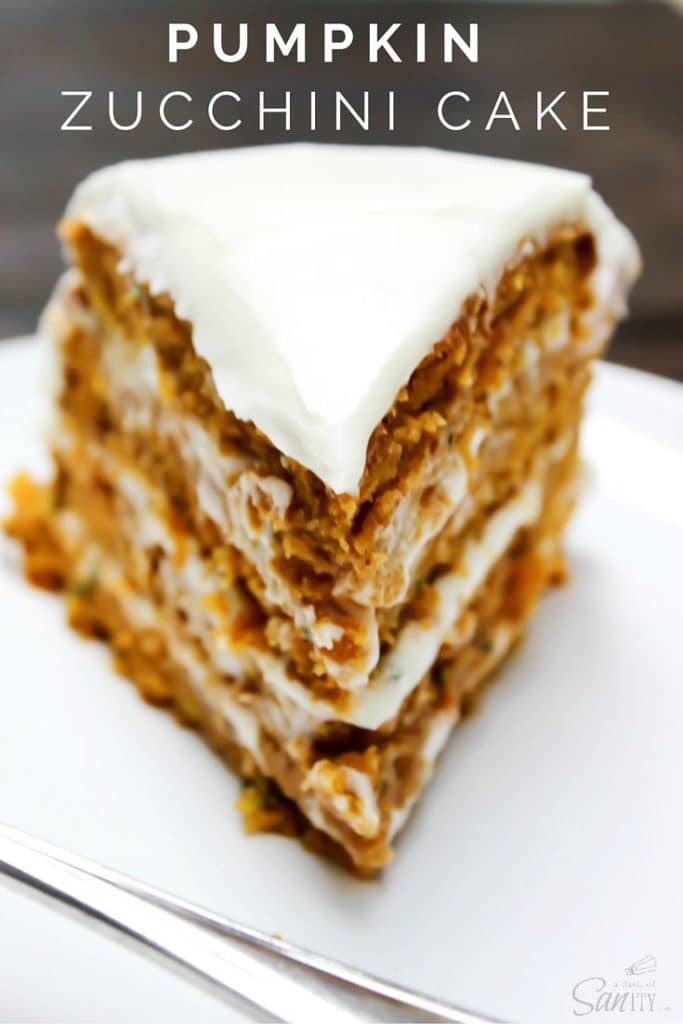 Save