This Pumpkin Nutella Swirl Bread takes pumpkin, chocolate and hazelnut to a whole new level. Not only is it just a beauty to look at it is moist and has all the flavors of fall. Friends you won't want to miss this, so go ahead grab a plate and get ready to enjoy!
Fall is honestly my favorite time of year! Wait have I alredy told you that??? Probably but I just love November. I love football games, baking in my sweats, wearing jeans and a sweatshirt for 3 months straight, crock pot recipes, Starbucks holiday cups (my absolute favorite thing about fall), the crisp chill air and the Colorado sunshine. The added bonus is the Thanksgiving feast.
Throw in Black Friday, my favorite day to shop and there you have it all the reasons why fall is my favorite season.
Now here is what is so great about this recipe…chocolate hazelnuts spreads are my absolute favorite thing to eat. I am addicted. Add in pumpkin and more chocolate, I might as well just ascend up into the heavens because literally that combination is glorious. When I made the Pumpkin and Chocolate Swirl Bread from Martha Stewart, I just loved it. And it just looks divine but I thought it needed to be a bit more moist, then came the idea of adding in Nutella. Oh holy, moley it is AMAZING. I made the first loaf, then another immediately following and another, then just one more. Four total! Now I did bag one up to save for a few days later, and gave another to a friend. The loaf we saved we ate 4 days later and it was amazing! Not dry at all.
I can't not wait for you all to try this, even the non-hazelnut lovers will just melt when they try this. And if you are a Nutella fan, well then you are gonna just eat this up!
Enjoy!
XOXO San
Pumpkin Nutella Swirl Bread
This Pumpkin Nutella Swirl Bread takes pumpkin, chocolate and hazelnut to a whole new level. Not only is it just a beauty to look at it is moist and has all the flavors of fall.
Ingredients
1 ¼ cups sugar
½ cup butter, melted
2 eggs
1 ¾ cups flour
2 teaspoons pumpkin pie spice
1 teaspoon baking powder
½ teaspoon baking soda
½ teaspoon salt
½ cup buttermilk
2 teaspoons vanilla extract
1 cup canned pumpkin
1/2 cup Nutella or any chocolate hazelnut spread

Glaze

1 cup powder sugar
1 ½ teaspoons butter, melted
1-2 tablespoons milk
1/2-1 teaspoon cocoa powder
1/2 teaspoon clear vanilla extract
Pinch cocoa powder
Directions
Preheat oven to 350 degrees, and line a 9x5 bread pan with parchment paper, set aside.
In a small mixing bowl combine flour, baking soda, baking powder, pumpkin pie spice and salt, shift together until combined.
In a large mixing bowl, I used my KitchenAid mixer, mix together sugar and eggs until well combined. Add in buttermilk, melted butter, vanilla extract,and pumpkin, stir until all the ingredients are incorporated. Slowly mix in flour mixture, until there are no clumps and mixture is smooth. Divide batter in half by placing the second half in a separate bowl.
In one of the bowls stir in the 1/2 cup of Nutella and stir until well combined.
Alternate between the two batters and pour into the prepared bread pan. I start with the plain, add Nutella batter, top with plain again, Nutella batter, then a tablespoon or two of the plain on top. Use a knife to swirl the batters, don't over swirl, you will then combine the batters. Run the knife one time through the pan.
Place in oven and bake for 60-70 minutes. Remove from oven and let it cool for 15-20 minutes.
Prepare glaze.
Combine confectioners' sugar, cocoa powder, 1 tablespoon milk, melted butter, and vanilla. Add milk as needed, to achieve drizzling consistency.
Notes
Recipe Adapted from Pumpkin and Chocolate Swirl Bread from Better Home and Gardens, November 2014 edition Glaze
https://www.dashofsanity.com/pumpkin-nutella-swirl-bread/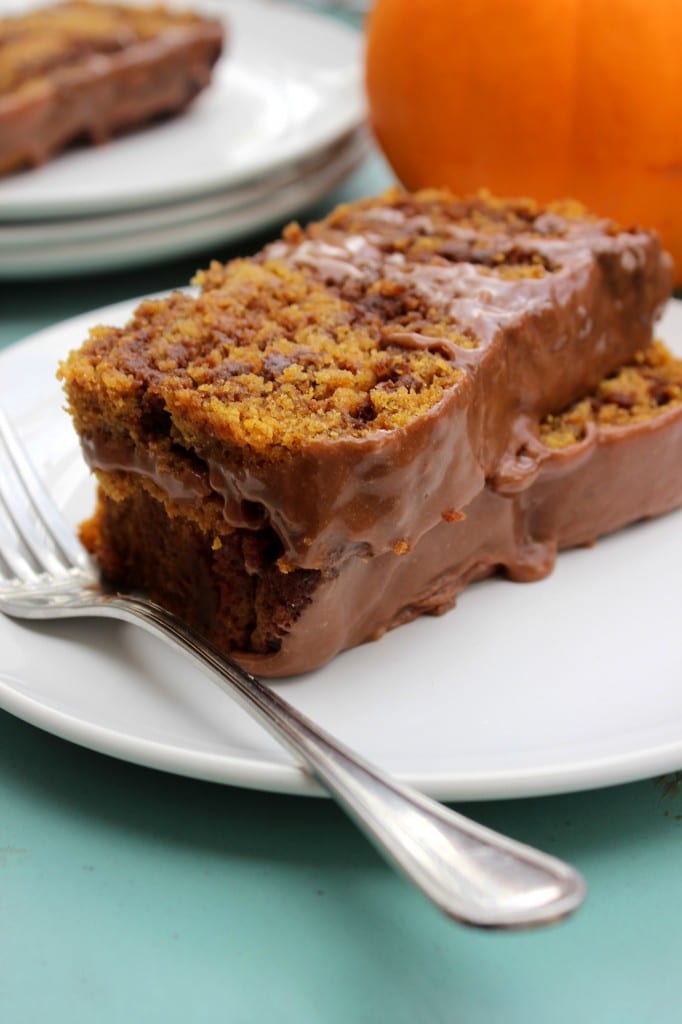 Save