PUMPKIN FUDGE PIE – Rich and decadent this twist elevates the traditional pumpkin pie to a whole new level of devourment.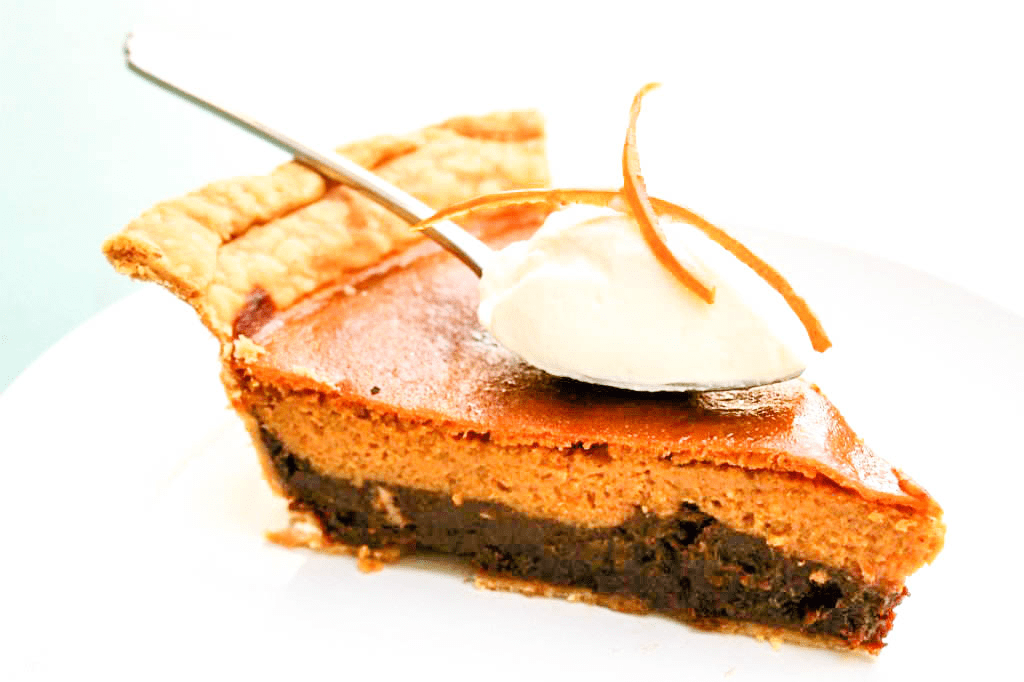 You will literally fall in love with this PUMPKIN FUDGE PIE. While this is the season for everything pumpkin and pie – it is okay and absolutely necessary at times to have a twist on some traditional favorites. And this chocolatey twist is just what your holiday tables needs. So bring together pumpkin and chocolate lovers with this rich decadence that will become a customary holiday treat.
If you're like my family, when you were younger, you may have had that one favorite recipe your grandma, right? You know, that generational recipe – the one you were excited to make when you got older. Well, my favorite recipe growing up from my grandma was her chicken pot pie. I loved going to her house and smelling "her" pot pies as they baked in the oven. Luckily, my dad started to "make" them too. I was in pot pie heaven.
When I became a mom I decided that it was time for me to carry on the tradition of "grandma's pot pies". I called my dad super excited and asked for the recipe. I was expecting his typical response: "Ask mom; it's in the recipe box." Instead, he said, "Sandi, you can get them at the store. Grandma's pot pies are Marie Callender's pot pies!" What??? Come again. Are you serious?!
Here's the deal. My grandma is an amazing baker and has been her whole life, along with my grandpa who came from a line of great bakers. So when we were served the most perfectly looking pot pies, I had no question that grandma made them from scratch. And to top it off, they tasted homemade. Seriously, no freezer taste, only fresh vegetables and that signature light crispy crust, just like homemade pie dough.
I was in shock because I felt totally disappointed that grandma hadn't rolled out the dough just for us. But then came the quick realization that this may just be better because it is easier – less time spent in the kitchen preparing and more time with my kids, helping with homework, running around to after-school activities, and preparing a thoughtful dessert to complete our meal.
With the holidays around the corner and the winter months ahead I know I will be having a few of "grandma's" pot pies. Easy because dinner can be ready in an hour and all I have to do is bake!
With the extra time I will have I will be making this Pumpkin Fudge Layered Pie. It completes the entire evening with this comforting, pie-perfected meal while adding a touch of the holiday spirit. This dessert was inspired from my aunt, who every year makes and brings this amazing fudge pie. I decided to combine two of my holiday favorites into one… and it's a match made in heaven.
Marie Callender's creates homemade Pot Pies using a buttery, flaky crust made from scratch and high-quality ingredients such as farm grown vegetables and premium cuts of meat that your family can slow down and savor together, allowing it to still have the feel of grandma's touch. Enjoy! XOXO San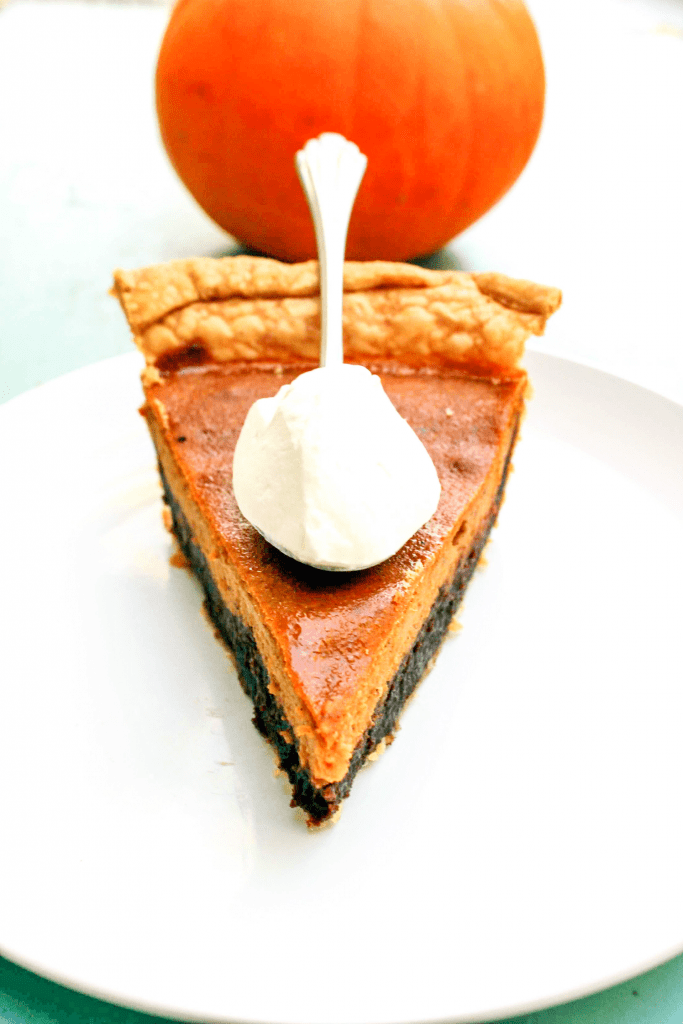 My favorite kitchen items below that I use to make this PUMPKIN FUDGE PIE.
MIXING BOWLS: I love having a variety of sizes of mixing bowls. From small to large, I find that having at least 3 bowls of different sizes has been an essential in my kitchen. I prefer Pyrex because of the durability.
MEASURING CUPS: Nothing beats a good set of measuring cups that last a long time. I love metal measuring cups because of their durability.
MEASURING SPOONS: I have to have a metal set of measuring spoons on hand. The plastic ones just don't last long in our house partly due to the garbage disposal.
PIE PAN: You need one of these for the quiche and I prefer a glass pan over metal. One because of how it cooks and two for presentation.
Don't forget to pin this recipe for PUMPKIN FUDGE PIE to your favorite Pinterest board for later.

Pumpkin Fudge Layered Pie + Marie Callendar's Chicken Pot Pie = Pie Meal Perfection #ComfortsFromHome
Pumpkin Fudge Pie + Marie Callender's Chicken Pot Pie = Pie Meal Perfection #ComfortsFromHome
Ingredients
Pie Crust

(makes 2 pie crust)
14 tablespoons butter, softened
1 egg
2 cups flour
2 tablespoons sugar
½ teaspoon salt
¼ cup water

Fudge Layer

½ cup butter
2 ounces unsweetened chocolate bars or chips
1 cup sugar
2 eggs, beaten
1 teaspoon vanilla

Pumpkin Layer

1 x 15 ounce can of pumpkin
1 x 14 ounce can of sweetened condensed milk
2 eggs
1 teaspoon cinnamon
½ teaspoon nutmeg
½ teaspoon ginger
Directions
Pie Crust (makes 2 pie crust)
In a mixing bowl, add flour, butter, sugar, and salt. Using a pastry cutter blend all together. Mix in water and egg and blend until well combined. Flour the counter and knead the dough for a few minutes. Divide dough in half and roll out right away for use, or wrap in plastic and store in fridge until ready to use.
When ready, roll out 1 pie crust and place in pie pan.
Prepare fudge layer.
Melt together chocolate and butter. I do this over the stop top, but you could do in the microwave as well. When melted, remove from heat and stir in sugar and beaten eggs. Stir until well combined and no visible egg. Pour into unbaked pie shell.
Prepare pumpkin layer.
In a medium mixing bowl, combine pumpkin, sweetened condensed milk, eggs, cinnamon, nutmeg and ginger. Stir until well combined and pour over fudge layer in unbaked pie shell.
Place in oven at 425 for 15 minutes. When 15 minutes is over, reduce oven temp to 350 and bake for another 60-65 minutes or until the center of the pie is not wiggly. Do not remove pie from oven when reducing heat. Remove from oven and let it completely cool.
Top with fresh whipped cream and serve.
https://www.dashofsanity.com/pumpkin-fudge-pie-marie-callendars-chicken-pot-pie-pie-meal-perfection/
This post has been updated from November 2014.
"Disclosure: Compensation was provided by Marie Callender's via ConAgra. The opinions expressed herein are those of the author and are not indicative of the opinions or positions of ConAgra."

Save