Pumpkin Focaccia Bread savory & vibrant a perfect bread for Fall. A great addition to your Thanksgiving or holiday table.
Focaccia is my absolute favorite bread for sandwiches! Especially with turkey leftovers.
This twist of using pumpkin makes it perfect Thanksgiving and Christmas. And like I said this bread with leftovers or even as a compliment to a salad just elevates them to a whole new level. My husband who isn't the biggest pumpkin fan, LOVES this bread.
While there isn't a strong pumpkin flavor (you can't taste it at all), this savory bread is vibrant in color, which is just gorgeous. Made with baked pumpkin it is so easy to make, while looking and tasting gourmet.
Enjoy this pumpkin patch inspired recipe from our table to yours. Looking for some other focaccia bread recipes that will rock your socks? Check out my Sweet Potato Focaccia Bread, Butternut Squash Focaccia Bread or for my GF friends check out this Gluten-Free Sweet Potato Focaccia Bread.
XOXO San
This savory focaccia bread is fall inspired using fresh pumpkin and rosemary. Easy to make, yet looks and tastes gourmet.
Ingredients
1 1/3 cup cooked pumpkin, mashed or canned pumpkin, I used Libby's
1 ¾ teaspoons instant yeast
3 ¾ cups unbleached all-purpose flour
1 cup water (warm, 105 to 115 degrees)
2 tablespoons olive oil, plus more to grease bowl/pan
1 ¼ teaspoons salt

Topping:

2 tablespoons extra-virgin olive oil
2 tablespoons fresh or dried rosemary (I prefer fresh)
3/4 teaspoon sea salt, coarse
Directions
In large bowl of electric mixer or work-bowl of food processor fitted with steel blade, mix or pulse yeast, 1/2 cup flour, and 1/2 cup warm water until combined. Cover tightly with plastic wrap and set aside until bubbly, about 20 minutes. Add remaining dough ingredients, including pumpkin.
When using a mixer, fit with paddle attachment and mix on low speed (number 2 on Kitchen Aid) until dough comes together. Switch to dough hook attachment and increase speed to medium (number 4 on Kitchen Aid); continue kneading until dough is smooth and elastic, about 5 minutes.
If using a food processor, process until dough is smooth and elastic, about 40 seconds.
Transfer dough to lightly oiled bowl, turn to coat with oil, and cover tightly with plastic wrap. Let rise in warm, draft-free area until dough is puffy and doubled in volume, about 1 hour.
With wet hands (to prevent sticking), press dough flat into generously oiled 15 1/2-by-10 1/2-inch jelly roll pan or halve and flatten each piece of dough into 8-inch round on large (at least 18" long), generously oiled baking sheet. Cover dough with lightly greased or oil-sprayed plastic wrap; let rise in warm, draft-free area until dough is puffy and doubled in volume, 45 minutes to 1 hour.
Meanwhile, adjust oven rack to lower-middle position and heat oven to 425 degrees F. With two wet fingers, dimple risen dough. For the topping: Drizzle dough with oil and sprinkle evenly with rosemary and coarse salt, landing some in pools of oil.
Bake until focaccia bottom is golden brown and crisp, 20-25 minutes. Transfer to wire rack to cool slightly. Cut rectangular focaccia into squares or round focaccia into wedges; serve warm. Can store on counter for several hours and reheated just before serving.
Notes
Prep time includes: 2 hours of the dough rising.
https://www.dashofsanity.com/pumpkin-focaccia-bread/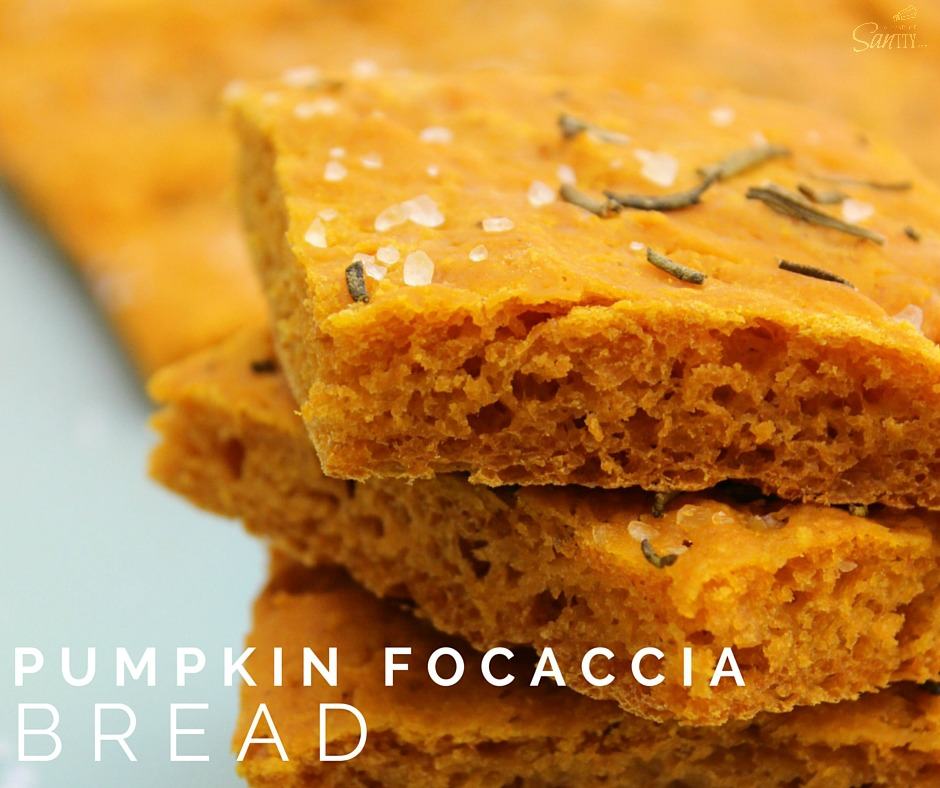 Save