PUMPKIN CARAMEL COOKIES – Soft & chewy pumpkin sugar cookies stuffed with a caramel. Caramel just made the entire pumpkin season more delicious.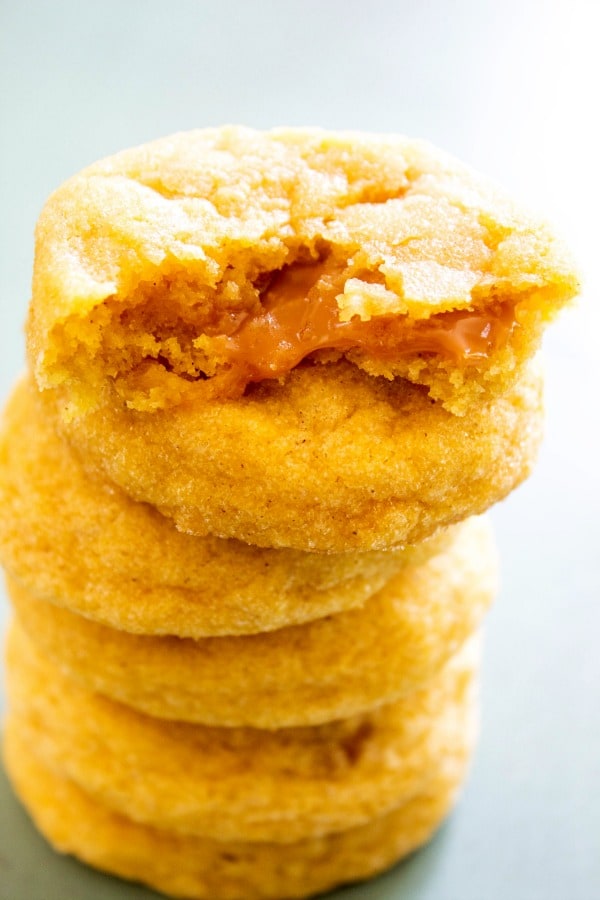 I am sort of obsessed with pumpkin baking and I am not just talking about once a year, but all year long. Pumpkin bread, pumpkin cake, pumpkin bars, pumpkin muffins, pumpkin pull apart bread, pumpkin dip, pretty much pumpkin anything I am a fan of.
It is even kind of funny to me that people only bake pumpkin during the fall season – like hello you can have it all year long? But you know what it is okay because that leaves more pumpkin puree for me.
My friend Lisa from Wine & Glue made this video for her recipe for Pumpkin Sugar Cookies, my daughter Jersey saw it and demanded we make them. I obliged.
I went to her post and bawled my eyes out – the thing I love most about Lisa even only have meeting her a few times in person – is she is real. She shares her thoughts and feelings openly. Raw and unedited – making her relatable.
In her post for Pumpkin Sugar Cookies she shares about losing one of her children and dealing with the loss even years later. She inspires me and although I haven't had the same experience as Lisa, ready her journey and about her family has made me more empathetic, more compassionate and more grateful. Lisa you are a rock and I love you.
Okay, now back to pumpkin and caramel.
I came up with this twist after reading a comment someone left on my Rolo Stuffed Peanut Butter Cookies. As I was reading the comment, I was eating one of Lisa's Pumpkin Sugar Cookies and that is when I had the idea. Pumpkin + Rolo = ewe but pumpkin + caramel = delightful. There is was bam….made it right then.
I have a Caramel Pecan Pumpkin Cake that is a huge hit during the fall season and then my No Bake Pumpkin Caramel Cheesecake is always a holiday hit. So I knew that these PUMPKIN CARAMEL COOKIES would be something that will become sort of a fall and holiday staple.
As soon as these cookies came out of the oven the kids were pumped. They couldn't wait to dig in. Some of the cookies the caramel did come out a bit, so I allowed them to gobble those up immediately. And my hubby who is not a big fan of sweets (or so he says) ate 6! He kind of liked them too.
So looking for some way to spruce up pumpkin season? Try these PUMPKIN CARAMEL COOKIES because trust me you will be just like my hubby, devouring 6 in the blink of an eye. Enjoy friends! XOXO San
My favorite kitchen items I used to make these PUMPKIN CARAMEL COOKIES.
This post may contain affiliate links. See my Full Disclosure for further details.
Sheet Pan: I love using a larger sheet pan while cooking because I am feeding my family of seven. I love aluminum for when I do sheet pan meals. I would start with this 13 by 18 half sheet pan. I love these pans so much that I have 9!
Kitchen Aid Mixer: I love my Kitchenaid mixer and use it almost daily. For cookies, bread, sauces, frostings, and dough – I find many recipes that I can use my Kitchen Aid to reduce prep time. I have two that I couldn't live without.
Hand Mixer: I love these for small batches or quick and easy recipes that don't require a lot of ingredients. I love that you can have so many color options now, I love personally love teal.
Mixing Bowls: I love having a variety of sizes of mixing bowls. From small to large, I find that having at least 3 bowls of different sizes has been essential in my kitchen. I prefer Pyrex because of the durability.
Don't forget to pin this recipe for PUMPKIN CARAMEL COOKIES to your favorite Pinterest board for later.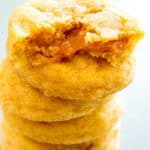 PUMPKIN CARAMEL COOKIES
PUMPKIN CARAMEL COOKIES - Soft & chewy pumpkin sugar cookies stuffed with a caramel. Caramel just made the entire pumpkin season more delicious.
Ingredients
1 1/2

cups

sugar + more for rolling

2 1/2

cups

all purpose flour

1/2

tsp

baking powder

1/2

tsp

salt

1/2

tsp

cinnamon

14

TBSPS

unsalted butter

1 3/4 stick at room temperature

2

tsps

vanilla extract

1

egg yolk

1/2

cup

100% pure pumpkin puree

15-20

pieces

of caramel

cut in half
Instructions
In a large mixing bowl combine flour, baking powder, salt, and cinnamon, whisk together and set aside.

Using a hard mixer or stand mixer cream together the butter and sugar until light and fluffy.

Beat in the egg yolk and vanilla. Stir in the pumpkin until well combined.

Fold in in the flour mixture and then mix until the mixture is well combined, making sure to scrape down the sides of the bowl as needed.

Preheat your oven to 350 degrees and refrigerate the cookie dough for 20-30 minutes.

Roll the dough into one inch sized balls, I used a cookie dough scooper to make this easy. Place 1/2 piece of caramel right in the center of the dough in the cookie dough scooper.

Roll the dough all around the piece of caramel, ensuring that there is no caramel showing. Roll in sugar if desired.

Place on a cookie sheet lined with parchment paper or use a silicon mat.

Repeat with remaining dough and caramels.

Bake for 18-20 minutes, rotating the pan halfway through the baking.

Allow the cookies to cool for a couple of minutes on the pan, before removing to a cooling rack.
Recipe Notes
Pumpkin Sugar Cookies recipe from [Wine & Glue|http://www.wineandglue.com/pumpkin-sugar-cookies/}
Nutrition Facts
PUMPKIN CARAMEL COOKIES
Amount Per Serving
Calories 129
Calories from Fat 45
% Daily Value*
Total Fat 5g 8%
Cholesterol 20mg 7%
Sodium 41mg 2%
Potassium 29mg 1%
Total Carbohydrates 18g 6%
Protein 1g 2%
* Percent Daily Values are based on a 2000 calorie diet.
Save