Loaded with flavor these delicious ground Pork Tacos are made with taco seasoning, ready in 20 minutes & cost-effective versus using ground beef.
Today isn't a normal just share a recipe kind of day. It's a little more personal, a little more passionate and its purpose is to make a difference, make an impact on a world-wide issue….hunger.
My husband, Jake is sharing our personal thoughts and feelings on recently visiting the Brenneman's family farm in Iowa.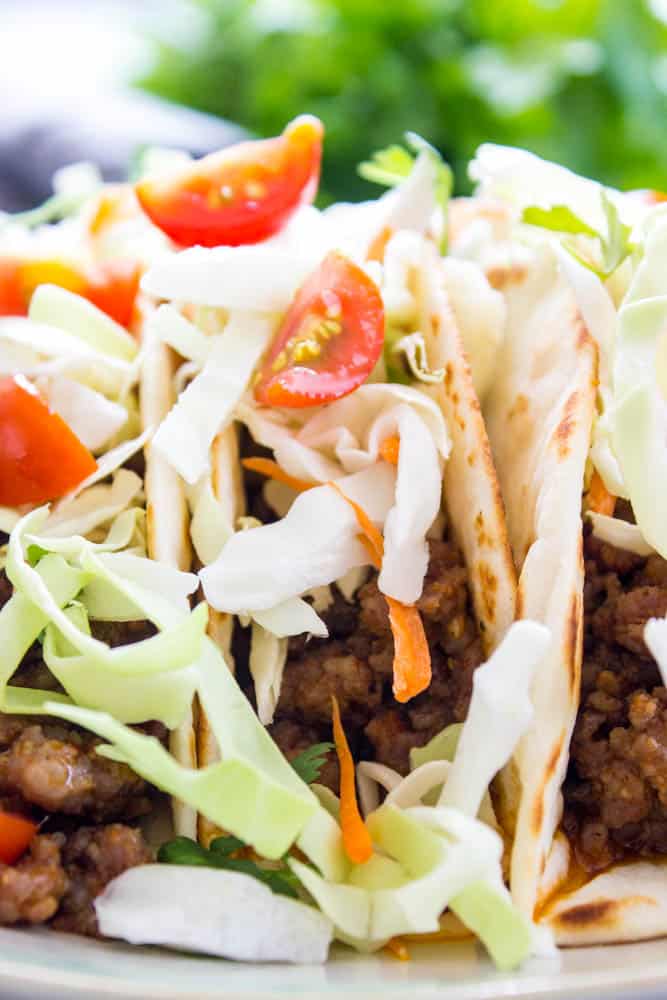 This post is sponsored by Farmers Fighting Hunger, all thoughts expressed are my own.
Yeah, I've been to Iowa before. Being a native Coloradoan, I've marveled at the unending rows of corn, chuckled every time I saw a "ski area" sign and never veered much off I-80. In fact, that's all Iowa has really been to me: Interstate highway. It was always just a means to an end.
Not anymore.
Yeah, I've been hungry before. But being from a fortunate and hard-working family, I've never truly gone hungry. In fact, most of my life, food has always just been there. I'll admit I've taken my meals for granted.
Not anymore.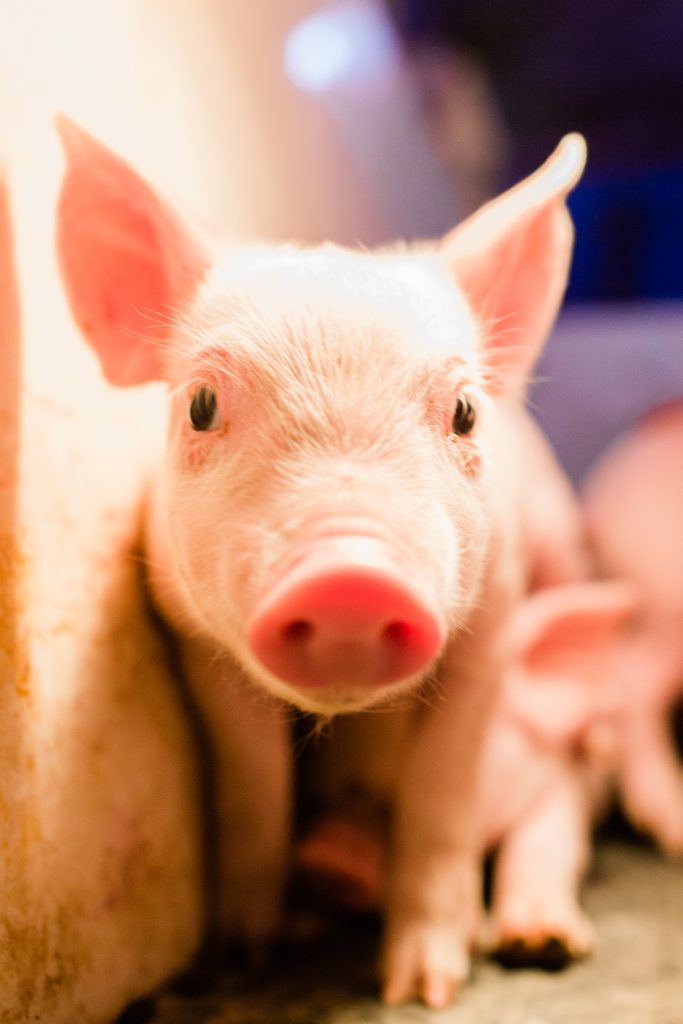 Early in our marriage, we decided to make selflessness a vital value in our family. We've striven to model giving back by volunteering at food banks, running food drives and organizing adopt-a-family events. We want to teach our children the importance of service.
But it was still a little surprising when my son Aiden came home from kindergarten with the classic 100th-day assignment. Each kiddo was supposed to bring in 100 of something. He thought of gluing 100 macaronis to a sheet and organizing 100 pennies in a creative way.
However, with no prompting, Aiden started collecting on his own. When he got to 25, we asked what he was doing. His response: "I want to get 100 of my toys to give to kids that don't have toys."
We smiled the proud parent smiles, which quickly turned into the "How can we capitalize on this innocent eagerness without having to buy him all new toys" faces. After brainstorming for a bit, he decided to collect 100 cans of food for those in need.
He crudely drew a message asking for donations on a sandwich board, grabbed his red Radio Flyer and set off around the neighborhood. What started as a mission for 100 cans, turned into a collection of over 550 pounds of food.
Denver's main news channel caught wind and made its way up to Fort Collins to interview the proud little man, who when asked if he could carry it all to the foodbank, replied, "No… but my dad can."
It was this same spirit I felt when we visited the Brenneman Pork farm in Washington County, Iowa to team up with the Brennemans and Farming to Fight Hunger in their first annual Home Runs Fighting Hunger tournament.
Straight out of Field of Dreams, Tim and Erin Brenneman cleared away some corn and built a ball field. And people came.
In fact, so many salt-of-the-earth Iowans showed, they were able to raise enough to provide over 6,000 meals to families in need. And after spending time with the Brennemans, this is what I learned farming is all about: Family and feeding people.
The entire weekend was a learning opportunity. I entered having heard criticisms of the agricultural industry, particularly around livestock. However, having never been to a fully functioning farm, I knew very little and acknowledged my ignorance. I was excited to educate myself.
After touring the Brenneman farm with Erin, spending time with Rob and Char (the Brenneman Pork patriarch and matriarch), delivering a piglet and even bringing one back to life, I learned that farming done the right way is an incredibly intelligent, sustainable, effective and efficient process.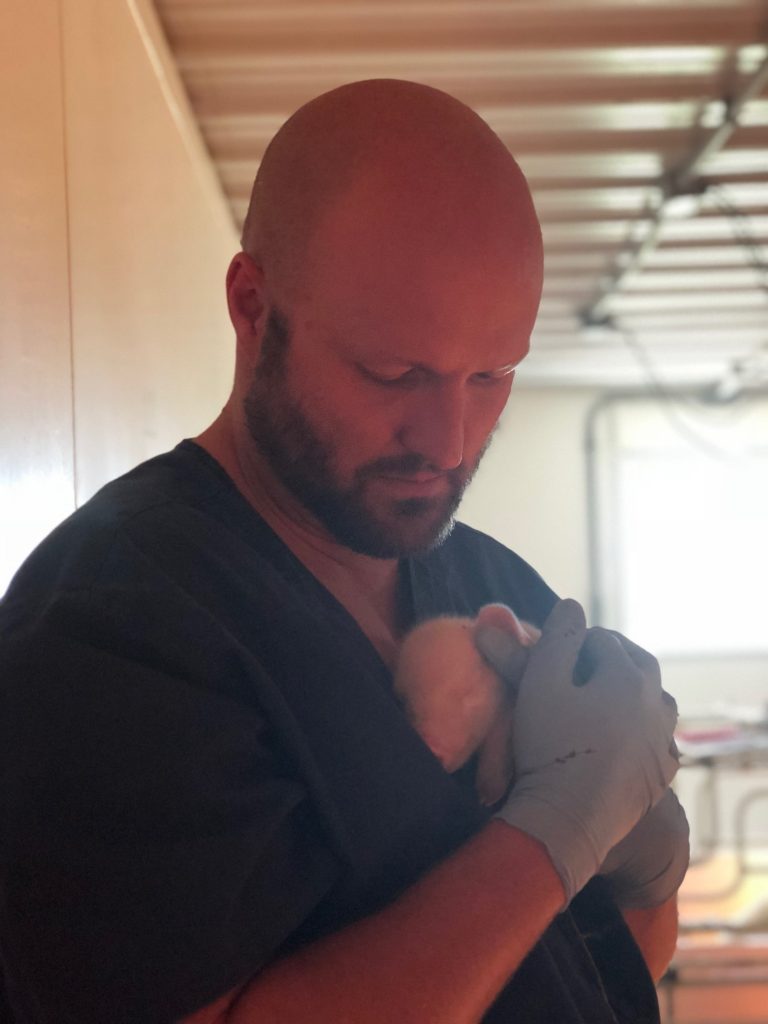 I learned these pig farmers love their pigs. I learned these pig farmers love their community. I learned these pig farmers love their families. I learned these pig farmers love feeding people.
And there are a lot of people out there who need to be fed. Over 50 million people live in food-insecure households in the U.S., including over 7.2 million children. And this number is growing.
But it's people like the Brennemans and organizations like Farming to Fight Hunger and your local food bank that make it possible for many of these families to receive much-needed food and relief. It's unfortunate though, that most food banks report they don't have enough food to meet their community's needs.
That means we can do better. We should be doing better.
And it's easier than you think. Find your local food bank here: http://www.feedingamerica.org/find-your-local-foodbank/
So if you're reading this, organize your own Home Runs Fighting Hunger event. Volunteer at a shelter or food pantry. Or, simply grab a can or two out of your cupboard and donate them. Just act, and share this message with your friends – like the lifelong ones we made in Washington County. Every action matters. Every person matters.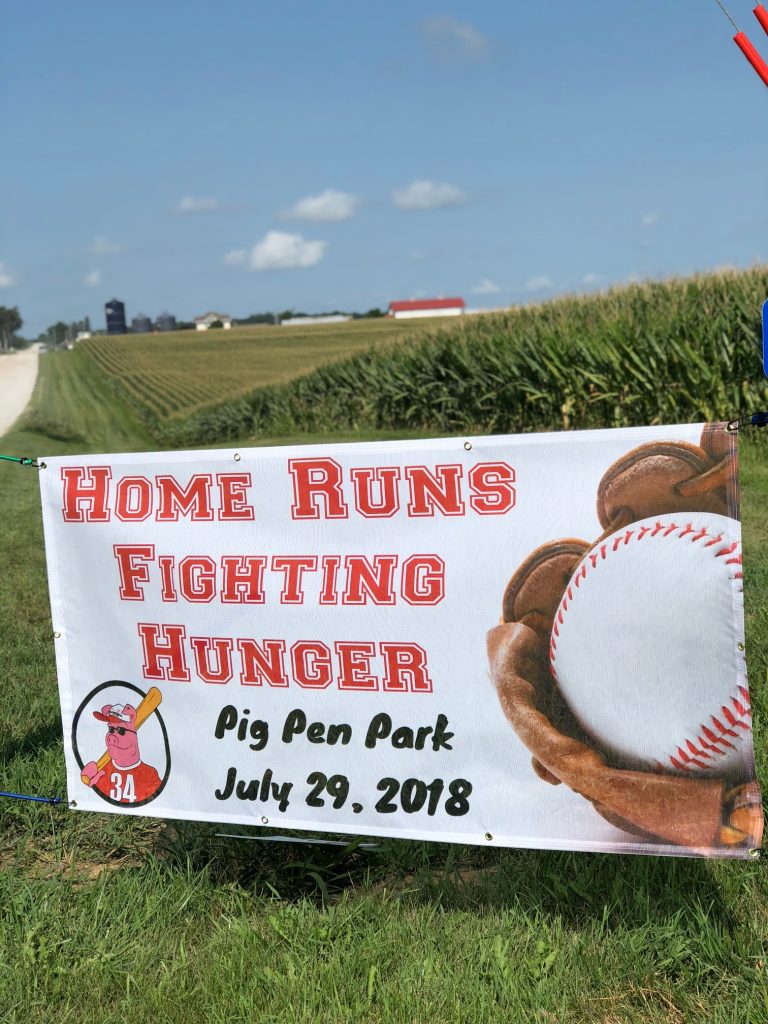 Learn a lesson from Iowa. It's not just a highway or a means to an end. It's where people like the Brennemans work hard to do things the right way, so they can preserve a legacy for their family and feed people. That is what farming is really about.
And they need our help.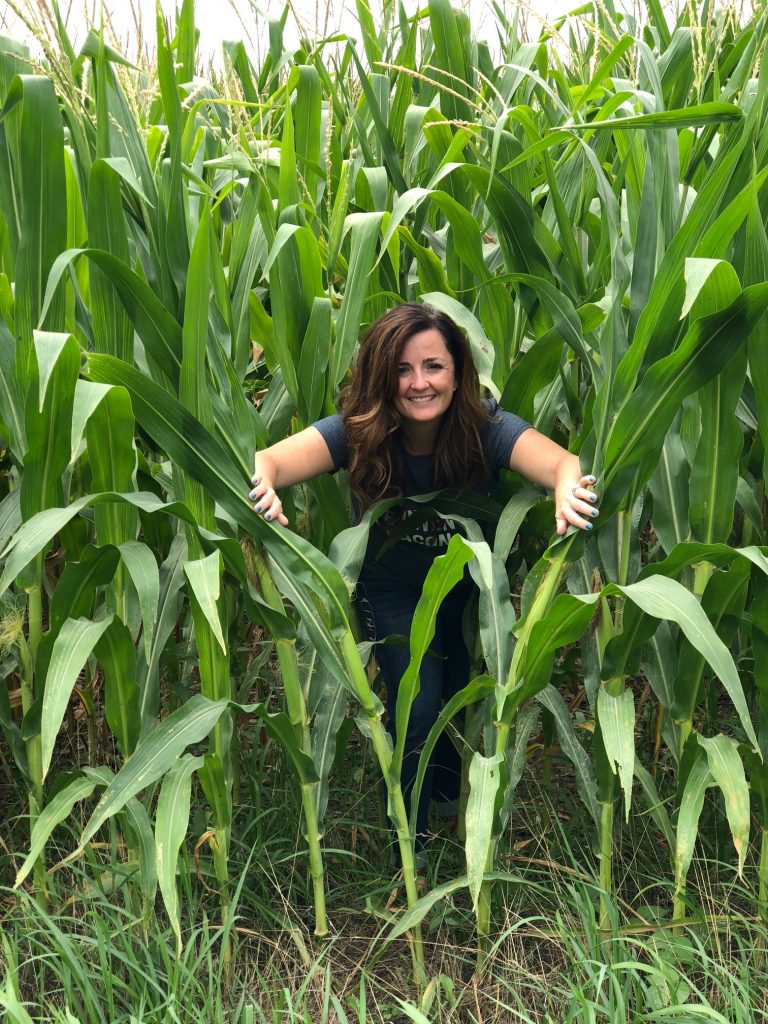 Now, how does this whole event tie-in withPorkTacos? Well, on our trip we were talking about food costs and preparing homemade meals. Mr. Brenneman pointed out that pork is 80 cents a pound in most areas when bought in bulk at the most $1.99 which is how much I bought my pound of pork for. This is cheaper than beef and sausage can be prepared in more ways than one.
I'm excited to share this recipe, and what I love about this recipe for PORK TACOS is that I have also used the pork taco meat in a queso recipe that is to die for!
Hope you enjoy reading about our experience and share with us below how you plan on #fightinghunger. We can't wait to see what we can do for our community.
xoxo Sandra & Jake
Don't forget to pin this recipe for PORK TACOS to your favorite Pinterest board for later.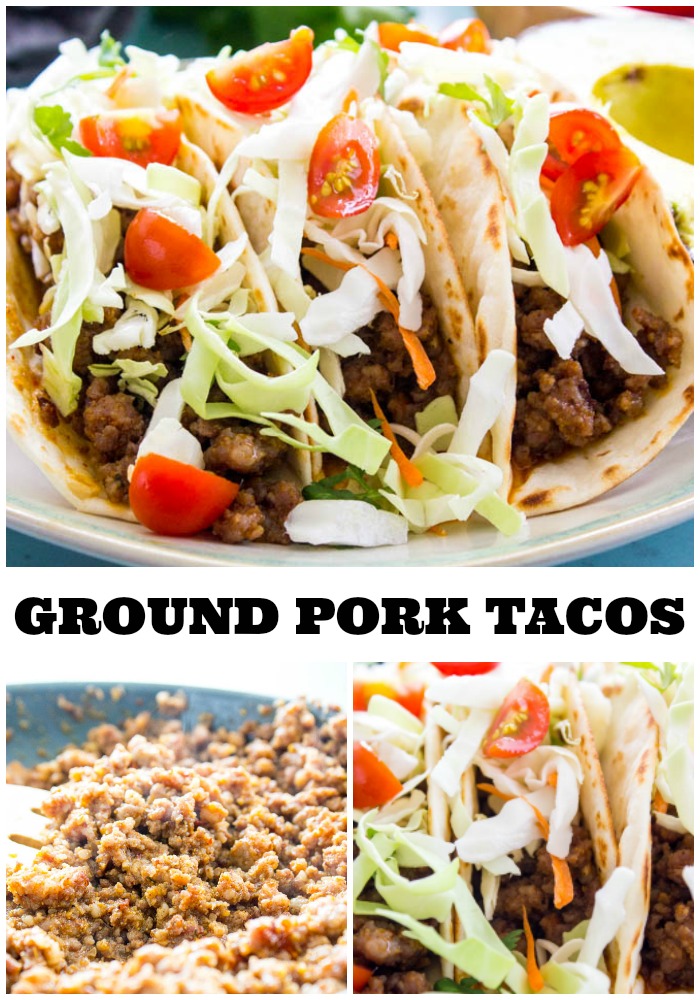 PORK TACOS
Loaded with flavor these delicious ground Pork Tacos are made with homemade taco seasoning, ready in 20 minutes & cost-effective versus using ground beef.

Ingredients
1

pound

ground pork

1/4

cup

taco seasoning

8

tortillas

taco sized

1

cup

coleslaw mix

1/2

cup

pico

1

avocado

sliced
Instructions
Heat skillet over medium heat then add the pork in the pan. Use a wooden spoon to break the pork up into small crumbles, cook about7-11 minutes, until browned an all sides.

Add taco seasoning with the pork. Stir in 1-2 tablespoons of water if needed, and let it come to a simmer. The mixture will thicken and coat the pork. Season with additional taco seasoning if you desire.

Fill tortillas with pork and any of your favorite toppings. I suggest a coleslaw mix, as it makes the perfect amount of crunch, pico, and avocado slices.
Nutrition Facts
PORK TACOS
Amount Per Serving
Calories 290
Calories from Fat 153
% Daily Value*
Total Fat 17g 26%
Cholesterol 40mg 13%
Sodium 428mg 18%
Potassium 345mg 10%
Total Carbohydrates 20g 7%
Protein 12g 24%
* Percent Daily Values are based on a 2000 calorie diet.
Save