This Peanut Butter Brownie No-Bake Cheesecake is all chocolate and peanut butter lover's dream come true in a pan. Rich and creamy Peanut Butter No Bake Cheesecake on top of a decadent Ghirardelli brownie and finished off with an easy 10-minute Peanut Butter Hot Fudge Sauce, dessert can't get much better than this.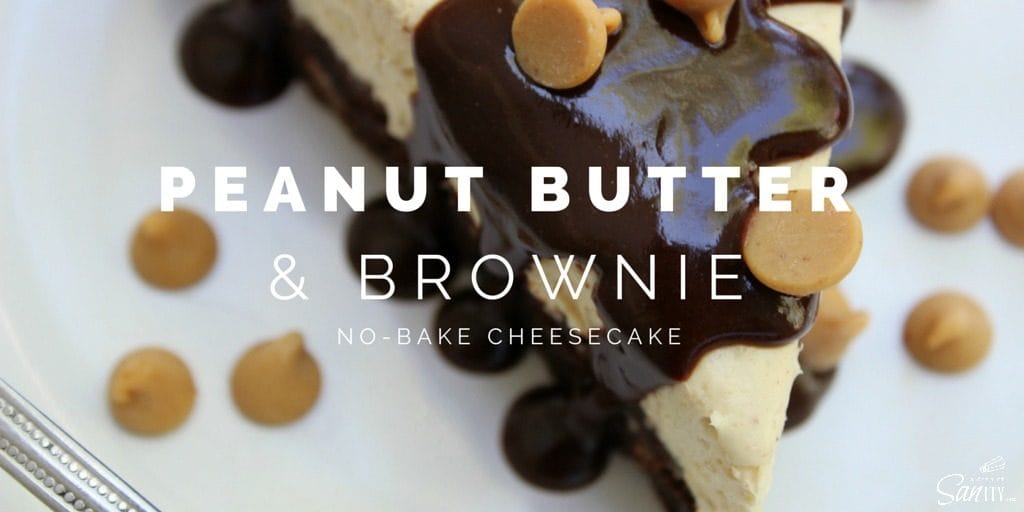 Anytime I make a no-bake cheesecake you know it is because I am celebrating something. And this weekend we had a lot to celebrate. My sister and I ran in the Colfax ½ Marathon and I celebrating because I didn't die. You see she was training for the full marathon with one of her friends Shannon, and 26.2 miles just isn't my thing. But due to an old knee injury flaring up, she had to run the ½ marathon, I decided about 3 weeks ago to support her and run with her. While I have ran a ½ marathon before, I trained a TON, this time I only got two decent runs in of 7 and 9 miles, before the big race. So I was a little worried. But we rocked it and it was so much fun. No blisters either! Yahoo.
We also were celebrating our best friend coming to town, Molly. I say ours because she was my husband's friend when we met, but then I kinda stole her. It was nice to be able to catch up on her birthday weekend and celebrate the monumental 25 years + 10, with her. Happy Birthday Momo! We love you.
And then how can we not celebrate the last couple weeks of school and summer quickly approaching! Yahoo. Now for the summer countdown to begin!!!
Cheers to races, friends and summer!
Enjoy this Peanut Butter & Brownie No-Bake Cheesecake, I know we sure did. Easy to prepare and even easier to indulge.
XOXO San
Peanut Butter & Brownie No-Bake Cheesecake
Ingredients
1 Double Chocolate Ghirardelli's boxed brownie mix
*Peanut Butter No-Bake Cheesecake
12 ounces cream cheese, softened
½ cup sugar
½ cup peanut butter
2 tablespoons butter, softened
2 cups frozen non-dairy whipped topping, thawed

1 recipe for Peanut Butter Hot Fudge Sauce

½ cup brown sugar
½ cup creamy peanut butter
¼ cup cocoa powder
2 tablespoons butter
¼ cup + 2 tablespoons milk
2 teaspoons vanilla
Directions
Prepare an 8-inch spring form pan, otherwise known as a cheesecake pan by spraying with cooking oil. Make brownies according to package directions. Remove brownies from oven and cool completely.
Once brownies are completely cool make the Peanut Butter No-Bake Cheesecake.
Beat together cream cheese, sugar, peanut butter and butter in large bowl on medium speed until smooth and creamy. I used my KitchenAid mixer for this. Then fold in whipped topping until blended, I get a little inpatient and usually start to beat it and it still tastes great.
Spread on top of cooled brownies.
Place in the refrigerator until firm and set 30-60 minutes.
About 20 minute before you are ready to serve make the Peanut Butter Hot Fudge Sauce. Click [here|for the directions to the Peanut Butter Hot Fudge Sauce Recipe| http://www.adashofsanity.com/2015/05/peanut-butter-hot-fudge-sauce/].
*You can make the Peanut Butter Hot Fudge Sauce recipe in advance and store in the refrigerator and heat to warm when you are ready to use.
Cut the cheesecake into slices and serve, drizzle with Peanut Butter Hot Fudge Sauce.
Notes
Total time includes the amount of time for the cheesecake to set in the refrigerator.
https://www.dashofsanity.com/peanut-butter-brownie-no-bake-cheesecake/
Save