Sponsored post, all opinions expressed are my own.
This Overnight Blueberry Waffle Bake is an easy, delicious breakfast bake that makes a perfect start to the day.
Prepare the night before, bake in the morning and wake up your family with this breakfast casserole that will have everyone swooning.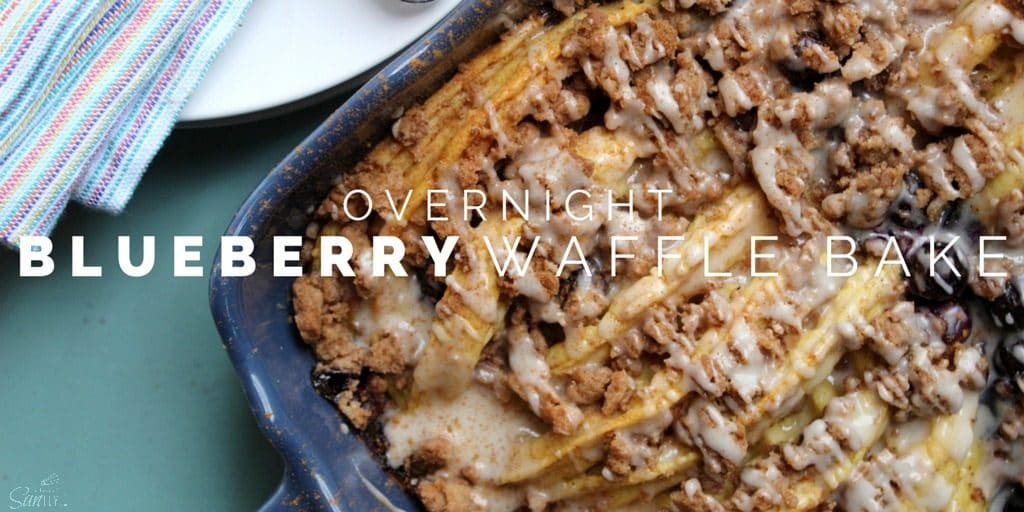 In our home we are breakfast lovers! All of my kids love a warm breakfast. And while I do as wel,l sometimes it takes more work than I have the energy for. You know what I mean? So I love creating bakes that make my life easy and that the kids love.
My friend Heather from Heather's French Press recently posted this amazing Overnight Pancake Casserole. Oh. My. Goodness! It is amazing. You need that recipe in your life.
And the other night when I was dreading the morning routine, of 11 hungry children. I thought I should make a casserole. And we didn't have any bread (shocking, I know) and I didn't want to take the time to make pancakes, so I looked around for what I had. Oh, yes, I have some Gluten-Free Eggo Waffles in the freezer. So I wanted try making a casserole using them. And this is what I came up with, inspired from my friend Heather's recipe. Oh and it was amazing! And here is the wow factor in this recipe. You can start off the day with this waffle bake even if you are gluten-free without sacrificing taste while still having a classic & simple breakfast dish.
I added blueberries to give it that fresh fruity taste & look. A crumble on top that ties this dish all together. I was a little nervous of what the kids would think and you know what, they loved it! I was delighted. It was easy to throw together in less than 10 minutes, then I stuck it in the oven the next morning and it was ready to go.
Simple. Delicious and kid approved. Breakfast can't get much better than that.
Enjoy!
XOXO San
Overnight Blueberry Waffle Bake
Ingredients
10 waffles, I used Eggo's Gluten-Free Waffles or any other Eggo waffle
1 pint fresh blueberries
1 ½ cups non-fat milk
2 tablespoon light brown sugar
4 eggs
½ teaspoon cinnamon
Pinch nutmeg

Crumb Topping

½ cup flour
¼ cup brown sugar
1 tsp cinnamon
Pinch nutmeg
3 tablespoons butter, melted
1 tablespoon maple syrup

Glaze

½ cup powder sugar
¼ - ½ teaspoon maple extract, vanilla would work nicely as well
2 teaspoons milk
1 tablespoon butter, melted
Directions
Let waffles sit at room temperature for 5 minutes. Cut waffles in half. In a 8x10 baking pan place each waffle half cut side down. There should be two rows of 1o waffle halves in each. Pour the blueberries over the waffles, push berries in between waffles if you desire, we like it this way.
In a bowl or large measuring cup combine milk, brown sugar, beaten eggs, cinnamon and nutmeg. Whisk until well combined. Pour egg mixture over prepared waffles, lightly press down waffles into the egg mixture, so that each part of the waffle gets wet. Cover and set in the refrigerator overnight. If in a pinch, I have done this and let it sit for 4 hours, and it still comes out great.
The next morning uncover dish. Preheat oven to 350 degrees. Make crumb topping.
In a small mixing bowl melt butter in microwave, stir in maple syrup. Add in flour, brown sugar, cinnamon and nutmeg. Mix together until it resembles coarse crumbs. Sprinkle over waffles.
Place in oven and bake 50-55 minutes. While it is baking make glaze. In a small bowl combine all of the ingredients and stir together until smooth, set aside.
Remove from oven and drizzle glaze over the bake.
Serve immediately.
Notes
Total time does not include the time the bake sits overnight.
Recipe adapted from Heather's French Press
Homemade waffles would work as well, but not thick waffles, there is not enough liquid for them to absorb. You will need to use thin waffles.
https://www.dashofsanity.com/overnight-blueberry-waffle-bake/
Save