Make pizza night even easier with this One Pot Pizza Pasta. A dish the entire family will love and ready in 30 minutes! Dinner cannot get any easier or more delicious.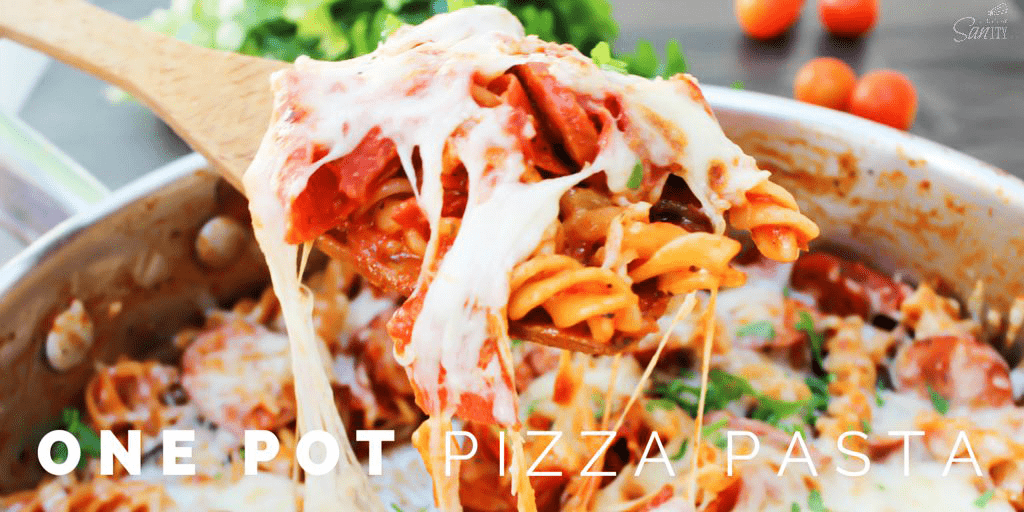 This One Pot Pizza Pasta is a cheesy, full of your favorite pizza toppings pasta meal. What is great about this dish is that you can make it your very own, with your favorite pizza toppings. Add in green peppers, bacon (my husband's favorite), or just make it with just plain ole cheese. This dish is simple to make it your own.
Serve with some garlic bread or simple easy bread sticks and viola, dinner is served. Little time in the kitchen and well it's like pizza. So your whole family will be going back for seconds. The first time I made this the kids picked out the sausage and mushrooms so when I made it again, I doubled the pepperoni and stirred in some mozzarella cheese before topping it with more cheese and placing it in the oven. Huge hit. That was for the kids, I made a second skillet for my husband and I with extra mushrooms, next time I will be adding bacon. Yum!
One pot dishes are not only quick dinner, but they also make and easy clean-up with just one dish. Less dishes equals a happy mom or dad, if your house is like ours.
So need an easy, quick and kid approved dinner idea?  Look no further, this One Pot Pizza Pasta dish is the answer.
Enjoy!
XOXO San
Ingredients
8 ounces pasta
14.5 ounces tomato sauce
1 ½ tablespoons Italian seasoning
1 tablespoon olive oil
2 garlic cloves, minced
½ yellow onion, diced
1 cup sliced mushrooms
4 ounces Italian sausage, sliced
½ cup sliced pepperoni, quartered
1 can of water, use tomato sauce can, approximately 1 ½ cups
1 cup shredded mozzarella cheese
¼ cup parmesan cheese
Directions
Preheat oven to high-broil.
In a large oven-proof skillet or pot, add Italian sausage and ¼ cup water and cook 4-5 minutes, until liquid is completely cooked out. Add olive oil, diced onions, mushrooms and garlic, cook 5 minutes. Then add tomato sauce, water, Italian seasoning pasta, and pepperoni; season with salt and pepper, to taste. Bring to a boil; cover, reduce heat to medium and simmer until pasta is cooked through, about 12-14 minutes. Stir every 3-4 minutes, if needed add a ¼ cup water half way through, so that you don't burn the pasta to the bottom.
Remove from heat; top with mozzarella and parmesan cheese.
Place into oven and cook until melted and golden brown, 3-5 minutes.
Remove from oven, top with freshly chopped parsley and serve!
Notes
https://www.dashofsanity.com/one-pot-pizza-pasta/
Save