Best OATMEAL RAISIN COOKIES are soft and chewy, fully loaded with rolled oats and raisins. These cookies are just like what grandma used to make.
Okay friends, you are just going to love this recipe for OATMEAL RAISIN COOKIES it is seriously the best! This past Friday I was having a Monster Cookie craving, like big time. And while I so wanted to make a big batch I knew that if I did, I would overeat on cookie dough and well it's the New Year and I am still trying to eat healthier.
So we headed over to Eileen's cookies who is really known for their amazingly soft sugar cookies. I let the kids get one too – Aiden and Madden got their favorite Snickerdoodle. I order my craving of best ever monster cookies,  while Cannon got Molasse and Jersey and Jojo got of course the sugar cookies and we didn't forget about Jake and got him one too.
And while we all drooled over all the cookies and I was set on getting the monster cookie, I couldn't stop thinking about the oatmeal raisin cookie, it was calling to me too – so…..I had to get it. I took a bite of the monster cookie and it was not as good, tasted like maybe it was day old so I bit into the oatmeal raisin cookie and it was amazing. Crispy, yet chewy in the center – it literally was cookie perfection.
My grandpa used to make oatmeal raisin cookies with quick oats and they were so good but really crunchy, and so they were fantastic with a glass of milk. He loved making these cookies and would make like a triple batch and then give them all to us. He always prided himself on these cookies and he loved seeing Madden devour them.
Madden really did love the cookies and the first thing Madden said when I made these OATMEAL RAISIN COOKIES was "Mom why did you make these with raisins?". LOL. So while he ate them I noticed a little pile of raisins sitting at the table when he walked away. Well really I made these cookies for me, not for him so I am okay that he wasn't in love with the raisins and I am sure Grandpa is smiling down from heaven knowing Madden liked his cookies more.
While there are so many oatmeal raisin cookie recipes out there, this one is seriously, hands down the best one I have tried. And I can't wait for you to make these.
Let me know what you think and how these compare to your recipe, as I always love hearing your stories and feedback. XOXO San
My favorite kitchen items I used to make these CHEWY OATMEAL PEANUT BUTTER CHOCOLATE CHIP COOKIES.
Sheet Pan: I love using a larger sheet pan while cooking because I am feeding my family of seven. I love aluminium for when I do sheet pan meals. I would start with this 13 by 18 half sheet pan. I love these pans so much that I have 9!
KitchenAid Mixer: I love my KitchenAid mixer and use it almost daily. For cookies, breads, sauces, frostings and dough – I find many recipes that I can use my Kitchen Aid to reduce prep time. I have two that I couldn't live without.
Hand Mixer: I love these for small batches or quick and easy recipes that don't require a lot of ingredients. I love that you can have so many color options now, I love personally love teal.
Mixing Bowls: I love having a variety of sizes of mixing bowls. From small to large, I find that having at least 3 bowls of different sizes has been an essential in my kitchen. I prefer Pyrex because of the durability.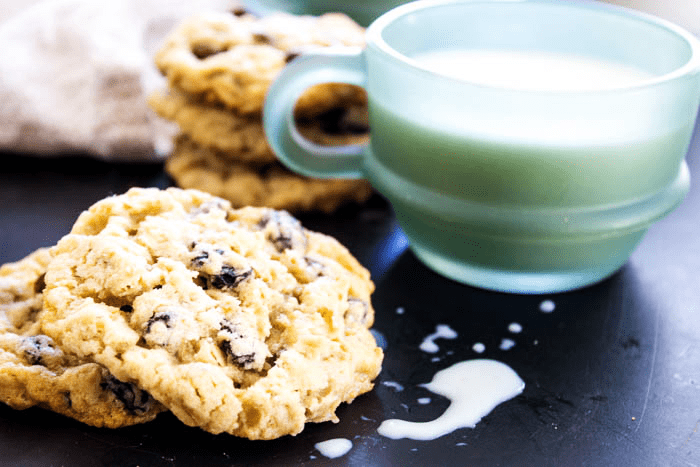 COOKIE BAKING TIPS
Can you freeze oatmeal raisin cookies?
All cookies can be frozen, but it is best to wrap them individually to freeze them and only do this once they have cooled completely. Another way to freeze then is to stack them in layers in a Ziplock or container, separating the layers using parchment paper. I personally love individually wrapping them as I feel they taste better.
How long will cookies stay fresh in an airtight container?
Properly stored, freshly baked cookies will last for about 2 to 3 weeks at normal room temperature and stored in an airtight container.
Can you freeze oatmeal raisin cookie dough?
This cookie dough can be easily frozen but it is best if you portion about the dough beforehand. Scoop the cookie like you were going to bake them and just place on parchment paper. Then wrap the parchment paper in plastic wrap or store in an airtight container. Before you bake preheat the oven, following the cookie recipe suggested temperature. Stick on baking sheet lined with parchment paper, placing 2 inches apart, the only thing you will need to change is add an extra 1-2 minutes to the baking time for the frozen dough.
Don't forget to pin this recipe for OATMEAL RAISING COOKIES to your favorite Pinterest board for later.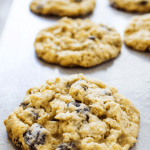 OATMEAL RAISIN COOKIES
Best OATMEAL RAISIN COOKIES are soft and chewy, fully loaded with rolled oats and raisins. These cookies are just like what grandma used to make.
Ingredients
Dry Ingredients
2

cups

all-purpose flour

1

teaspoon

baking soda

1

teaspoon

baking powder

1/2

teaspoon

salt
Wet Ingredients
1

cup

salted butter

1

cup

white sugar

1

cup

light brown sugar

2

large

eggs

1

tablespoon

vanilla extract
Stir-Ins
3

cups

rolled oats

not the instant kind friends

1 1/2

cups

raisins
Instructions
In a medium mixing bowl whisk together all of the dry ingredients; set aside.

In a large mixing bowl, using a hand mixer or stand mixer, combine wet ingredients with a hand mixer on low. Mix until well combined, then increase mixer speed to high and beat until light and fluffy.

Turn the mixer down to low and stir in the flour mixture into the creamed mixture until no flour is visible, be sure not to over mix you will get a stiff cookie, you want a chewy one.

Stir in the oats and raisins until incorporated, don't use the mixer for this.

Using a cookie scoop, scoop dough and place on pan.

Drop 2-inches apart onto baking sheet sprayed with nonstick spray.

If you don't have a cookie dough scoop, make cookies with about 2 tablespoons of dough.

Bake 11-12 minutes in preheated oven. The cookies will look like they need another minute or two, they don't.

Remove from oven; let cookies sit on baking sheet for 2 minutes before transferring to a wire rack to cool.
Recipe Notes
*Baking Tip* make sure to set your cookie sheet on the center rack of your oven, I say this only because my husband doesn't always to this.
Recipe adapted from Live Well, Bake Often.
Save