This recipe for Navy Beans is full of flavor. It's known as the 3-2-1 recipe: 3 cans of navy beans, 2 cups brown sugar, and 1 lb. sausage. Simple and delicious.
I love this Navy Beans recipe! The first time I laid eyes on this recipe in Michigan, I was being hosted by the National Pork Board and at one of the luncheons. They served this along with pulled pork sandwiches. I'll admit that I only took a serving to be polite, and it surprised me that I wanted seconds.
Just 3 simple ingredients, you are minutes away from serving a fantastic side dish of Navy Beans. Great for barbecues, luncheons and even the holidays, this recipe for Navy Beans will surprise all of the foodies in your house.
This post is sponsored by the National Pork Board, I am proud of my partnership with them. All opinions expressed are of my own.
If you've been following me for a while, you'll know that the last few years I have worked with the National Pork Board in bringing awareness of a few practices within the agriculture industry like farm methods, GMOs and cooking temperatures of pork and how this has changed over time.
Each trip and each farm taught me something more.
This time, the destination was Michigan, not Iowa. I kind of liked the changeup only because I could then see that even though we were in another state, the practices, methods, collaboration and passion still extend to other places.
While I kind of consider myself more of an expert on pork than the average person, I really learn more each time I go. I'm not just talking recipes either – even though this was my first time to have Navy Beans, and I fell in love with the recipe – I learned more about raising pigs.
This time, at one of the family farms, we got to walk through their filtration barn. This is where we got to see all of the filters they have for their barn. Why would you filter the air for pigs? I mean, it sounds a little silly right? This is all to reduce infection, illness and disease from getting into the barn or pens of the pigs. This is a part of best practices the pork industry is constantly improving to take the best care of their animals, and in return, giving us the best quality of pig out there.
The whole filtration system is apart of biosecurity standards that have been a game changer in the pork industry. Not only do the filters reduce infection and illness, but dust as well.
Dust can damage the respiratory tract, which could also increase susceptibility to infections for the pigs and farmers. The filters are changed every 7-8 months, of course varying per farm.
The somewhat new concept of using filtered air barns for pigs (about 10+ years old) is just one of several measures farms consider for biosecurity. While filtering the air is a small part of it, there are also practices of when new pigs enter the barn, including scrubbing them down and making sure they're clean and uncontaminated. This practice isn't just for pigs, it's for humans as well.
The showering in and out when entering the sow barns must happen for anyone, including the employees, owners and visitors. There are no exceptions. While not all farms are doing this, these newer practices are quickly becoming industry standards.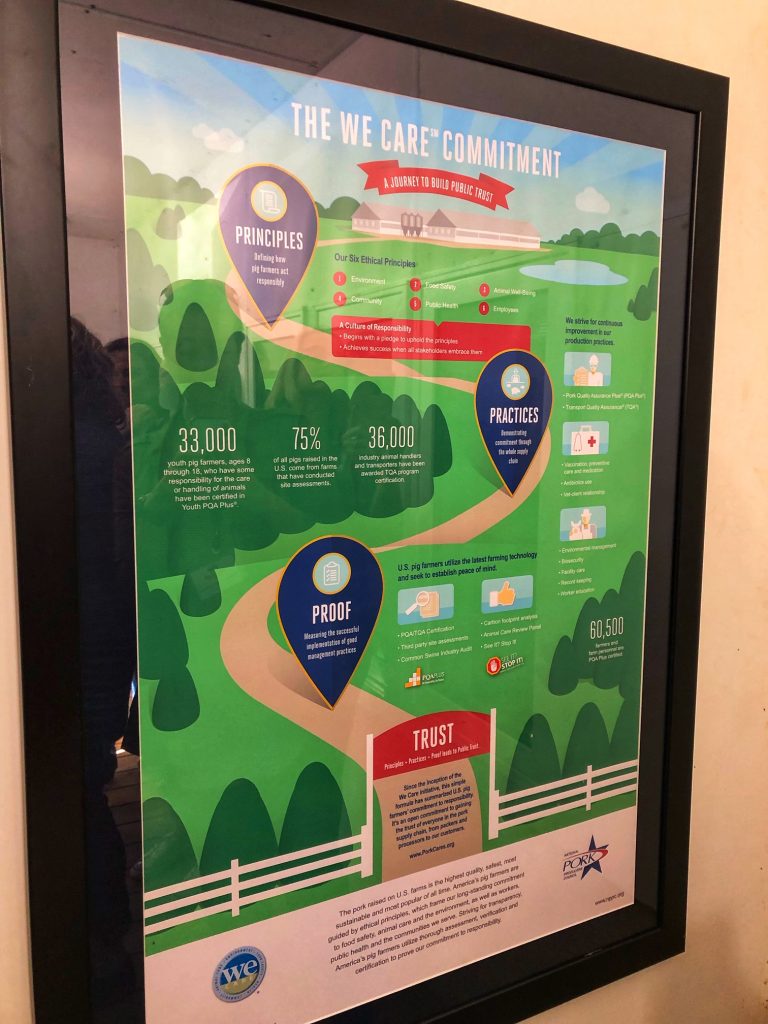 I loved this view of the farm. It gave me additional insight into the food I am eating and the care that goes into the pork products my family enjoys.
While the filtration system was amazing to see, it wasn't the only highlight of my trip. In Michigan, we saw some beautiful countryside. I honestly didn't know what to expect from Michigan while visiting, but I loved the overall landscape and people!
At Michigan State, we were able to be apart of a cooking demo. Not only was this delicious, but we learned so much about the different cuts of pork. Most of us cook with bacon, sausage, and pork chops, but there is so much more to pork than that.
I was amazed to know that pork is one of the most widely consumed proteins in the world!
In the US, it seems like we don't use every part of the pig like other countries do, but overall, pork is so versatile. From ribs to loins, chops to bacon and pork belly to roast, pork is easy to use in any recipe!
Take this recipe for Navy Beans for example. I never would have thought of this. Kind of like a chili, this works great as a side dish but could also be the center of your meal.
At the cooking and fabrication demo, we saw how pork is divided into large sections know as primal cuts. We then saw the primal cuts broken down even further to be able to see more what we buy at the store called retail cuts. The most fascinating part was learning the cost of each cut. Every time a cut is made, the price of the pork goes up. I am sure this what is what it's like across the board for meat.
There's something else about pork: The cost! It's cheaper in most cases than beef and even chicken. Read more about the cost of pork and Farmers Fighting Hunger here.
When I had this recipe for Navy Beans, I thought for sure it has maple syrup. When I asked for the recipe, she said it is so easy because it's a 3-2-1 recipe – and then explained further.
I was so excited to make this when I got home. You could even make this more of a soup and add onion, celery and even bacon. But it's also fantastic in its simplicity. I mean, it's the holiday season, and life is already crazy enough.
Be on the lookout for more pork recipes coming your way because let's face it, pork if flavorful, delicious and I love supporting our local USA farmers. XOXO San
Don't forget to pin this recipe for NAVY BEANS to your favorite Pinterest board for later.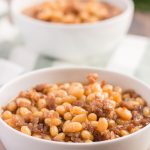 Navy Beans
This recipe for Navy Beans full of flavor. It's known as the 3-2-1 recipe: 3 cans of navy beans, 2 cups brown sugar, and 1 lb. sausage. Simple and delicious.
Ingredients
3

14 ounce cans

navy beans

do not drain

2

cups

brown sugar

1

lb

sausage

1/2

yellow onion

finely diced, optional
Instructions
Heat a skillet over medium-high heat and add the sausage. Use a wooden spoon to break the sausage up into small crumbles. Cook about 7-11 minutes until browned an all sides.

Add beans and brown sugar to the skillet. Stir together until well combined. Reduce heat to medium and simmer 20-25 minutes. If it starts to boil, reduce heat a little more.

Remove from heat and serve.



Nutrition Facts
Navy Beans
Amount Per Serving
Calories 307
Calories from Fat 108
% Daily Value*
Total Fat 12g 18%
Cholesterol 32mg 11%
Sodium 301mg 13%
Potassium 179mg 5%
Total Carbohydrates 43g 14%
Protein 6g 12%
* Percent Daily Values are based on a 2000 calorie diet.
Save