Mini Chocolate Chip No-Bake Cheesecakes are so delicious & easy to make.  These bite sized treats are made with 4 ingredients and take 30 minutes from start to finish. Your summer is only missing one thing and it's these Mini Chocolate Chip No-Bake Cheesecakes.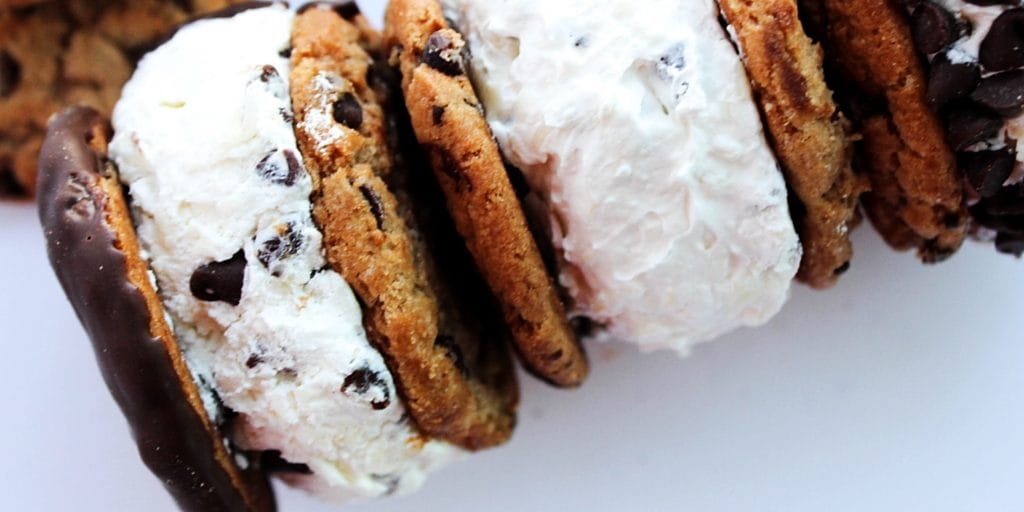 My kids and I recently made these Mini Oreo No-Bake Cheesecakes and they quickly became a household favorite, not only at our home but that of our readers,
family and friends. So we decided to do a few spin-offs and these Mini Chocolate Chip No-Bake Cheesecakes. We simply made the same no-bake cheesecake filling but added mini chocolate chips instead of Oreo cookies and then use two store bought chocolate chip cookies for the outside. You could totally make homemade chocolate chip cookies, but then that would make this recipe semi no-bake.
I love making easy treats like these Mini Chocolate Chip No-Bake Cheesecakes for my kids in the summer and the great thing about these is that my kids can even make them themselves. Jojo my daughter made them with me the first time and you can tell my her smile she was very proud.
Do you have a summer no-bake treat that you like? I would love to hear your ideas, so comment below.
Have a great day friends, we are off to Water World for some family time.
XOXO San
Love no-bake recipes? Check out these other amazing no-bake desserts: No Bake Strawberry Cheesecake from I Am Baker,  Neapolitan No Bake Cheesecake from Grandbaby Cakes and No Bake Berry Vanilla Cheesecake from Life, Love and Sugar.
Mini Chocolate Chip No-Bake Cheesecakes
Ingredients
1 package Chocolate Chip Cookies I used Nabisco but any other premade chocolate chip cookies will work too
8 ounces cream cheese
1 1/2 cups Cool Whip
1 tablespoon sugar
1/2 cup mini chocolate chips, I used Nestle Toll House
Directions
In a medium mixing bow beat cream cheese and sugar until smooth. Stir in Cool Whip and mini chocolate chips.
Grab 2 of the chocolate chip cookies. Using an ice cream or cookie dough scooper or tablespoon, scoop some of the cream cheese filling onto one of the chocolate chip cookies.
Then place the other cookie right on top of the cheesecake filling. Press down slightly, not too much though you don't want the filling oozing out.
Voila you are done. You may roll each mini cheesecake in chocolate chips, my family and I liked that way the best. Or you can leave just plain. You may also dip the top of the cookie in ganache. If you are looking to do that just click over to here for those directions.
Repeat with remaining cheesecake and cookies.
Serve right away or set in the fridge until chocolate is set, about 20-30 minutes.
The first time we made these, I made them in the morning and let them sit all day in the refrigerator and then had them after dinner.
Notes
Makes 8 cookies if you use an ice cream scooper to fill the cookies or 15 small if you use a cookie scooper.
https://www.dashofsanity.com/mini-chocolate-chip-no-bake-cheesecakes/
Don't forget to pin this to your favorite Pinterest board for later.
Save