Easy to make on a busy night or over the holiday season, this Mexican Corn Chowder is packed with flavor and insanely delicious.
This Mexican Corn Chowder is versatile, making easy to adapt and make this your own, add potatoes, extra veggies and top with chips, it doesn't matter how you serve this your family will love it.
This recipe for Mexican Corn Chowder was inspired by my recent trip with Iowa Corn who has sponsored this post. All opinions expressed are of my own.
If you have been following A Dash of Sanity for some time then you know that I have developed a passion for agriculture and the farming community. This passion was sparked a few years ago by attending an #IACornQuest. I traveled again this year back to the roots of where my passion started, Iowa.
Every time I go back I leave inspired. I find a greater sense beyond myself and have a greater understanding of the future of corn, and I am not just talking about corn on the cobb at your dinner table. I am talking feed for animals, sugar, ethanol fuel and world trade.  Corn is not just a valued tangible source of energy for our bodies, but also our cars.  as a tangible source of energy.
The three years, I have attended #IACornQuest I learn something more. The first year I was overwhelmed with information but what really amazed me was how many things we use in our everyday lives has corn in it. The use of corn starches is insane. I saw bread, granola bars, cereal, and everything in between that had to corn in it. There was a large shelf with all the average home ingredients made with corn and it still blows my mind to this day.
The second year what really rang home with me was the whole GMO conversation around corn and the agriculture industry.  Dr. Ruth MacDonald, Ph.D., RD, a professor and Chair of the Department of Food Science and Human Nutrition at Iowa State University, opened my mind to what GMO really means, how it affects our body and helps our environment. I realized packaging and slogans are all motivated by money, not science. I too began to understand that GMO is sustainable. I could literally write an entire post on this alone, so look for this coming soon.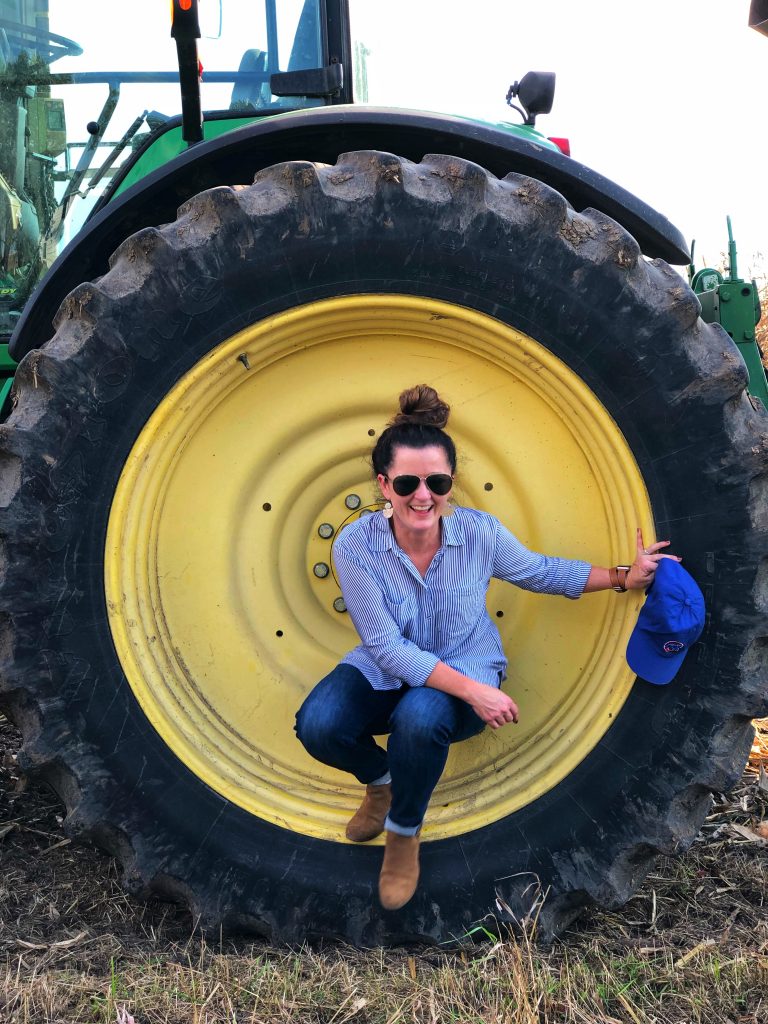 This year though I learned so much more about ethanol. Now granted they did speak to this the previous years but this year at the Iowa Speed Way we went into more detail and things started to click for me.
What is ethanol fuel?
Ethanol fuel is ethyl alcohol. It is the same type of alcohol found in alcoholic beverages in this case though used as fuel. It is commonly made from corn or sugarcane.
Tidbits on ethanol fuel.
98% of gas sold today has at least 10% ethanol in it, does this surprise you? It sure did me. There are even states within the US that have regulations and require all their gasoline to have ethanol fuel in it.
Using ethanol fuel has a positive impact on our environment allowing for better air quality and reduces pollution.
According to DrivingEthanol.com " It reduces greenhouse gas emissions by up to 59 percent relative to gasoline."
Ethanol burns cleaner than regular gasoline, we saw this demonstrated. The black smoke coming from the gasoline reminded me of my dad's old diesel truck. Ethanol, well we didn't see anything black come from its flame.
The beauty of this industry alone is that not only researchers but the farmers as well are constantly striving to better their systems, utilizing every resource they can to produce the best product efficiently.  There are so many misconceptions on corn farming practices, ethanol fuel and why & how this industry operates.
It's amazing to think that in the next 10-20 years we could be potentially be using more electric cars or running on ethanol fuel. I'm excited to see what this comes to, I hope personally for myself and my country it is the use of ethanol fuel.
While we use corn in our everyday lives in food. We also use it in our cars, and maybe you just didn't realize that – I mean I didn't.
While in Iowa we had amazing food! But I really love corn in soups and chowders. I feel like corn adds depth to these types of dishes. I love my Slow Cooker Potato & Corn Chowder and that is what inspired this dish. This time instead of using the slow cooker, I just went plain ole' stove top. And it was easy!
And while I may not be completely knowledgeable as I would like to be on corn and I am not just talking recipes. I am excited because I have a passion for causes for a group of people that inspire me and that for me is what my blog is all about. Inspiring people.
Excited to share more with you in the coming weeks friends and until then enjoy this Mexican Corn Chowder. xoxo San
My favorite kitchen items to make this Mexican Corn Chowder are below, you will want of few of these just for your everyday cooking.
MEASURING CUPS: Nothing beats a good set of measuring cups that last a long time. I love metal measuring cups because of their durability.
MEASURING SPOONS: I have to have a metal set of measuring spoons on hand. The plastic ones just don't last long in our house partly due to the garbage disposal.
Don't forget to pin this recipe for Mexican Corn Chowder to your favorite Pinterest board for later.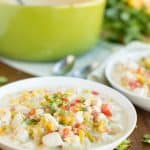 Mexican Corn Chowder
Easy to make on a busy night or over the holiday season, this Mexican Corn Chowder is packed with flavor and insanely delicious.
Course:
Main Course, Soup
Ingredients
1 1/2

lbs

boneless skinless chicken breasts, cut into bite-size pieces

1/2

cup

chopped onion

1

clove

garlic

minced

3

tablespoons

butter

3

cups

chicken broth

3/4

teaspoon

ground cumin

1

teaspoon

taco seasoning

2

cups

half-and-half or heavy cream

2

cups

shredded Monterey Jack cheese

1

can

can cream-style corn

14.5 ounces

1

can

diced green chiles

4 ounces

1

tomato

chopped

1/2

diced red pepper

1/2

diced green pepper

1/2

diced yellow pepper
Instructions
In a large soup pot add butter and melt. Add in chicken, onion, and garlic in butter until chicken is completely cooked. The smaller the chunks the quicker it will cook.

*If you want to avoid doing raw chicken. Just add butter, onion and garlic to the pot and cook until onion is tender then add 2 cups of cooked chicken breast shredded or cubed, I like to use a rotisserie chicken.


Add in chicken broth and seasonings. Allow the soup to come to a boil, then add in peppers, corn and chiles. Bring back to a boil, then reduce heat to medium-low. And simmer for 5-10 minutes, allowing it to thicken up.

Stir in half and half (or heavy cream), diced tomato and cheese.

Continue to cook, stirring often, for about 15 -20 minutes.

Remove from heat, allow to cool 5 minutes. Serve with chopped cilantro, tortilla strips and even sour cream, yum!
Nutrition Facts
Mexican Corn Chowder
Amount Per Serving
Calories 388
Calories from Fat 198
% Daily Value*
Total Fat 22g 34%
Cholesterol 113mg 38%
Sodium 813mg 34%
Potassium 759mg 22%
Total Carbohydrates 19g 6%
Protein 29g 58%
* Percent Daily Values are based on a 2000 calorie diet.
Save