A flavorful combination of sweet and salty this, Korean Barbecue Chicken has all the classic-hints of a traditional American barbecue sauce with a punch. This sauce elevates your everyday chicken dinner. Used as a marinade, as a baste on the grill or in the slow cooker as a sauce, the flavor of this Korean Barbecue Chicken is extraordinary.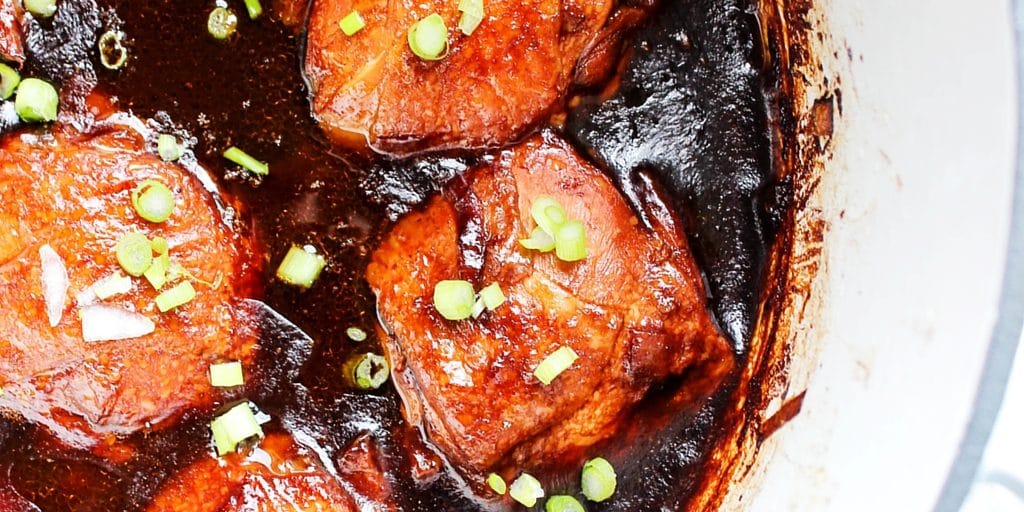 To say our kids love barbecue sauce is putting it lightly. They literally lick their plates clean just to get that last drip of their favorite sauce. Whether on ribs, chicken or straight from the jar, barbecue sauce is their favorite, and because of that, barbecue chicken has become my to-go-to meal. I love adding my own twist on their favorite sauce, and this Korean Barbecue Chicken quickly became a family favorite.
hat I love about this sauce is the ease of making it. I used one pouch of KC Masterpiece® BBQ Sauce Mix & Dry Rub, and added in soy sauce, rice wine vinegar, chili sauce and sesame oil. I seasoned it with garlic and ginger. Want a dash of heat? Add some Sriracha. What's great about KC Masterpiece®  BBQ Sauce Mix & Dry Rub is that you can really add anything you want to give your barbecue sauce your own twist. Add some honey, apple juice, bourbon, or even just water, these mixes give you a great base to start with.
I love the flexibility of these packets and the ease of the preparation. KC Masterpiece® BBQ Sauce has been a trusted household name for the last 35 years. Traditional and authentic, KC Masterpiece® BBQ Sauce makes any dish an American classic. These new mix & dry rub packets allow you to create your own authentic barbecue sauce.
This Korean Barbecue Chicken carries on the authentic barbecue tradition and will be an instant family dinner-winner. Just ask my kids – My daughter thought she was eating ribs (not chicken). My son had two chicken things before he said a word. And well the other 3 had barbecue smiles from ear to ear. Cheers to good food and even better barbecue sauces.
Enjoy!
XOXO San
Love this recipe and looking for some new barbecue ideas be sure to check out KC Masterpiece® for some more ideas.
Ingredients
Korean Barbecue Sauce

¾ cup soy sauce
1 tablespoon rice wine vinegar
1 tablespoon sweet chili sauce
1 teaspoon toasted sesame oil
1 teaspoon ginger
1 teaspoon granulated garlic
¼ cup + 1 tablespoon water
1 KC Masterpiece BBQ Sauce Mix & Dry Rub Original
Sriracha, optional
8-12 whole chicken thighs, bone-in & skin-on
2 tablespoons oil
1 tablespoon butter
1 small yellow onion, diced
Green onions, chopped, garnish (optional)
Directions
Combine all of the Korean Barbecue Sauce ingredients listed above in a large mason jar. Screw on lid and vigorously shake until sauce ingredients are well combined and sauce is thickened.
Preheat oven to 350 degrees.
Heat oil and butter in a heavy oven-safe pot over medium-high heat note if you don't have an oven safe pot that's fine just use what you have and check note below before placing in the oven. Melt butter completely. Add chicken thighs, skin side down and cook until a light golden brown. Turn chicken over to brown the other side, cook until a light golden brown. Remove chicken from the pot and set aside on a plate.
Add diced onions to pan and cook for 3-5 minutes, stirring constantly. Pour in Korean barbecue sauce that you made prior. Return chicken to the pot, skin side down just to coat it, then immediately turn chicken over to skin side up. Cover pot and place it in the preheated oven note if you don't have an oven safe pot simply transfer chicken and sauce to a 9x13 pan, cover with foil and follow the remaining directions.
Cook for 45 minutes and then remove pot or pan from the oven. Remove lid and place back in oven under low broil for 5-6 minutes to give the sauce a nice caramelization, this is completely optional. Garnish chicken with chopped green onions.
Serve with fresh vegetables, couscous, rice or mashed potatoes.
https://www.dashofsanity.com/korean-barbecue-chicken/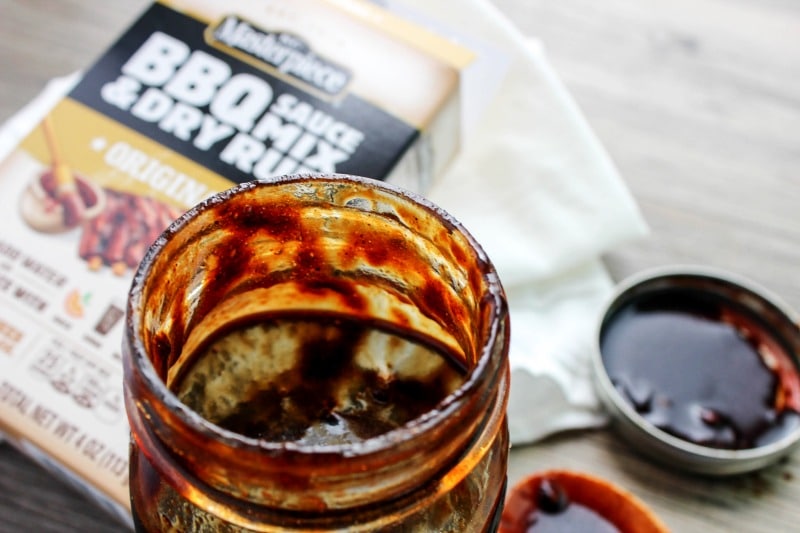 Don't forget to pin this to your favorite Pinterest board for later!
This is a sponsored conversation written by me on behalf of KC Masterpiece. The opinions and text are all mine.
Save