Kale & Tortellini Pasta Salad made with fresh kale, roasted red pepper, shallots and garlic, tortellini pasta and a lemon pesto dressing.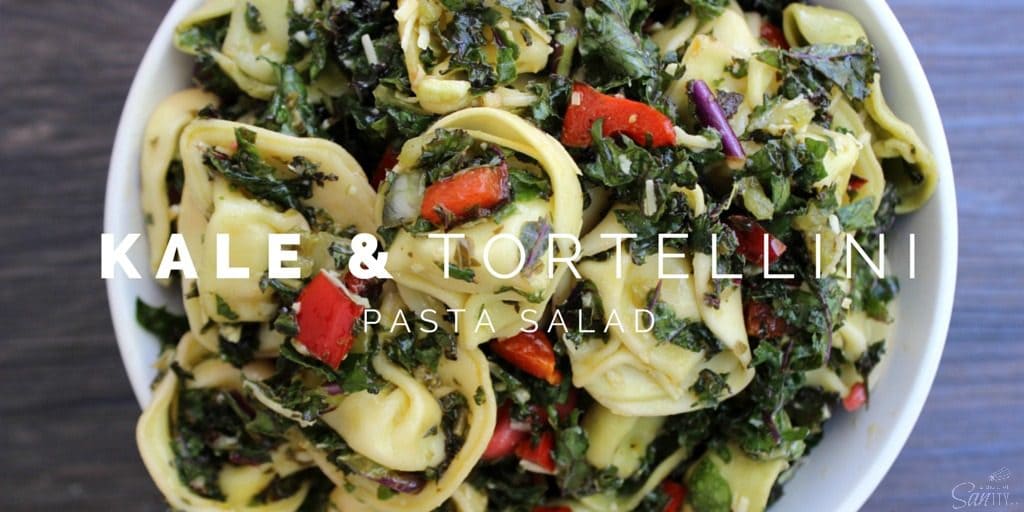 This pasta is so refreshing and light. The lemon pesto dressing marries the pasta and the bitterness of the kale with its touch of sweetness. The saltiness of the parmesan cheese finishes off the dish with perfection.
I love this pasta salad cold. My husband loves it warm.
And that is how we enjoy many things, I like it one way and he another. But we always seem to agree on the dish and whether or not we like it. The first time I made this the kids were a little freaked out, but with the bribery of a trip to TCBY for a school fundraiser the plates were polished off! And they were surprised once they ate it, how much they liked it. (Well all except for Jojo.)
Kale this year choice spring time ingredient. And I can guarantee there will be several more recipes coming your way to add this versatile green into your menu. With the Farmer's Market season quickly approaching I am just itching at the chance to get my hands on some more varieties of my new favorite salad ingredient, kale.
This is a great dish to eat as a standalone meal, but also makes a great side. I think you have the recipe for your next get together right here in this Kale & Tortellini Pasta Salad.
Enjoy!
XOXO San
Kale & Tortellini Pasta Salad
Ingredients
1 pound Five-cheese tortellini package, frozen or fresh
1 tablespoon garlic oil, you can use olive oil
1 bunch purple kale, center stems discarded
1 red pepper, stem & core removed, diced
2 shallots
1 clove garlic
1/3 cup extra virgin olive oil
1/3 cup lemon juice
2 tablespoons pesto
½ cup finely grated parmesan cheese
Salt and pepper, to taste
Directions
Prepare tortellini according to package directions. Drain and Toss with garlic oil. Set aside to cool.
Sauté the dived red pepper. Adding 1 teaspoon of olive oil to a small sauté pan, add pepper and cook over medium high heat for 5-7 minutes, until pepper starts to cook and become slightly charred on the edges. Remove from heat, set aside to cool.
Shred kale, shallots and garlic using a food processor. If you don't have a food processor then you can shred and thinly slice the vegetables with a knife.
Add kale to a large serving bowl, toss in cooled tortellini & red pepper. Set aside.
Make dressing, in a pint jar combine extra virgin olive oil, lemon juice and pesto. Twist on the lid to the jar and shake up the dressing until well combined. Pour dressing over kale and tortellini. Sprinkle with parmesan cheese and gently toss with your hands to combine.
Serve immediately or set in the fridge until ready to serve.
Note: I serve this as a cold pasta, but my husband loves it served warm. So do what works best for you.
https://www.dashofsanity.com/kale-tortellini-pasta-salad-recipe/
Don't forget to pin this to your favorite Pinterest board for later.
Save