This Italian Kale Salad with Sweet Lemon Garlic Vinaigrette is packed with flavor with roasted tomatoes, 3 types of greens, chicken, pastrami and fresh mozzarella cheese. Tossed in a Sweet Lemon Garlic Vinaigrette, this salad is just in time for summer.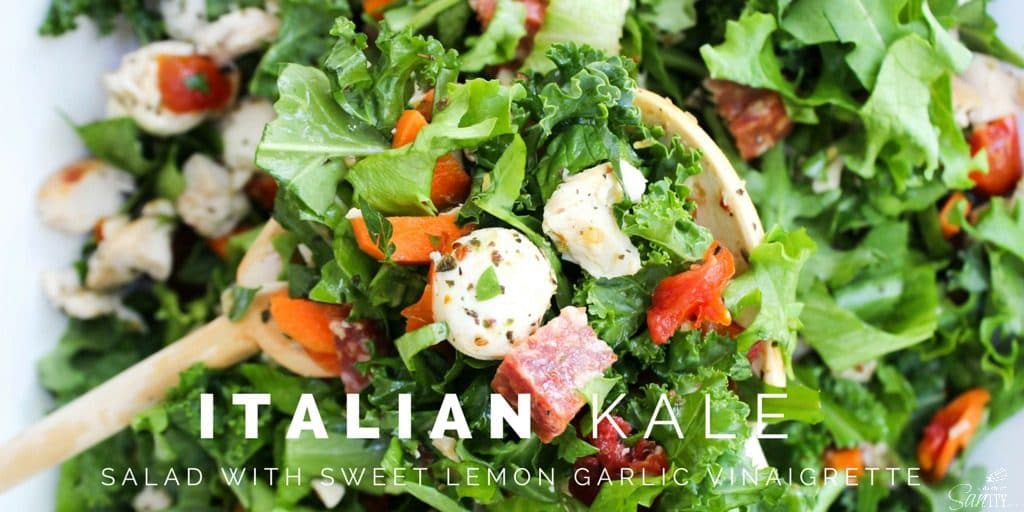 I just got back from the most amazing foodie trip with some of my closest and newest friends. This past weekend I attended the Indulge Food Bloggers Conference. It was hands down the most amazing time I have ever had as a food blogger. The conference was held in Portland, OR, the foodie capital of the Western United States. Seriously! On every corner, there is a restaurant where the chef runs everything. The food is fresh from the farmers market or picked from their very own farms or gardens. In fact, I really only saw one chain, Starbucks. And thank goodness for that! Yes, there are other chains but not to be seen in downtown Portland. Instead we visited the food carts, farmers market and the famous Salted Straw. This place, the Salted Straw made the entire trip worth it. My girlfriends and I tried all 17 flavors, generous spoonful's and we all still ordered waffle cones full to the brim of ice cream. It was amazing. I came home, having gained about 10 lbs., not kidding. And totally worth it!
With that said though, for the next while I will need to eat light. Like maybe only vegetables for the next month. I even debated a cleanse, but I love food too much. So for dinner I still wanted something fresh, like all the food I had just experienced for 4 glorious days and I wanted it packed with amazing flavors. This Italian Kale Salad with Sweet Lemon Garlic Vinaigrette was just what I needed. Easy to prepare, ready in less than 20 minutes and light & refreshing. Who said eating healthy needed to taste bland, not this girl.
Have you been to Portland? If so, where was your favorite place to eat.
Enjoy!
XOXO San
Italian Kale Salad with Sweet Lemon Garlic Vinaigrette
Ingredients
¼ cup fresh Italian parsley, chopped
1 head Boston Bib lettuce, chopped
1 bunch green kale, stems removed & chopped
2 cups arugula, roughly chopped
3 large carrots, sliced
1 cup roasted tomatoes, chopped or sun-dried tomatoes
8 ounces mozzarella al fresca, drained
1 tablespoon Italian or Tuscan seasoning
¾ chopped pastrami or pepperoni
2 cups chopped cooked chicken, I used a rotisserie chicken
Additional toppings, optional:
Pine nuts
Green onion

Sweet Lemon Garlic Vinaigrette

1/3 fresh lemon juice
2 tablespoons olive oil
1 tablespoon honey
3 garlic cloves, minced
½ teaspoon salt
Season with pepper to taste, optional
Make Italian Biscuits to serve on the side, or to chop up into croutons.
Directions
Make the vinaigrette by mixing together lemon juice, olive oil, honey, garlic and salt in a small Mason jar or bowl. Set in the fridge to chill until ready to serve.
Prepare arugula, Boston Bib lettuce and kale by roughly chopping.
To take some of the bitterness from the kale, gently squeeze the kale once you have chopped it.
Mix all of the greens above together in a large salad or serving bowl.
Top with sliced carrots and chopped tomatoes. We highly recommend roasted tomatoes that you can get fresh at your local market usually near the olive bar.
Toss the fresh mozzarella with the tablespoon of Italian or Tuscan seasoning. Add the cheese and the seasoning to the salad, along with the chopped chicken and salami.
Add chilled dressing to the salad and gently toss.
Serve immediately or set in the fridge until ready to serve, up to 1 hour before.
https://www.dashofsanity.com/italian-kale-salad-with-sweet-lemon-garlic-vinaigrette/
Save