It was a pleasure working with Goldfish® crackers to provide you with this Horsetooth Trail Mix and Battle of the Gold game. This shop has been compensated by Collective Bias, Inc. and its advertiser. #GoldfishGameTime  #CollectiveBias. All opinions expressed are my own.
Horsetooth Trail Mix is an easy snack that you or the kids can mix together in less than a few minutes. Whether it's playing a game with the kids or hiking with the whole family, this Horsetooth Trail Mix will create smiles for the whole family – mom and dad included. A few minutes at Walmart and you are set for a night of family fun.
We love having family game night. You can even find pieces of leftover yard games and impromptu obstacles courses in our backyard after everyone has completed their homework. My husband and kids love making these games up, and while I enjoy watching them, I am usually the last one to join in.

So I decided to step up my creative playin' snack eatin' game and make up a few fun games inspired by one of our family's favorite snacks: Goldfish® crackers.
Battle of the Gold consists of three games and a bracket like you would see for basketball, designed to allow all kids to be matched up in one-on-one face-offs.
The first game is Goldfish Crackers Thumb Toss. Each kid gets five Goldfish crackers to "toss", using their thumb to flick them into the rings. Three rings are set up, and the kid who gets the most amount of Goldfish  crackers in the rings wins and moves on to the next round.
The second game is Goldfish crackers Straws. Each child gets a straw and five Goldfish crackers. The task is to move all the Goldfish crackers from one circle to the other one using only a straw. These circles are drawn on the back of the bracket to make it simpler. See video for directions.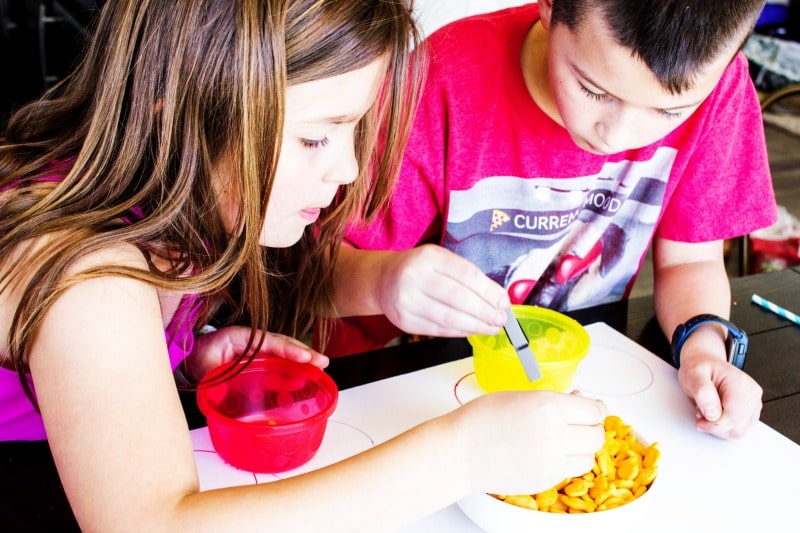 The third game is Pinch the Goldfish crackers. Two kids face off using clothes pins (or chopsticks) to "pinch" the Goldfish crackers and get 10 into their own bowl. The first one to 10 wins!
They are the Gold Bowl Champion.
My kids love creating snacks, and most of the time that consists of them throwing all their favorite ingredients together and making up a name. My friend Sarah makes a fun trail mix, and it is oh, so good. So we decided to make our own version, including Goldfish crackers. We went with Horsetooth Trail Mix because Horsetooth Rock is a local hike that my kids and I did last year.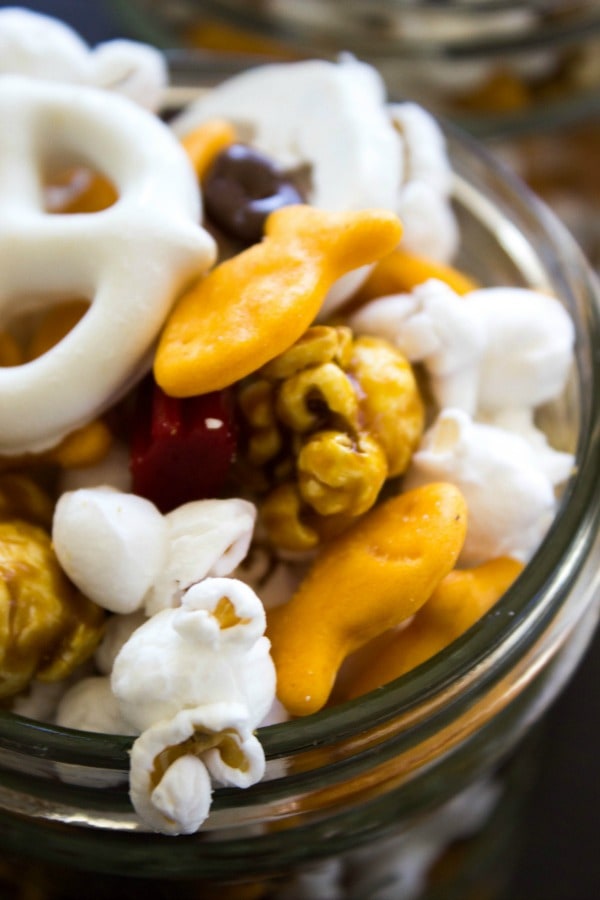 Horsetooth Trail Mix is so easy to put together, and all of ingredients are available at your local Walmart. So picking them up in one place is a cinch. Have the kids go with you and gather the ingredients themselves. Not only will they feel like champions playing games as a family, but also for creating & making this Horsetooth Trail Mix.
Something as simple as these Goldfish crackers can create fun, lasting memories and long-lasting smiles. They're "The Snack That Smiles Back®".
So have a fun, smile-filled night as a family playing Battle of the Gold and eating this deliciously simple Horsetooth Trail Mix. xoxo San
Don't forget to pin this to your favorite Pinterest board for later.
Get more ideas for meals, snacks, games and family fun when you click here.
Ingredients
2 cups Goldfish crackers
1 1/2 cups yogurt covered pretzels
1 cup chocolate covered raisins
1 cup cherry licorice bites
6 cups pre-popped sea salt popcorn
2 cups caramel corn
Directions
Add all of the ingredients listed above into a large mixing bowl. Toss together until mixed. Serve immediately or store in an airtight container until ready to eat.
https://www.dashofsanity.com/horsetooth-trail-mix/
Save