Get the napkin ready this Honey Mustard Dipping Sauce will soon be smothered all over your next hot dog or hamburger. And if you are a pretzel fan, then I just made your day, because I also have a recipe EASY PRETZEL HOT DOGS that goes just perfectly with this Honey Mustard Dipping Sauce.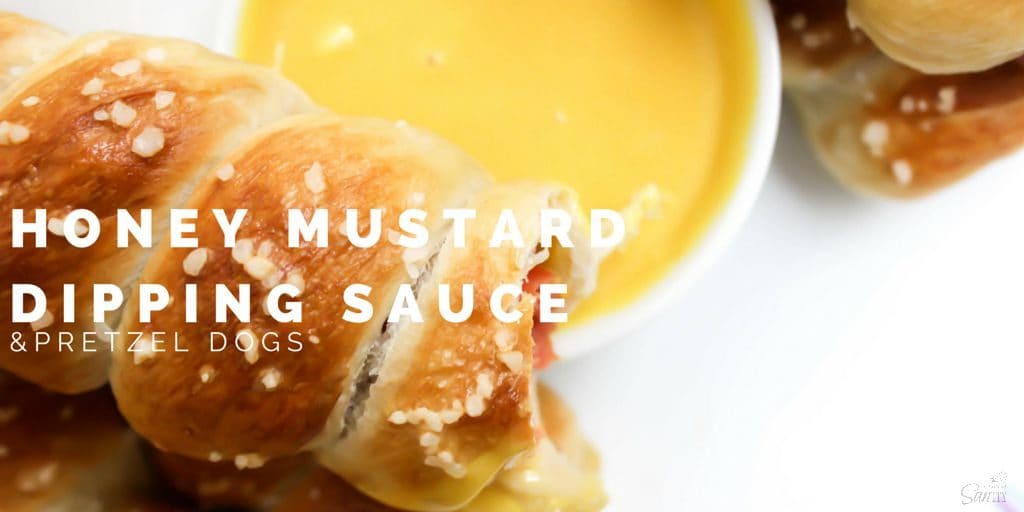 Just a few simple ingredients and you have dipping sauce perfection.
I was never a mustard fan until I because pregnant with my first. Then I wanted mustard on everything. Literally. My favorite was dipping salty fries in it. But then that craving wore off and I then just liked to have it on my hot dog and hamburgers and okay, I am guilty for sometimes dipping my pizza crust in it too. And now that I have made this Honey Mustard Dipping Sauce, I see pretzels becoming a regular in my lunch and snack time routine.
Now the only down side to this sauce, seems to be that I cannot eat it without getting it on my shirt and I think it is because I am so distracted by it amazingness that I try add too much dip! So just warning you. Enjoy friends!
XOXO San
Honey Mustard Dipping Sauce & Pretzel Dogs
Ingredients
½ cup real mayonnaise
¼ cup yellow mustard
¼ cup honey
1 pinch salt
Directions
Add all of the ingredients in a small mixing bowl and whisk together. Season with salt to taste.
Click here for the Easy Pretzel Dogs Recipe recipe
Notes
https://www.dashofsanity.com/honey-mustard-dipping-sauce-pretzel-dogs/
Save