GLUTEN-FREE PUMPKIN BREAD – a quick bread that is deliciously spiced with nutmeg, cinnamon, & cloves. This fall treat is a family favorite.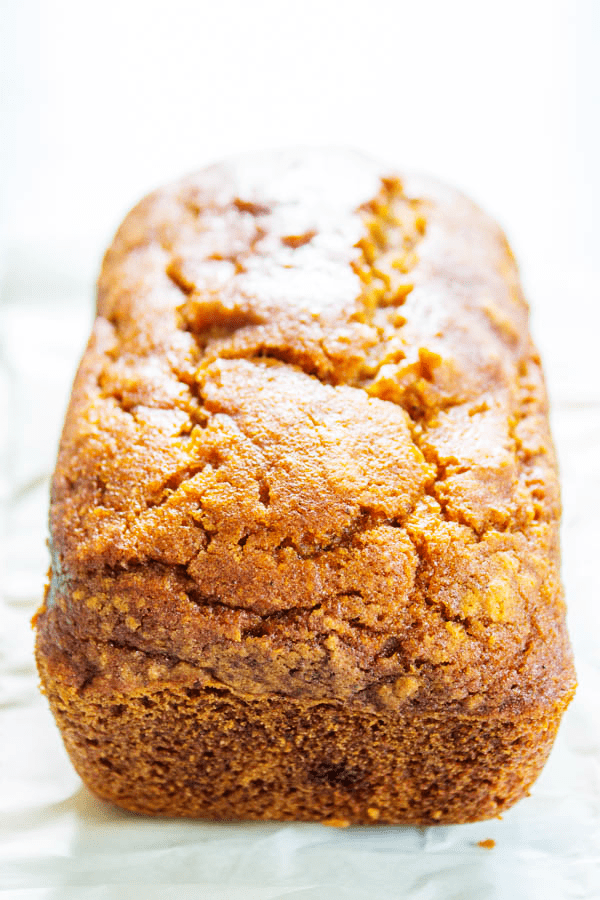 This GLUTEN-FREE PUMPKIN BREAD is adapted from my grandmother's Pumpkin Bread recipe and made because we found that recently our daughter Jersey has a gluten-intolerance. Finding that Jersey has a gluten-intolerance has been a journey. After having black circles under her eyes for as long as I can remember, mood swings after eating certain foods, a constant cough and digestive issues I was a my wit's end trying to figure out what was going on with her sweet little body. After several doctors appts and tests, we decided to start eliminating certain foods from her diet.
We started with gluten but then later advised to put her back and it to get some testing done. As soon as we did, I saw a difference. Well, her celiac test came back fine – so the one doctor felt like she was good to go. I knew otherwise. After trying the whole dairy elimination and not seeing an ounce of difference we went back to eliminating gluten, a new doctors we were seeing agreed to go this route.
And guess what? It worked. Granted she isn't 100% better, no we are still working on the whole cough thing. But the dark circles under her eyes, her mood swings and temperament has improved and so has her digestive system.
I started making all of our family favorites and adapting them to be gluten-free. Jersey is lucky enough that she can pick and choose (with guidance) when it is okay to eat gluten. If we know we are going to a party that will have pizza or cake that isn't gluten-free she knows that she can have it if she wants, but then she also knows that she won't feel her best either.
With that said she is only 8 – she doesn't realize the affects the gluten is having on her and often feels sad, understandable. But we have tried our best and will continue as a family to be with her on this journey.
This GLUTEN-FREE PUMPKIN BREAD was my first recipe to make her because we literally eat this bread all fall long. And I was shocked to find I loved this even more than our regular Pumpkin Bread.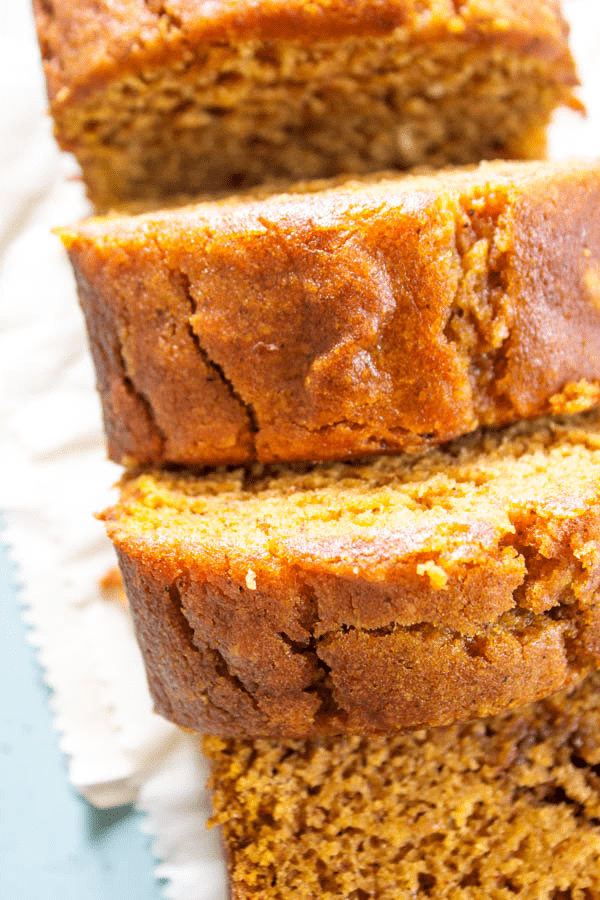 The top crust has a very nice texture, like a slight crunch and then the rest of the bread is soft and moist. My son, Aiden and I, as well as Jersey loved couldn't help ourselves on that first loaf, in fact the entire family was devouring it.
While this journey has had it's up and downs, I am beyond grateful that Jersey's overall life will be improved with such a simple thing. No meds just a simple ingredient removed that her body at this time just isn't processing.
Feeling grateful friends that we have options for all sorts of people with allergies.
Enjoy this GLUTEN-FREE PUMPKIN BREAD friends, as we sure are. XOXO San
Looking for some other fun ways to use pumpkin? Here are my favorite, note that all of these recipes are gluten-free: Gluten Free Pumpkin Pie, Gluten-Free Pumpkin Chocolate Spice Cake, and Pumpkin Cream Cheese Muffins.
My favorite kitchen items I used to make this GLUTEN-FREE PUMPKIN BREAD.
Bread Loaf Pan – I use a large one of these to freeze and serve my ice cream in. I have a few of these on hand and use them for more than just baking.
Kitchen Aid Mixer: I love my Kitchenaid mixer and use it almost daily. For cookies, breads, sauces, frostings and dough – I find many recipes that I can use my KitchenAid to reduce prep time. I have two that I couldn't live without.
Mixing Bowls: I love having a variety of sizes of mixing bowls. From small to large, I find that having at least 3 bowls of different sizes has been an essential in my kitchen. I prefer Pyrex because of the durability.
Don't forget to pin this recipe for GLUTEN FREE PUMPKIN BREAD to your favorite Pinterest board for later.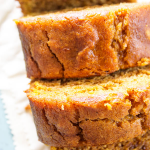 GLUTEN-FREE PUMPKIN BREAD
GLUTEN-FREE PUMPKIN CHOCOLATE CHIP BREAD - a quick bread that is deliciously spiced with nutmeg, cinnamon, & cloves. This fall treat is a family favorite.
Ingredients
3 1/2

cups

gluten-free flour

I use Bob's Red Mill 1-to-1 gluten free flour

2

teaspoon

baking soda

1/2

teaspoon

salt

1

teaspoon

cinnamon

nutmeg, cloves

4

eggs

2/3

cup

water

2

cups

pumpkin

I use canned pumpkin make sure that it is gluten free if you are intolerant

2

cups

sugar

1

cup

brown sugar

1

cup

oil

1

cup

gluten-free chocolate chips

optional
Instructions
Preheat oven to 350; grease 3 bread loaf pans or 2 larger loaf pans.

Mix all dry ingredients together and set aside. Add all of the remaining ingredients and mix together until well combined. Mix in the flour mixture and still until well combined and your can't see any of the remaining flour. Mixture will seem thick but it will be fine. Pour into 2- 3 bread pans and bake at 350 for 1 hour, check at the hour cook time so make sure the bread is cooked all the way through, toothpick entered in the center of the bread should come out clean, if not add some additional cooking time.

Cooking time will vary dependant on oven and size of bread loaf pans.
This post may contain affiliate links. See my Full Disclosure for further details.
Save