This German Chocolate Slab Pie is the best way to feed a crowd. I love German Chocolate Cake and anything that resembles that chocolate, coconut and pecan topping.

I am always looking for new ways to eat the famous German Chocolate Cake, as my German Chocolate Cake Cookies are always a hit and holiday request and well my Best Ever German Chocolate  Cake is just that….the best ever. So if I can find ways to replicate that awesomeness, I do.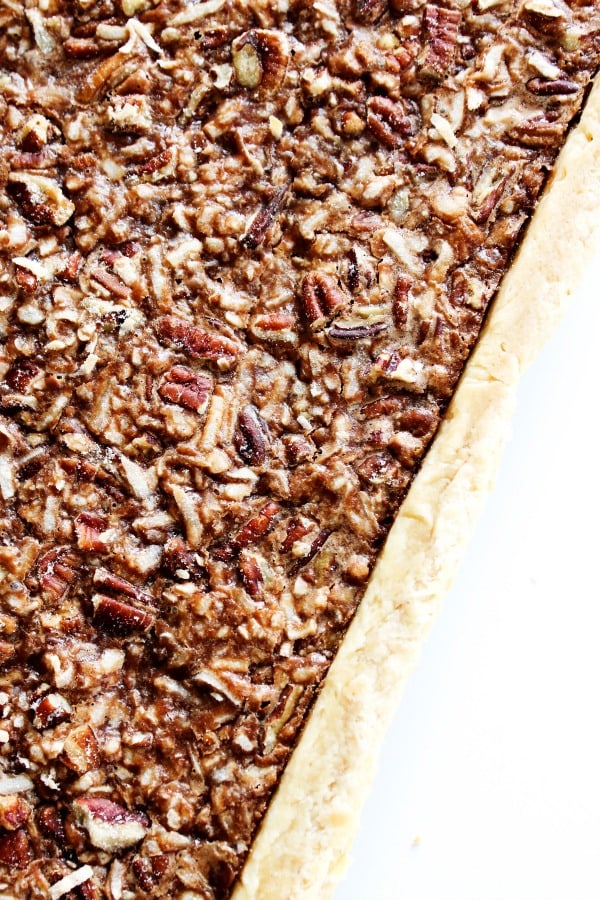 My son, Cannon is really into making pies. Apple pie is his favorite and pumpkin is my son's Aiden's favorite. And when planning the holiday menus (yes I am already doing that) I realized that I needed to make some desserts that served well more than 6-9. So that is when slab pies became my holiday "have" to make.
This past week my husband was recognized at a local high school for being an inspiration to one of his students, this student got to pick anyone in his life who inspired him…and he picked Jake an english teacher he had 4 years prior. I thought it was a big deal and well made his favorite cookies to celebrate. Because he loved the cookies so much, the next day I made this pie….because well I was just so darn proud of him and well food is my love language. He loved it but since he rarely eats sugar, he had a belly ache from all the cookies and now 24 slices of pie! So we called in some troops via FB and we had several takers. It was a hit. And I loved how thin the pie crust was. And that the pie to filling ratio was just perfect.
German Chocolate Cake is a huge holiday favorite and well if you need something that will feed a crowd this slab pie is the answer to your dessert needs.
Happy pie eating friends. XOXO San
German Chocolate Slab Pie
This German Chocolate Slab Pie is the best way to feed a crowd. I love German Chocolate Cake and anything that resembles that chocolate, coconut and pecan topping.
Ingredients
Pie Crust

2½

cups

all-purpose flour

2

teaspoons

kosher salt

2

teaspoons

sugar

1

cup

unsalted butter

cubed

8

tablespoons

whole buttermilk

more if you find the dough dry

German Chocolate Filling

2 -4

ounce

packages of German or sweet baking chocolate

chopped

1/2

cup

butter

2 - 12

ounce

cans evaporated milk

3

cups

sugar

4

tablespoons

cornstarch

1/4

teaspoon

salt

8

egg yolks

1

teaspoon

vanilla

2

cups

flaked coconut

2

cups

chopped pecans
Instructions
Make the crust.

In a medium mixing bowl add flour, salt, and sugar, stir to combine.

Then using a a pastry blender (or a fork if you don't have) cut butter into flour mixture until mixture resembles coarse crumbs.

Add buttermilk to the center of the dough, stir until mixture starts to come together. If you need to add a teaspoon of two to bring the dough together, then do. I have used an additional tablespoon to make this crust.

Then start to knead the dough in the bowl. Once the dough has come together, turn dough out onto a lightly floured surface. Shape into a disk. Cover tightly with plastic wrap; chill in the refrigerator for 30 minutes.

Meanwhile preheat the oven to 350°.

Roll out pie crust to 17x12 rectangle. Then roll dough into your 15½x10½- inch jelly-roll pan, pressing into bottom and up sides. Crimp or fold edges as desired. Cover dough with a piece of parchment paper, letting ends extend over edges of pan.

Set another 15½x10½- inch jelly-roll pan on top of the parchment paper,

Then place in the oven and bake for 20-minutes. If you have pie weights set them on top of the jelly roll pan that is covering the dough, if you don't use an oven proof pot, this is what I did. Or you can leave it just how it is, making sure to push down the top jelly roll pan.

While crust is baking, start the filling. Combine & toss together coconut and pecan in a small bowl and set aside.

In a small sauce pan melt chocolate and butter over medium-low heat and stir until smooth. Remove from heat once melted and slowly stir in milk. Set aside, not on the stove top.

In medium mixing bowl stir together sugar, cornstarch and salt. Then in a small bowl mix egg yolks and vanilla, slowly stir in melted chocolate mixture in with the eggs, whisking until smooth with a wire whisk.

Pour chocolate and egg yolk mixture in with the sugar & cornstarch mixture, stir to combine, set aside until crust is done baking.

Remove pie pan from oven, then gently remove additional jelly roll pan off the top, paper and weights, if you used. Reduce oven to 325°.

In 1-quart saucepan, heat chocolate and butter over medium-low heat until melted and mixture can be stirred smooth. Remove from heat; gradually stir in milk.

Pour filling into crust-lined pan and sprinkle pecans and coconut over filling.

Bake for another 35-45 minutes or until almost set. Cool completely on cooling rack, about 1-2 hours.

Slice, serve and devour. Top with whipped cream as garnish.
Nutrition Facts
German Chocolate Slab Pie
Amount Per Serving
Calories 512
Calories from Fat 288
% Daily Value*
Total Fat 32g 49%
Cholesterol 128mg 43%
Sodium 352mg 15%
Potassium 140mg 4%
Total Carbohydrates 53g 18%
Protein 5g 10%
* Percent Daily Values are based on a 2000 calorie diet.
Don't forget to pin this to your

favorite Pinterest board for later.

Save