FRENCH ONION & BACON CHEESE BALL – Caramelized onions, Gruyere and cream cheese coated in French's® Crispy Fried Onions and chives makes for an insanely delicious appetizer.
It was a pleasure collaborating with French's to sponsored this post for the #RealFlavorsHaveCrunch holiday campaign.. All opinions expressed are of my own.
I love making fun, easy and full of flavor appetizers that wow guests at holiday get-togethers and parties. While entertaining can be stressful, my job as the hostess is to one, make it easy on myself, two, not over complicate things, and three, make everything look so delicious that my guests feel loved.
So my goal this holiday season is to make everything into a cheese ball. I'm kidding… Well, kind of. You see, cheese balls take little time to prepare, they sit in the fridge until they're ready to be served, and they're just a gorgeous addition to every table.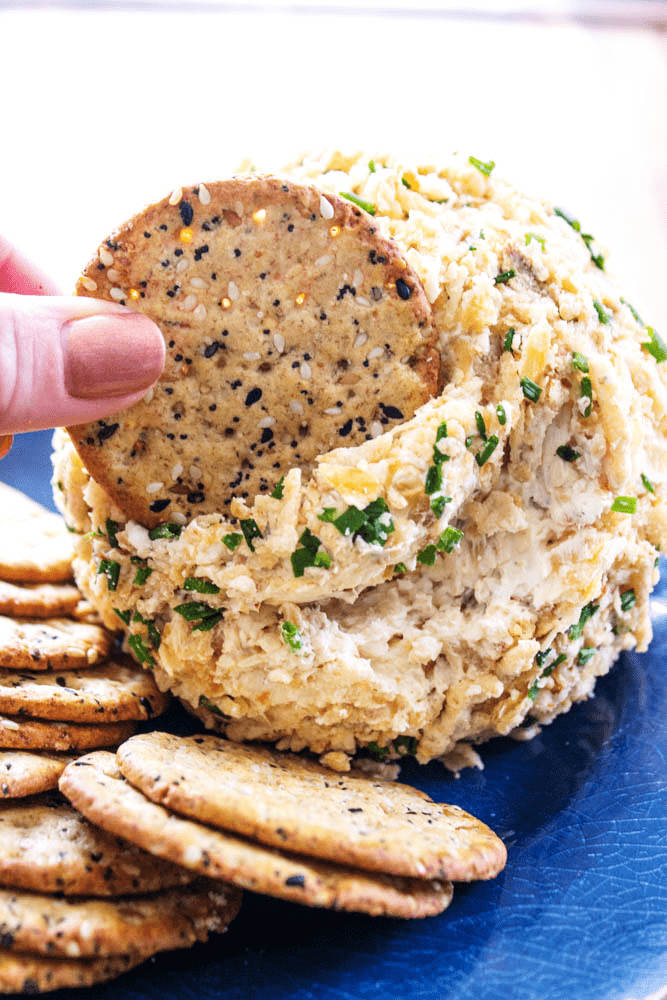 My family loves, loves, loves caramelized onions and bacon. Whenever we hit up our favorite burger joint, both kids and adults load on the bacon and grilled onions. This past Thanksgiving, I had a bottle of French's Crispy Fried Onions out on the counter for the traditional green bean casserole, and of course, I had little hands in the jar, eating as many fried onions as they could sneak. I really couldn't yell at them, as I was doing the same exact thing. And while I am really the only one in my family who loves that casserole, everyone ate the fried onion topping right off the top.
With the kids and the hubs eating up all the onions, I was inspired to create this FRENCH ONION & BACON CHEESE BALL. We love French's Crispy Fried Onions (obviously). And with bacon, the more bacon the better. I decided to combine the two into a no-bake appetizer. I also, wanted a touch of heat, so I added some crushed red pepper. You can adjust this amount to what you think your party crowd would like.
Cheese balls are always huge hits over the holiday season, and this FRENCH ONION & BACON CHEESE BALL will become a go-to recipe – not just for your holiday season, but for the rest of the year as well.
With just a few simple ingredients, including bacon, cream cheese and French's Crispy Fried Onions, you are well on your way to an insanely delicious appetizer. Happy Holidays friends, and make this a season of foodie adventures. XOXO San
My favorite kitchen items to make this recipe for FRENCH ONION & BACON CHEESE BALL are below, you will want of few of these just for your everyday cooking.
The links below are affiliate links. See my Full Disclosure for further details.
POTS: So I am a total pan snob after having an assortment of brands in our cupboard over the years. After getting some Calpho pans on sale at my local grocer, I won't try anything more. They are affordable and durable – a win, win in our home.
MEASURING SPOONS: I have to have a metal set of measuring spoons on hand. The plastic ones just don't last long in our house partly due to the garbage disposal.
MEASURING CUPS: Nothing beats a good set of measuring cups that last a long time. I love metal measuring cups because of their durability.
Don't forget to pin this recipe for FRENCH ONION & BACON CHEESE BALL to your favorite Pinterest board for later.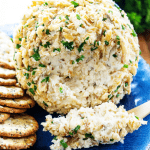 FRENCH ONION AND BACON CHEESE BALL
FRENCH ONION AND BACON CHEESE BALL - Caramelized onions, Gruyere and cream cheese coated in crunchy fried onions and chives, an insanely delicious appetizer.
Ingredients
2

cups

diced yellow onion

1/2

lb

bacon

8

ounces

cream cheese

1/2

cup

sour cream

1 1/4

cup

Gruyère or Swiss cheese, grated

1/4

teaspoon

dried thyme

1/2

teaspoon

red pepper flakes

1/2

cup

finely diced chives

1 1/2

cup

French's Crispy Fried Onions

chopped
Instructions
Cut raw bacon into chunks and fry up in a pan over medium-high heat until thoroughly cooked. Once cooked, remove from heat and drain grease. Allow the bacon to cool on a paper towel; set aside.

Using the same frying pan heat 1-2 tablespoons of olive oil over medium-high heat, then add onion and season with salt and pepper. Cook over heat, stirring occasionally, until caramelized, about 15-20 minutes. Remove from heat and cool.

Finely chop cooled bacon and add to a large mixing bowl.

Add cream cheese, sour cream, Gruyère, thyme and red pepper flakes, Beat until well combined.

Stir in cooled onions, until completely mixed in.

Form the cheese mixture into a ball and wrap in plastic wrap to chill for at least 1 hour.


*TIP* I set the cheese mixture in the center and on top of two pieces of plastic wrap. Then gently pull the plastic wrap together to form a ball. Then using my hand I gently press the plastic wrap to make a ball.

In a small bowl combine chives and French's Crispy Fried Onions, toss to combine.

When ready to serve, remove the cheese ball from the fridge and roll it in the fried onion and chive mixture.


Serve with crackers, chips or baguette slices.
Save