Easy Pasta Salad is one of my favorite spring and summer recipes. Great for a barbecue or potluck, it is easy to make and a real crowd pleaser.
Made with tomatoes, cucumbers, olives, cheese and salami this recipe for Easy Pasta Salad only has 7 ingredients and it is so simple that it can be made in 25 minutes. Makes enough for 10-12 people, you can easily serve at a party or break it up into servings for lunch. Either way you will love the flavor combination in this traditional summer side dish.
I grew up having my mom's friend, Jean pasta salad. She makes it all the time for really any summer get together. We had it camp trips and her kids graduation parties. I loved all of the ingredients in it. I remember asking my mom to get the recipe from her. I knew I could easily throw it together but I wanted to know the dressing she used.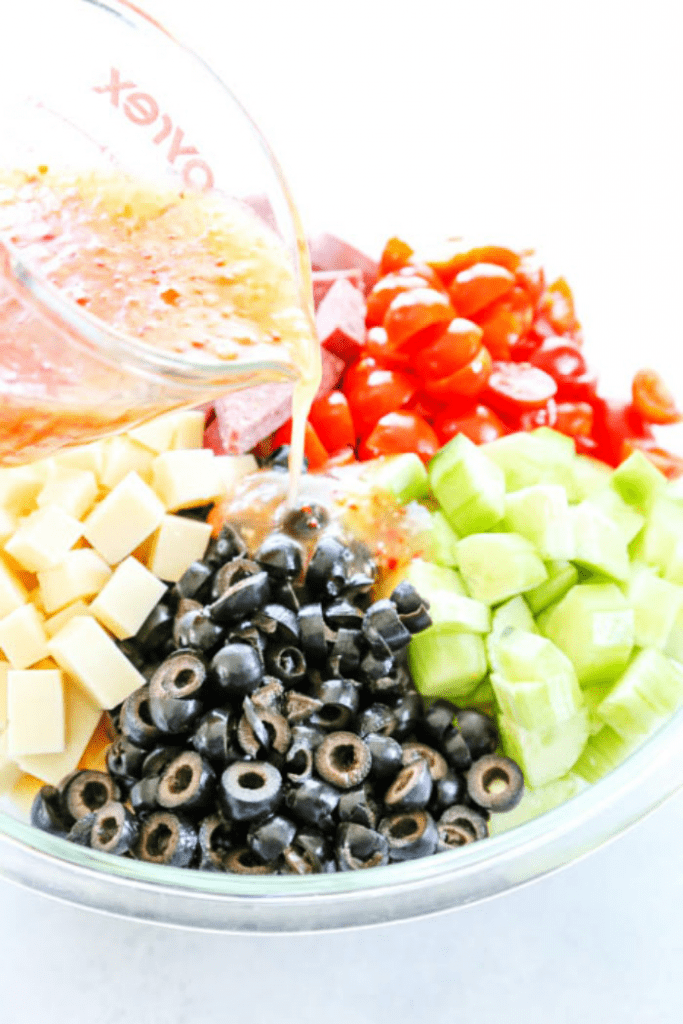 If you know Jean, you would also expect that the dressing would be homemade. When I was told that it was just bottled Italian dressing I was a bit surprised but also grateful because the dish was turning out even easier than I thought.
My biggest pet peeve when it comes to pasta salad is the amount of mayo people use. It is typically overdressed with mayo and these salads don't even highlight the other ingredients. That is why I love this Easy Pasta Salad. You can taste every ingredient on it's own and together they are delicious.
This Easy Pasta Salad recipe also stores really well. It doesn't get nasty after the first time you serve it, so if you have to store the leftovers you will be just fine.
If you are breaking this Easy Pasta Salad recipe into smaller servings for your lunch throughout the week, I would keep the cheese out to the side and just add in right before serving, as it can get a little mushy after a couple of days. It will still taste just great but the texture just ruins it for me.
Here are some tips for creating pasta salads that will turn out amazing every time.
Don't over cook the noodles. Prepare the noodles according to package directions.
Don't forget to season your pasta. Add flavor! My suggestion for this salad would be to add 1-2 tablespoon of Italian dressing (dry powder) to the pasta dish to give it a boost in flavor.
Do not add the dressing or other ingredients to the pasta salad while it is warm. Rinse your noodles with cold water in a colander and then allow to cool. You can given chill in the refrigerator while preparing the rest of the ingredients for the pasta salad.
Do not add cheese to the pasta until you are ready to serve.
Below are my favorite kitchen items that I consider are my essentials for making the most beautiful pasta salads.
This post may contain affiliate links. See my Full Disclosure for further details.
Knives: A good set of kitchen knives is essential for preparing any meal. I just recently invested in some Cutco knives and I have not regretted it one bit. These are hands down my favorite knives I have owned.
Cutting Board: For me this is a kitchen must-have and kitchen counter saver. While we have counter tops you can cut on, I find that this extra step will preserve my counter. I also find that using a cut board makes for less clean up afterwards. I love this cutting board because it has a groove all the way around the board prevent juices from running all of the counter.
Mixing Bowls: I love having a variety of sizes of mixing bowls. From small to large, I find that having at least 3 bowls of different sizes has been an essential in my kitchen. I prefer Pyrex because of the durability.
Serving Spoon: I love to have a gorgeous and generous in size spoon to serve fruit salads with. I prefer to not have slots in my spoon for fruit salad so that you can enjoy all the delicious juice.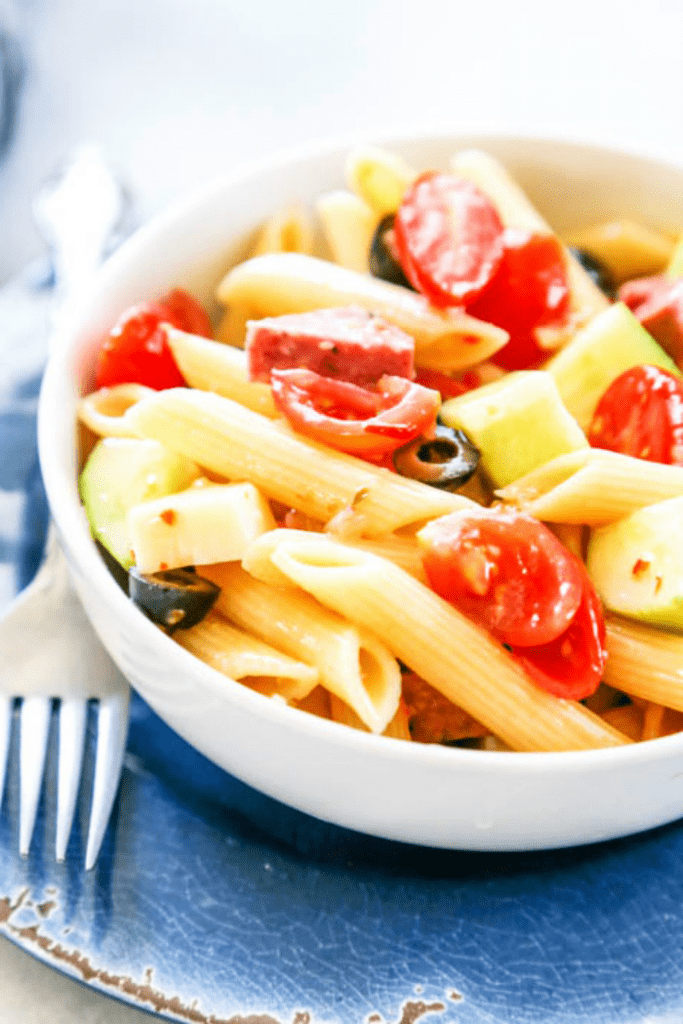 Don't forget to pin this Easy Pasta Salad to your favorite Pinterest board for later.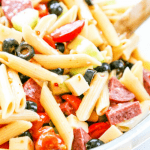 Easy Pasta Salad
Easy Pasta Salad is one of my favorite spring and summer recipes. Great for a barbecue or potluck, it is easy to make and a real crowd pleaser.
Ingredients
12

ounces

penne pasta

or rigatoni

1 1/2

cups

Italian salami

1 1/2

cups

Monterey Jack cheese

cubed

1 1/2

cups

cherry tomtoes

quatered

1 1/2

cups

English cucumber

sliced and quarted

8

ounces

black olives

sliced

1

cup

Italian dressing

1

tablespoon

dry Italian-style salad dressing mix

optional
Instructions
Prepare pasta according to package directions.

Once cooked, rinse with cold water in a colander. Allow noodles to completely cool.

Place noodles in a large mixing bowl.

Cut up salami, Monterey Jack cheese, cherry tomatoes and cucumber.

Add the cut salami, cheese, tomatoes, cucumber and sliced olives on top of the noodles.

Pour 1 cup Italian Dressing over the the salad and toss to combine.

If you are adding the optional dry Italian-style salad dressing mix add this in with the Italian dressing and then toss to combine.

*Start with adding 1 cup of dressing, toss to combine and if you want to add more dressing do so by adding 1/4 cup at a time and toss to combine again. Taste and add more if you desire.
Nutrition Facts
Easy Pasta Salad
Amount Per Serving
Calories 281
Calories from Fat 126
% Daily Value*
Total Fat 14g 22%
Cholesterol 15mg 5%
Sodium 679mg 28%
Potassium 141mg 4%
Total Carbohydrates 29g 10%
Protein 9g 18%
* Percent Daily Values are based on a 2000 calorie diet.
Save