EASY BARBECUE BEEF BRISKET –  a mouthwatering brisket rubbed with spices and liquid smoke. Cooked in a slow cooker until tender and juicy, then served and devoured.
The smoky flavor of the beef cuts through the barbecue sauce making this the best brisket you will ever have. Did I mention how easy this is?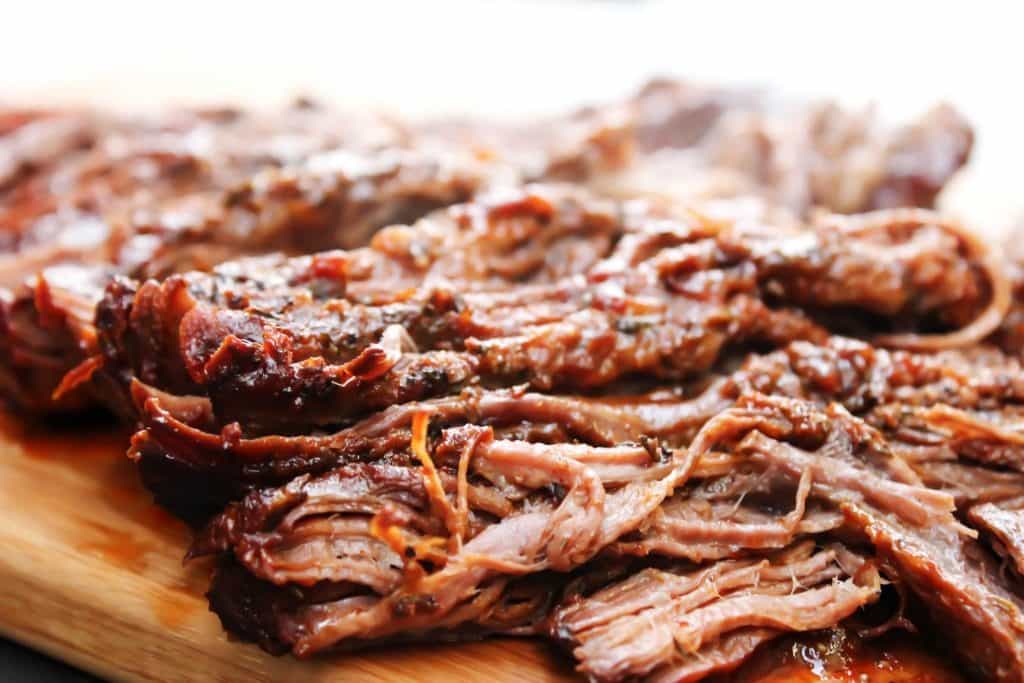 Recently we made a trip to my husband's hometown, Castle Rock, CO. He grew up there from mid-elementary school age until he moved for college. He loves his hometown. One of his fondest memories is the Star Lighting in downtown Castle Rock.
There is a large star up on the "castle rock" that runs along a major highway, i-25 here in CO. They have a festival with booths, food, Santa, fireworks, ice-skating, Christmas carols and a whole lot of fun for everyone. What touches me the most this is one of the few towns that acknowledges Christmas vs the "holiday".
They pray, sing Christmas carols and then light the star. Every year they have a children submit essays on why the star lighting is important to them, my husband one year won and got to read it in front of the entire town. We now take our children there every year and watch the star lighting with my husband's parents, brothers and their families. We love it.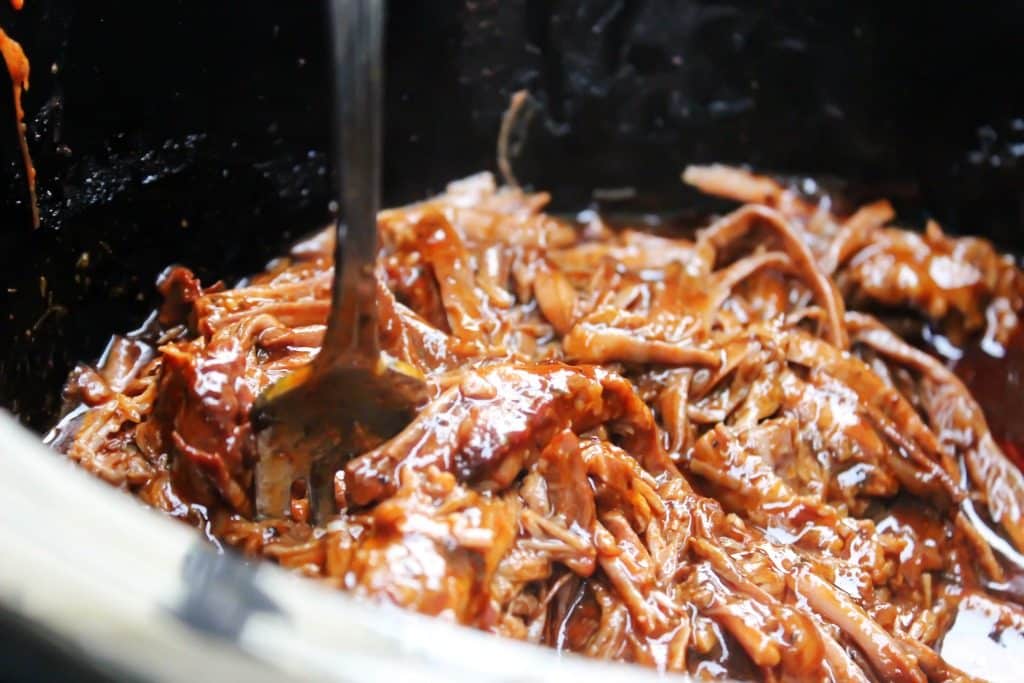 This year though we were running late due to Nutcracker rehearsal for Jojo, Jersey and my husband (I know he is the Rat King and a party dad!). We had to watch it on the side of the road, just barely pulling into the Castle Rock in time.
While we were waiting to meet up with his family my husband bought some beef brisket. It was oh, so good. And that is what inspired me to find the best and easiest recipe.
Sometimes more work DOES NOT mean better tasting. And this recipe for Easy Barbecue Beef Brisket won the hearts of all seven of us in our family and trust me that doesn't happen often.
So want an easy, delicious and classic meal for the holidays, try this Easy Barbecue Beef Brisket. The entire family will love it and well it is simply easy. The liquid smoke makes it oh so good! Cheers to traditions and recipes that will bring more joy to the holiday season. XOXO San
My favorite kitchen items I used to make this EASY BARBECUE BEEF BRISKET.
This post may contain affiliate links. See my Full Disclosure for further details.
Slow Cooker: I prefer one my slow cooker to have a timer. This is because I always some how forget about it. So having a timer and a lid that locks are two essential things for me when purchasing a slow cooker.
Knives: A good set of kitchen knives is essential for preparing any meal. I just recently invested in some Cutco knives and I have not regretted it one bit. These are hands down my favorite knives I have owned.
Cutting Board: For me this is a kitchen must-have and kitchen counter saver. While we have counter tops you can cut on, I find that this extra step will preserve my counter. I also find that using a cut board makes for less clean up afterwards. I love this cutting board because it has a groove all the way around the board prevent juices from running all of the counter.
Mixing Bowls: I love having a variety of sizes of mixing bowls. From small to large, I find that having at least 3 bowls of different sizes has been an essential in my kitchen. I prefer Pyrex because of the durability.
Want to make this a complete meal? Try these sides and dessert to go along with it, oh and don't forget some rolls.
Homemade Hawaiian Sweet Rolls, Fudge Brownie No-Bake Cheesecake, Garlic Parmesan Green Beans, Best Mashed Potatoes Recipe and Quick & Easy Green Salad Recipe. To make things easier, put these sides in some beautiful side dish bowls.
Don't forget to pin these EASY BARBECUE BEEF BRISKET to your favorite Pinterest board for later!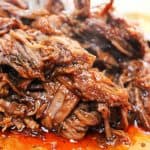 EASY BARBECUE BEEF BRISKET
EASY BARBECUE BEEF BRISKET – a mouthwatering brisket rubbed with spices and liquid smoke. Cooked in a slow cooker until tender and juicy, then served and devoured.
Ingredients
1

tablespoon

dried thyme leaves

1

tablespoon

smoked paprika

2

teaspoons

freshly ground black pepper

2

teaspoons

salt

1

teaspoon

onion powder

3/4

teaspoon

garlic powder

1/2

teaspoon

cayenne pepper

1/2

teaspoon

ground cumin

3

lb

beef brisket, trimmed of fat

1 1/2

teaspoons

liquid smoke flavoring

3

tablespoons

Worcestershire sauce

1 1/2

cups

barbeque sauce
Instructions
Combine & mix together: thyme, paprika, pepper, salt, onion powder, garlic powder, cayenne, and cumin in a small bowl; set aside.

Rub the liquid smoke all over the brisket, then using the rub that you just made rub that over the brisket as well, after you have rubbed it with the liquid smoke.

In the bottom of your slow cooker pour in Worcestershire and barbeque sauces; place beef brisket on top. Cover, and cook on LOW 8 to 10 hours or until fork tender. Shred, serve and devour
Nutrition Facts
EASY BARBECUE BEEF BRISKET
Amount Per Serving
Calories 2948
Calories from Fat 936
% Daily Value*
Total Fat 104g 160%
Cholesterol 843mg 281%
Sodium 10660mg 444%
Potassium 6106mg 174%
Total Carbohydrates 197g 66%
Protein 288g 576%
* Percent Daily Values are based on a 2000 calorie diet.
The layout of this post has been updated – some of the original images are. Originally posted in December of 2015.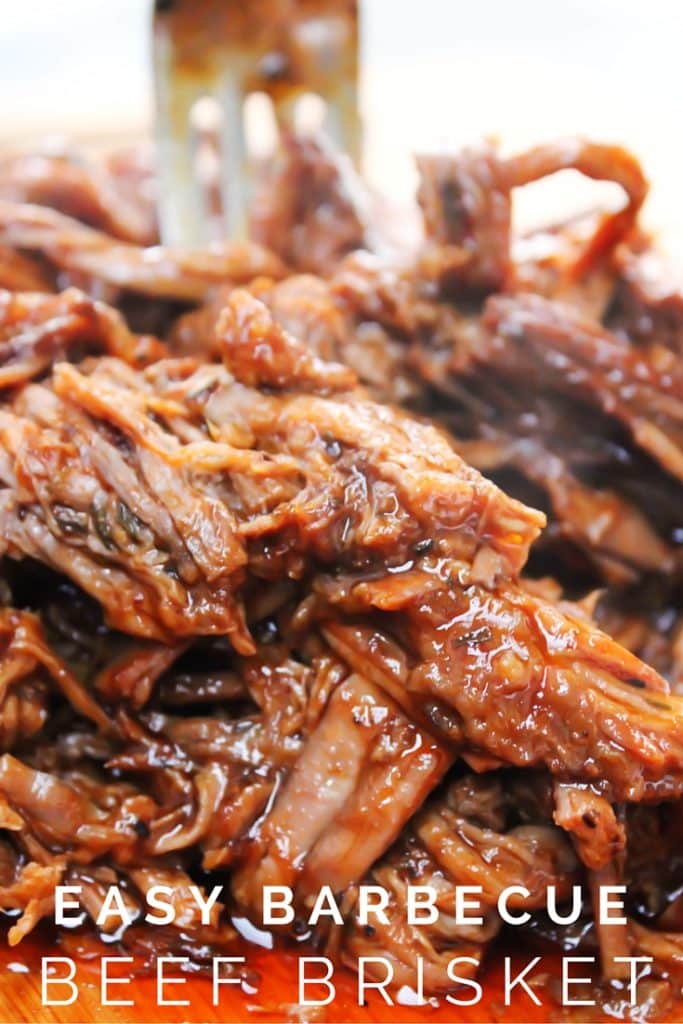 Save