Double Chocolate Nutella Cake a rich, moist chocolate cake with Nutella buttercream and ganache, this layered cake just made all of your Nutella dreams come true.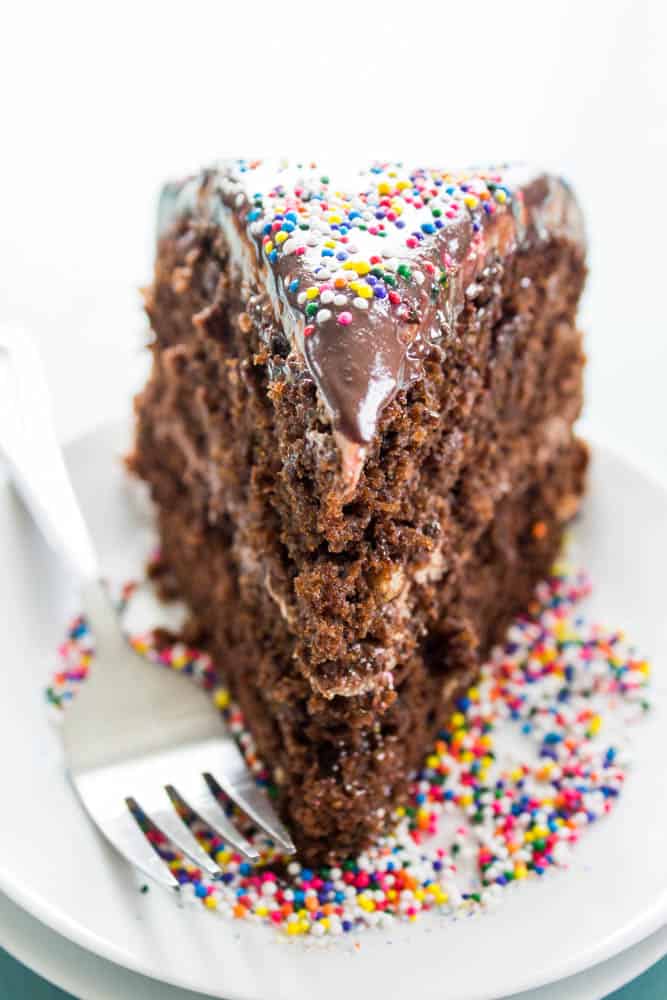 This post was inspired & sponsored by Princess Cruises. All opinions expressed are my own.
My daughter Jordan first created this cake for her 9th birthday, it has since been requested to be made for party's, family get-togethers picnics and most recently my 40th birthday. Yes, you read that right I turned the big 4-0.
While most people are a little freaked out about the big 4-0 I wasn't really freaked out but more a little sad. You see I loved my 30's I had so many firsts, raised 5 little babies and finally had the confidence that I was a good mom. If I had to choose between 20's and 30's hands down I would choose my 30's.
Mainly it came down to that I was sad that my kids were too getting older, that in my 40's I could possibly become a grandma and this thought alone makes me realize that life goes by extremely fast. It wasn't just about me getting older, but that so were the loved ones around me.
About 8 weeks before my 40th birthday Princess Cruises reached out with an amazing experience to spend a week in the Western Carribean being pampered, fed and taken to paradise and back. When I found out the departure date was over my 40th birthday I felt like it was serendipity. I couldn't pass it up, so I jumped on it and booked my oldest daughter Jojo and I on a dream vacation.
I've cruised before with Princess and I wanted her to have a chance to live the dream and experience the ultimate pampering that one can find on the seas. I couldn't wait to create memories for us both at this new stage of life for me and her as a new teen. I didn't want to focus on how my kids are growing up quickly before my eyes, I wanted to live in the moment with, having some one-on-one time – which as I mom of 5 I rarely get.
When I booked our cruise, Princess Cruises instantly got in touch with me and asked if I wanted to celebrate my birthday while on the cruise? Umm yes! When they asked what kind of cake I liked, including frosting and etc. I said, chocolate, chocolate, and more chocolate.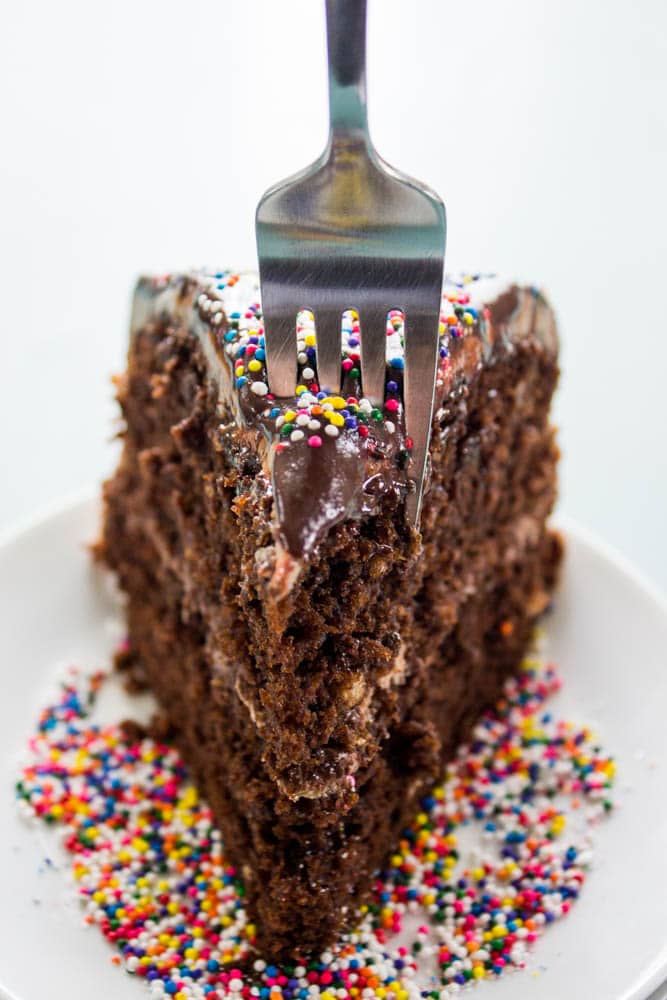 I had already experienced one birthday previously aboard Princess Cruises so I would not miss another opportunity but especially because it was my 40th I was going to let them go all out, and guess what I was going to book that extra spa package too, and I did.
I'm all about making occasions special for other's but when it comes to myself, I would rather someone else do that, just ask my husband. So cruising with Princess on my birthday couldn't be a better match. Warm sun, poolside drink and food service with my Ocean Medallion and the best ever birthday cake and spa treatments I mean who would deny that for oneself?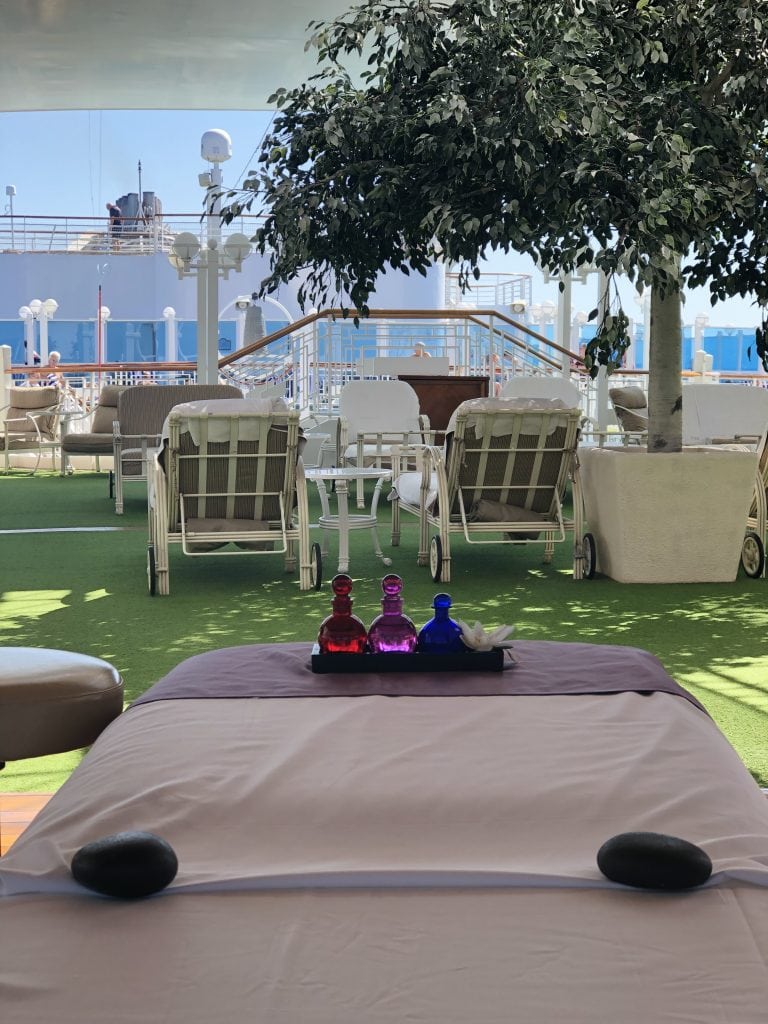 I started off the day with breakfast in bed literally. With at our door, we had the ultimate feast delivered and of course, the homemade pastries were our favorite. Next, we headed to the spa, booking ourselves a facial, pedicure and massage – remember I am 40 so I need all the lovely treatments I can take. We walked back to grab out swimming suites to find balloons and birthday banner. Jordan was beyond excited, I think she was confused and thought they were celebrating her, she only wishes.
That night we celebrated dinner with my close friends, Erin & Lynne eating at Planks Barbeque. I had a banana cream pudding for dessert, it was amazing. That night we relaxed with a movie under the starts. It was truly the experience I wanted tor my big 4-0.
Now you think it would all stop there, nope. The next night we had plans to do dinner with our whole group. It was an amazing steak dinner, Jojo was pleased as this was hands down her favorite meal, she has a big ole 16-ounce steak and 4 different salts to choose from this is literally heaven to her.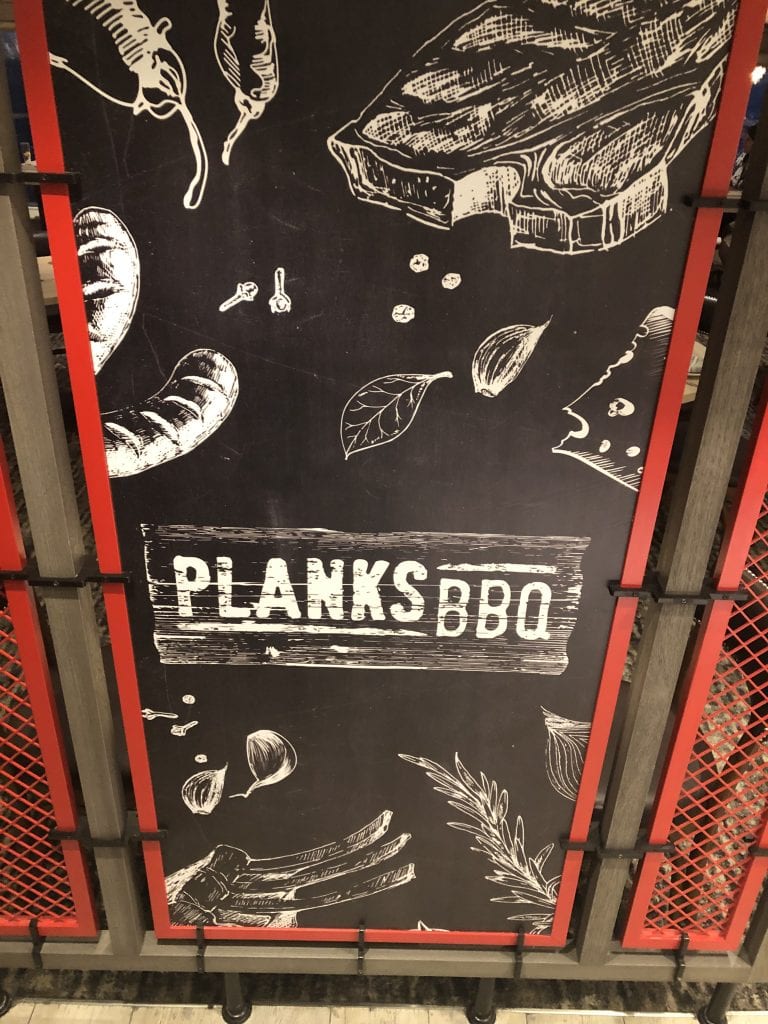 After we had already ordered a dessert, a larger than life birthday cake was being escorted to our table and it had way too many candles, I knew it was for me. Everyone sang and I blew out the candles and that was it. Now, this cake was an absolute dream, made with delicate layers of chocolate cake, mouse and the most amazing whipped chocolate icing, I couldn't imagine a more decadent cake. Trying to re-create this cake will be hard, so hard that I may just need to book another Princess Cruise.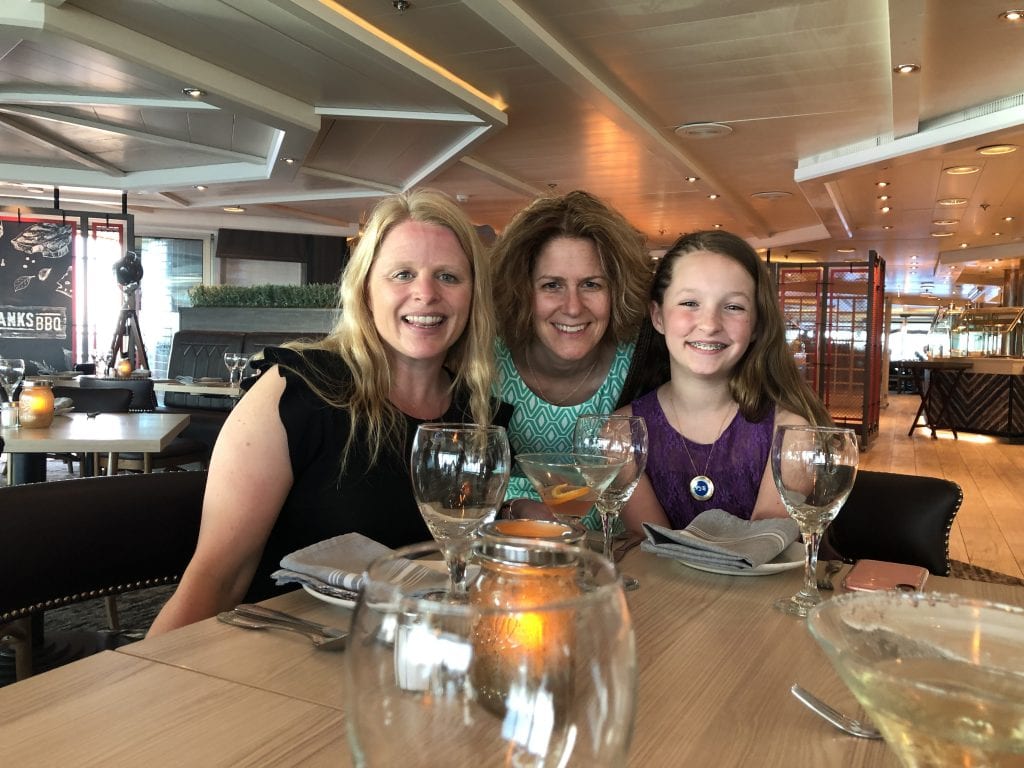 Princess Cruise literally makes anything amazing having to do with chocolate and Nutella, hence the inspiration of resharing this Double Chocolate Nutella Cake. Princess homemade chocolates are to die for, their Nutella donuts drool worthy and their chocolate covered strawberries I wish I could order from home.
Jojo and I had to wait till the last morning to have our favorite Nutella Donuts at the International Cafe and let me tell you it was worth the wait. Jojo like me is a Nutella lover, I catch her with a spoon eating out of the container, this is usually right after dance practice. It is her favorite snack. And if I didn't stop her, she would eat the whole container, the large one…we don't do little here (except in height).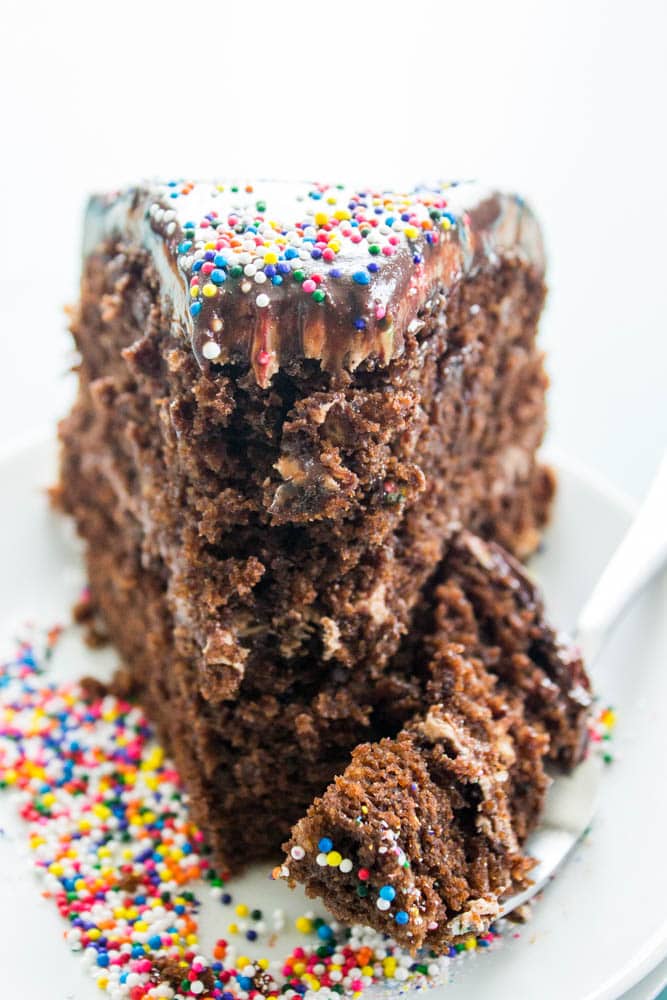 When she created this cake 4 years ago, I was smart enough to take a picture of her recipe and I am so happy I did. This is a memory, like the ones we created in the Western Carribean I never want to forget.
My 40th birthday was one I will always cherish, I sailed on the open sea with one of my favorite brands to work with, I ate the best ever chocolate cake, felt pampered, love and spent it with two of my dearest friends. I was extremely grateful to have another celebration with y hubby, kids and family when I got home – to me there is nothing better than to see all the blessings in your life than on your birthday and this year, I was overwhelmed with gratitude.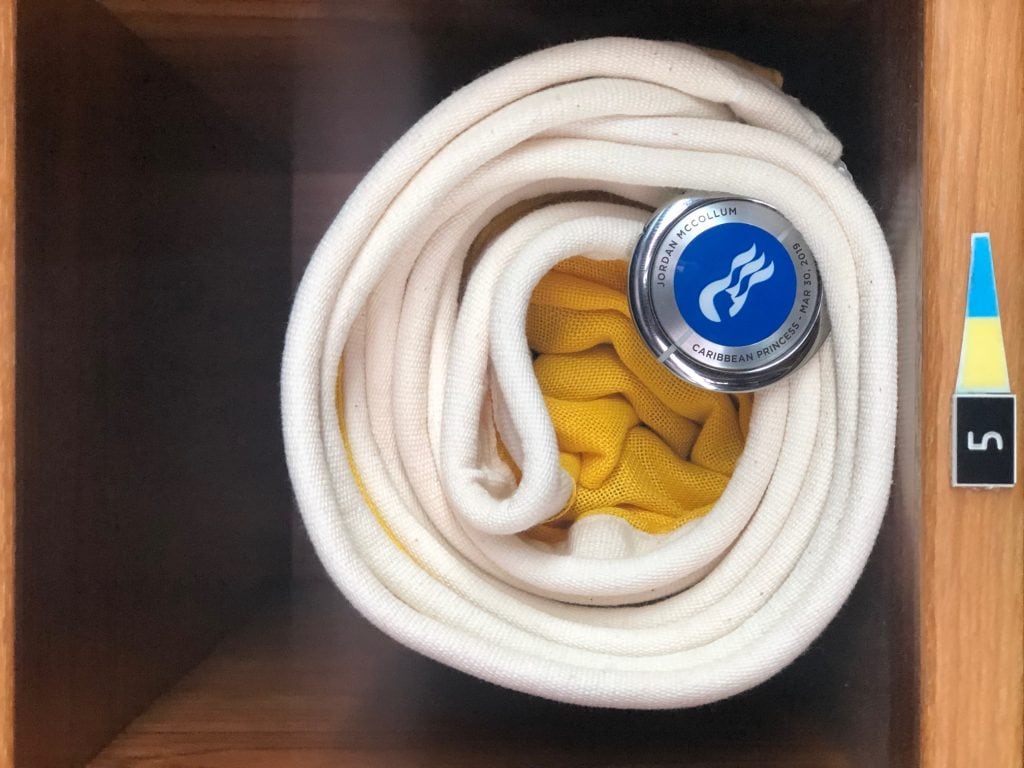 I have to say one of my favorite things as a mom is to watch each of my children to develop and grow into amazing humans. child develop and grow. Sometimes our lives get a little hectic and I lose my sanity, but it's the memories, the birthdays, and the love that make it all worth it.
There is not a day that goes by where I am not grateful for my life, my children and the man I married.
And today, I get to share not only this amazing recipe by my daughter Jojo but also our trip together on Princess Cruises celebrating my 40th birthday and creating memories neither one of us will forget. xoxo San
Don't forget to pin this recipe for DOUBLE CHOCOLATE NUTELLA CAKE to your favorite Pinterest board for later.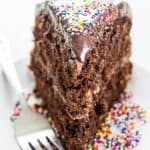 Double Chocolate Nutella Cake
Delicious Chocolate & Nutella Layer Cake topped with a rich chocolate glaze. Simple and easy to put together, with two of our family favorites.
Ingredients
Chocolate Cake

1

cup

buttermilk or 1 cup milk + 1 tablespoon lemon juice

stir together and let it sit for 5 minutes

1

cup

water

2/3

cup

vegetable oil

2

cups

sugar

2

eggs

1

teaspoon

baking soda

½

teaspoon

salt

2

cups

all-purpose flour

¾

cup

unsweetened cocoa powder

Nutella Buttercream

3/4

cup

of butter

softened

¼

cup

+ 2 tablespoons Nutella spread

4

cups

confectioners' sugar

2

tablespoons

of milk

Chocolate Glaze:

½

cup

whipping cream

4

ounces

semisweet chocolate chips
Instructions
Pre-heat oven to 350º F.

Grease two 9-inch round cake pans or 1 – 9x13, with cooking spray and lightly dust with some flour, then set aside.

In mixing bowl, add buttermilk, water, oil, sugar, eggs, baking soda and salt; stir together until it is well combined. Add in flour and cocoa powder and whisk until smooth and there are no lumps.

Pour batter evenly into prepared pan(s).

Bake for 25-35 minutes, depending on size of pans you use; until you can lightly touch the center and it springs back. Cool pans on a wire rack for 10-15 minutes, then remove cake and allow to completely cool on the wire rack. Once the cakes are cooled prepare buttercream.

Buttercream

In a large bowl, I use my Kitchen Aid mixer cream together butter and Nutella. Slowly mix in the powder sugar, one cup at a time beating well after each addition. Beat in the milk and continue mixing until light and fluffy. You may need to add more sugar or milk until you find the right consistency, this varies every time I do the recipe. If you are not going to use the frosting right away keep covered until you are ready to do so.

Place one cake layer on a serving plate, I like to use a cake stand. Evenly, an additional 2 tablespoons of Nutella on top of the first layer of cake, then top with about ½ cup of buttercream, spread the evenly on top of the bottom layer, then add the second cake on top. Frost with the remaining buttercream, spread on the sides and top, make sure the top is even and the sides are completely covered, once you have frosted the cake, set in the fridge, while you prepare the chocolate glaze.

Chocolate Glaze:

In a small sauce pan add the whipping cream and bring to a boil, remove from heat and add in chocolate chips. Do not mix or stir them in, let the chocolate sit for 5 minutes. Stir until smooth. Let it cool for about 15 minutes, then pour over cake, allowing it to slowly drip down the sides. Set the cake in the fridge and let it chill for 30 minutes, until cake is set.

You are now ready to serve. Enjoy!
Nutrition Facts
Double Chocolate Nutella Cake
Amount Per Serving
Calories 578
Calories from Fat 189
% Daily Value*
Total Fat 21g 32%
Cholesterol 41mg 14%
Sodium 208mg 9%
Potassium 178mg 5%
Total Carbohydrates 97g 32%
Protein 4g 8%
* Percent Daily Values are based on a 2000 calorie diet.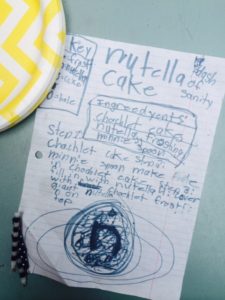 Save