This Double Chocolate Nutella Layer Cake was created by my daughter Jordan. Rich layer chocolate cake with Nutella buttercream, ganache and of course chocolate sprinkles.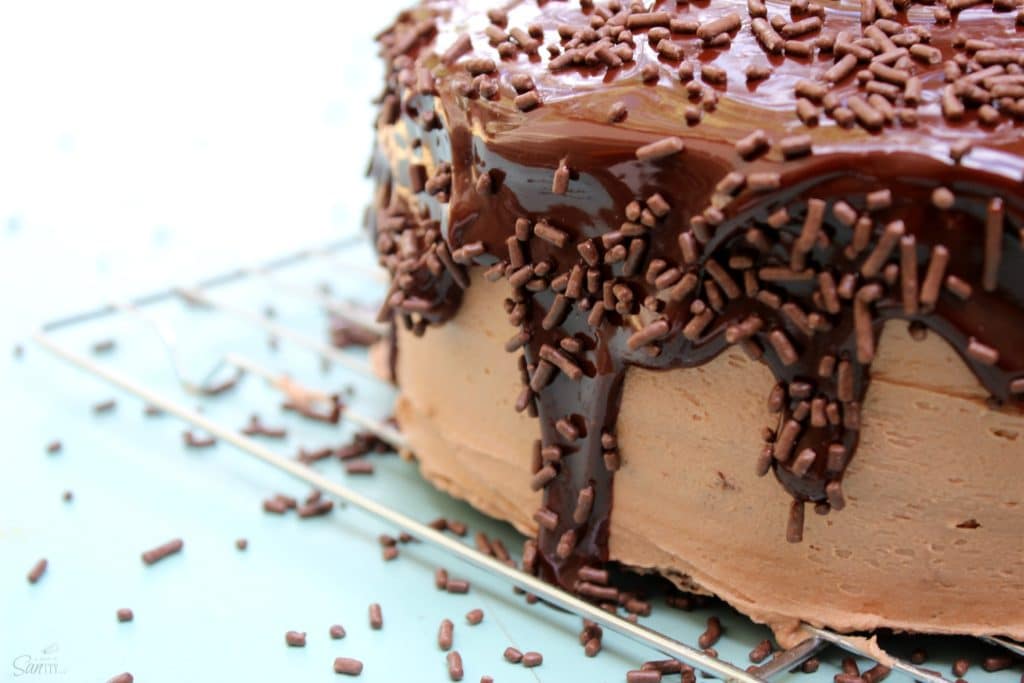 Her 9 year old birthday request was that I must make this cake that she "designed" about 4 months ago and post it on my blog.
An easy request to fill.
Just like her Momma, she is a Nutella freak, I mean literally I catch her with a spoon eating out of the container, this is usually right after dance practice. It is her favorite snack. And if I didn't stop her, she would eat the whole container, the large one…we don't do little here (except in height).
I have enclosed her picture that she drew me for this Double Chocolate Nutella Cake, with instructions and a key. We had to make just one adjustment since she decided that she wanted a crown instead of the letter N, standing for Nutella on top of her cake.
Otherwise, we followed her plan.
You know, I have to say one of my favorite things as a mom is to watch each child develop and grow. Little notes and letters, like the one above just melts my heart. I love the phonetic spelling, the specifics, like the key, I am sure she had recently learned that at school and the thoughtfulness, by including A Dash of Sanity.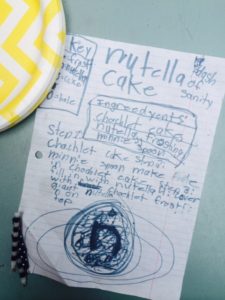 Sometimes our life gets a little hectic and I lose my sanity, but it's the notes, the memories, the birthdays, and the love that make it all worth it.
There is not a day that goes by where I am not grateful for my life, my children and the man I married.
And today, I get the chance to fulfill a simple birthday wish and post my daughters cake creation on my blog, wow…it's truly the simple things that bring me happiness.
Happy Birthday Jojo! XO Mom
And enjoy friends this Double Chocolate Nutella Cake from my now, 9 year old daughter, Jordan Jeanne McCollum
XOXO San
Double Chocolate Nutella Cake | Jojo's Cake Creation
Delicious Chocolate & Nutella Layer Cake topped with a rich chocolate glaze. Simple and easy to put together, with two of our family favorites.
Ingredients
Chocolate Cake

1 cup buttermilk or 1 cup milk + 1 tablespoon lemon juice, stir together and let it sit for 5 minutes
1 cup water
2/3 cup vegetable oil
2 cups sugar
2 eggs
1 teaspoon baking soda
½ teaspoon salt
2 cups all-purpose flour
¾ cup unsweetened cocoa powder

Nutella Buttercream

3/4 cup of butter, softened
¼ cup + 2 tablespoons Nutella spread
4 cups confectioners' sugar
2 tablespoons of milk

Chocolate Glaze:

½ cup whipping cream
4 ounces semisweet chocolate chips
Directions
Pre-heat oven to 350º F.
Grease two 9-inch round cake pans or 1 – 9x13, with cooking spray and lightly dust with some flour, then set aside.
In mixing bowl, add buttermilk, water, oil, sugar, eggs, baking soda and salt; stir together until it is well combined. Add in flour and cocoa powder and whisk until smooth and there are no lumps.
Pour batter evenly into prepared pan(s).
Bake for 25-35 minutes, depending on size of pans you use; until you can lightly touch the center and it springs back. Cool pans on a wire rack for 10-15 minutes, then remove cake and allow to completely cool on the wire rack. Once the cakes are cooled prepare buttercream.
Buttercream
In a large bowl, I use my Kitchen Aid mixer cream together butter and Nutella. Slowly mix in the powder sugar, one cup at a time beating well after each addition. Beat in the milk and continue mixing until light and fluffy. You may need to add more sugar or milk until you find the right consistency, this varies every time I do the recipe. If you are not going to use the frosting right away keep covered until you are ready to do so.
Place one cake layer on a serving plate, I like to use a cake stand. Evenly, an additional 2 tablespoons of Nutella on top of the first layer of cake, then top with about ½ cup of buttercream, spread the evenly on top of the bottom layer, then add the second cake on top. Frost with the remaining buttercream, spread on the sides and top, make sure the top is even and the sides are completely covered, once you have frosted the cake, set in the fridge, while you prepare the chocolate glaze.
Chocolate Glaze:
In a small sauce pan add the whipping cream and bring to a boil, remove from heat and add in chocolate chips. Do not mix or stir them in, let the chocolate sit for 5 minutes. Stir until smooth. Let it cool for about 15 minutes, then pour over cake, allowing it to slowly drip down the sides. Set the cake in the fridge and let it chill for 30 minutes, until cake is set.
You are now ready to serve. Enjoy!
https://www.dashofsanity.com/double-chocolate-nutella-cake/
Pin this to your favorite Pinterest board for later.

Save