So happy today to be partnering with Smithfield to share this recipe for Crispy Bacon Cinnamon Roll Twists and how to host your own "Bacon Bar". All opinions and text our my own.
Crispy Bacon Cinnamon Roll Twists – a delicious "twist" on your favorite morning pastry and bacon. Dunk these Crispy Bacon Cinnamon Roll Twists in some easy homemade cream cheese frosting, and your love for cinnamon, sugar and bacon will find a whole new level.
Have you heard of a "Bacon Bar"? It's pretty much like a baked potato bar layout just a whole lot of bacon. Bacon salt, bacon syrup, bacon caramel, thick bacon, Applewood Bacon, Homestyle Bacon and of course, these Crispy Bacon Cinnamon Roll Twists. Pretty much, you serve bacon with a side of whatever you want: eggs, muffins, cinnamon rolls and/or jam.
This kind of "party" is perfect for a holiday get-together, game day feast or just a casual Sunday brunch. Coming from a family of bacon lovers (all of us could literally could eat a pound of bacon in one sitting), hosting a "Bacon Bar" is just absolutely perfect and easy.
Today, I am partnering with Smithfield to show you how easy and fun it is to host a "Bacon Bar". Smithfield has made it so easy with these cute printables for you to add to your table and giving you mouthwatering recipes to go along with your party at hit. Of course, we had to add our own touch with the Crispy Bacon Cinnamon Rolls Twists.
My personal favorite is the Smithfield Hometown Original Bacon because it is so versatile. Classically cut, you can use it really for anything and in any way.  
Even with the rush of the Christmas season being over I  shockingly still have the gumption to host get togethers. I have found the idea of this "Bacon Bar" to be an easy one.
I am sharing the recipe of our favorite "Bacon Bar" feature – the Crispy Bacon Cinnamon Roll Twists. I would love to see what you come up with. Share some of your favorite bacon ideas below in the comments. Really, any table with bacon is a table of love. Am I right?!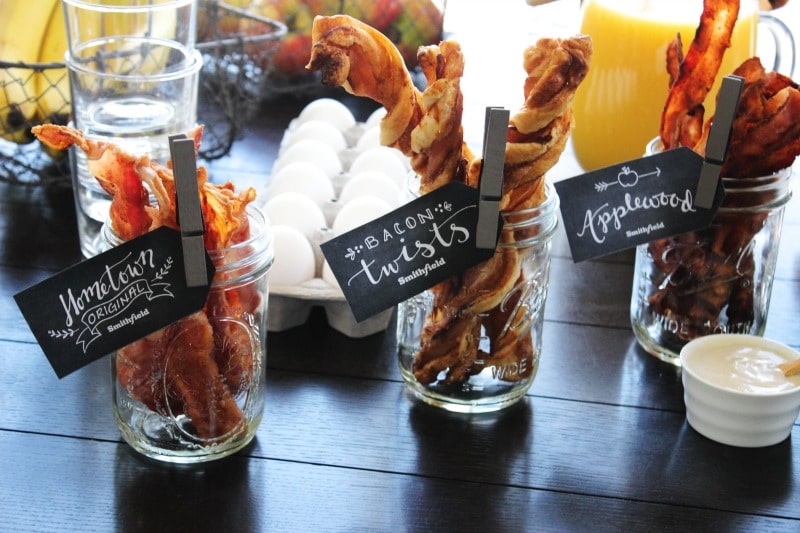 Just be sure when you are setting up your "Bacon Bar" that you don't have any little ones running away with the bowls or cups of bacon. In my house, well…you can see just how much we all love bacon. XOXO San
Don't forget to pin this to your favorite Pinterest board for later.
Crispy Bacon Cinnamon Roll Twists
Ingredients
2 lbs. Smithfield Bacon, uncooked
1/4 cup softened butter
1/2 cup brown sugar
2 teaspoons cinnamon
2 puff pastry sheets
1 tablespoon flour

Cream Cheese Frosting

2 ounce cream cheese, softened
1 tablespoon butter, softened
1 1/4 cup powdered sugar
1 tablespoon milk
1/2 teaspoon almond or clear vanilla extract, optional
Directions
Preheat oven to 400 degrees.
Dust your counter top with 1 tablespoon of flour.
Lay down the puff pastry sheet on top of the floured counter top.
Spread softened butter on top of the puff pastry sheet on the counter.
In a small mixing bowl stir to combine brown sugar and cinnamon.
Sprinkle the brown sugar mixture on top of the buttered pastry. Use as much or as little of the cinnamon mixture. I use about 1/2 of it and then use the rest later to mix into my frosting.
Top the cinnamon and butter with the left over puff pastry sheet, like pictured. Press down the puff pastry so the two sheets start to stick together.
Then gently roll over the puff pastry sheets with a rolling pin, pressing them together and spreading it out.
Cut the puff pastry in half the long way, like pictured.
Then cut into 24 half-inch slices - making a total of 48 slices total.
Grab one slice and spread out to the length of one piece of bacon. Top with one slice of bacon.
Top the bacon with one slice of puff pastry, making sure to stretch to the length of the bacon.
Then twist the bacon and 2 slices of puff pastry together, like pictured.
Set on baking sheet, 12 per pan.
Bake 35-45 minutes.
Half way through baking, I use a paper towel and damp off the twists, to remove some of the extra grease.
Remove from oven once the puff pastry is a nice golden brown and bacon is cooked all the way through.
Let it rest on the pan for 5 minutes, then gently remove and serve.
To make the frosting, beat together cream cheese and melted butter until smooth and there are no cream cheese chunks. Add in powdered sugar and mix it together by beating on medium-high. Add in milk one teaspoon at a time, until you get your desired consistency. Pour into a bowl for people to dip their twists in.
https://www.dashofsanity.com/crispy-bacon-cinnamon-roll-twists/
This is a sponsored post written by me on behalf of Smithfield.
Save