Best ever BROCCOLI & CHEESE SOUP. Made with fresh broccoli and three kinds of cheese; this recipe is easy, simple and ready in 45 minutes.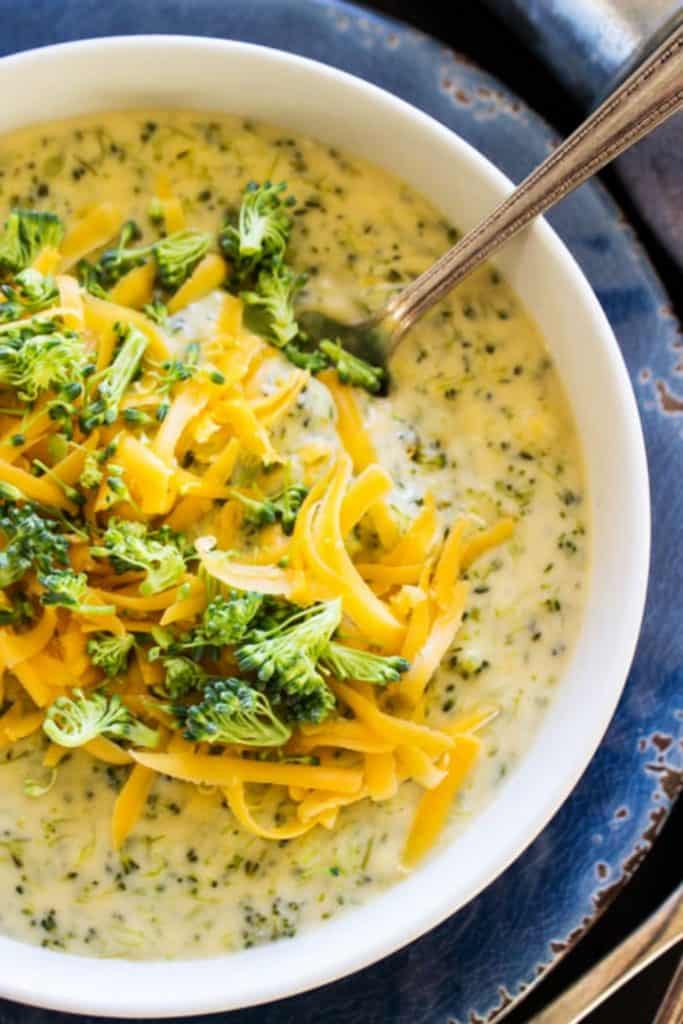 These cold winter months are always a great time to whip up a warm bowl of soup. It's the best kind of comfort food, especially after the holidays where I had my fill of big, over the top meals. I just like the simplicity of soup and salad meal combination whether it be for lunch or dinner.
This recipe came from my Aunt Dana. Now I have a few of her recipes on my blog and every recipe has become a staple in our home because we love them that much. Besides this recipe for CREAMY BROCCOLI CHEESE SOUP we also love her spaghetti sauce.  Both recipes are in the Top 20 in our family and each are divine.
Now I will be honest I was a little hesitant of this soup because it did require some Velveeta. I was worried the Velveeta would over power the soup, but then again it does only require 1/4 of a block, 8 ounces and it didn't overtake the flavor. Instead it was a perfect balance with the cheddar and cream cheese and adding the perfect amount of creaminess.

My daughter Jersey, loves broccoli! I mean to the point that this last year her aunt and uncle gave her broccoli for her birthday and she was thrilled about it! THRILLED! The lunch lady at our school everytime I see her comments on how much Jersey loves broccoli and that she has never seen a kid eat so much broccoli, she is right.
Now I can't say the same thing for my other 4 kids, but they will tolerate it in casseroles, like my Broccoli Chicken Curry Casserole or in this soup.  My husband is the same way and claims he dislikes anything with cooked broccoli, of course that casserole and this soup are the exception. My entire family licks every last it from their bowl, Madden how claims that this isn't his favorite still wiped the bowl clean with this french bread. I guess cheese, lots of cheese will make anything edible.
Not only is it a great meal to serve, but it is super easy to make and ready in less than 45 minutes. Bonus is that it doesn't require too much prep time, so this recipes makes everyone in the family happy, including the chef. So this winter, don't let it be that the only soup you get is from Panera make this soup something you only get at Panera. Make this BROCCOLI & CHEESE SOUP at home, trust me broccoli is going to become your favorite winter veggie. Enjoy! XOXO San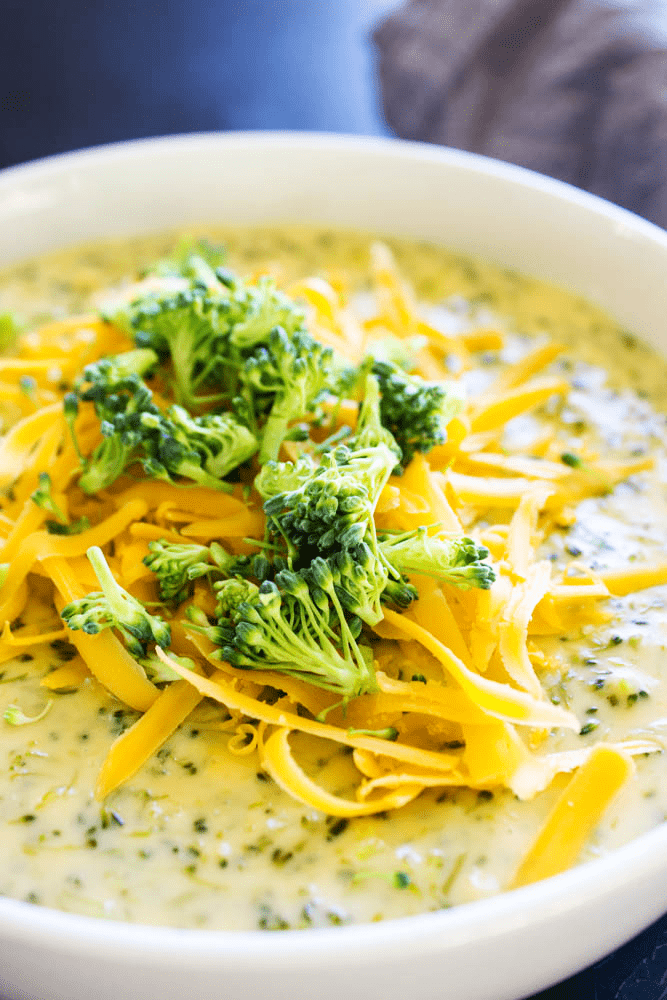 My favorite kitchen items to make this CREAMY BROCCOLI CHEESE SOUP are below, you will want of few of these just for your everyday cooking.
This post may contain affiliate links. See my Full Disclosure for further details.
Pots: So I am a total pan snob after having an assortment of brands in our cupboard over the years. After getting some Calpho pans on sale at my local grocer, I won't try anything more. They are affordable and durable – a win, win in our home.
Measuring Cups: Nothing beats a good set of measuring cups that last a long time. I love metal measuring cups because of their durability.
Measuring Spoons: I have to have a metal set of measuring spoons on hand. The plastic ones just don't last long in our house partly due to the garbage disposal.
Don't forget to pin this recipe for CREAMY BROCCOLI CHEESE SOUP to your favorite Pinterest board for later.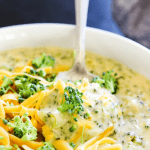 CREAMY BROCCOLI CHEESE SOUP
Best ever BROCCOLI & CHEESE SOUP. Made with fresh broccoli and three kinds of cheese; this recipe is easy, simple and ready in 45 minutes.
Ingredients
3

cups

water

3

chicken bullion cubes

8

cups

broccoli, chopped

6

tablespoons

flour

3/4

cup

onion, chopped

1/2

cup

butter

2

cups

milk

4

ounces

cream cheese

8

ounces

Velveeta, cubed

1

cup

cheddar cheese, grated

plus more for topping if desired
Instructions
In a medium pot make a white sauce melting ½ cup butter over medium-high heat. Once flour is melted stir in flour until combined, stir in milk. Continuously stir until there are no visible chunks. Let it simmer over heat until it starts to boil, once it is boiling add in cream cheese and Velveeta. Stir until creamy and smooth and no visible chunks. Remove from heat and set aside.

In a large pot bring 3 cups of water and bouillon cubes to a boil. Once the water is boiling add in chopped broccoli and onion. Boil for 10-12 minutes, until 2/3 of the water has evaporated and the broccoli is tender, just eyeball it.

Reduce heat to medium and add the sauce you made above to the broccoli & water pot, stir until combined. At this point it will look very watery, don't freak out. It will be okay! Bring to a slow boil and cook for 15-20 minutes, stirring frequently so that it doesn't stick to the bottom.

In addition, if you like it extra cheesy, stir in a cup of sharp cheddar cheese, grated. Once it has simmered for about 20 minutes, remove from heat, let it sit for 5-10 minutes, it will thicken up at this point. Serve with rolls or in a bread bowl.
This post was recently updated from it's original post date of January 2015.

Save