Cran-Turkey Enchiladas your Thanksgiving leftovers have never tasted so good.
And friends you don't need to wait for Thanksgiving leftovers to make these, trust me I make them all year long.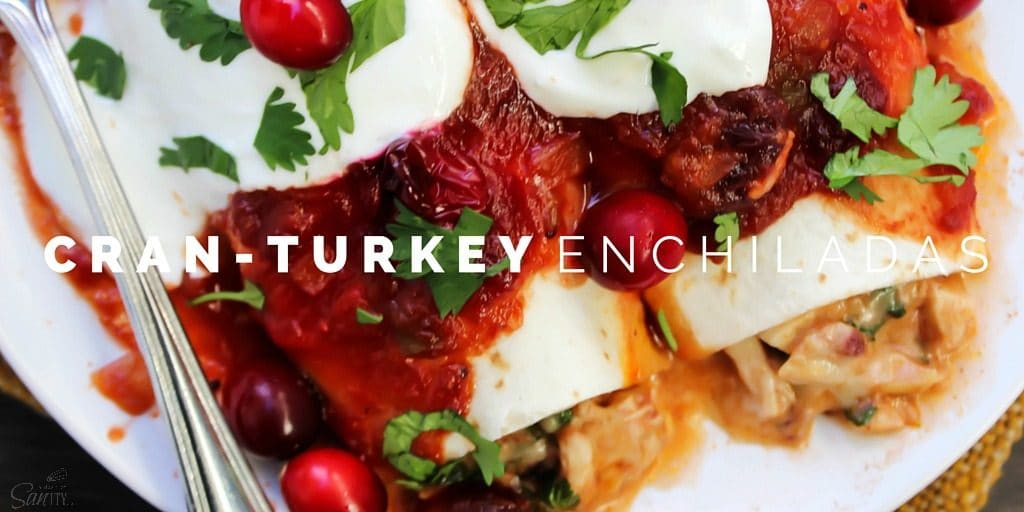 Made with a tangy-sweet sauce these Cran-Turkey Enchiladas are the best twist on enchiladas that I have ever had. I love creamy enchiladas and these fit the bill. And worried about dry turkey, don't fret with the sour cream, cheese, salsa and cranberries your turkey won't taste one bit dry. After making these enchiladas for the last several years, I started making them for family and friends. And every.single.time. they are a hit! My mom who is the pickiest eater, loves these and even makes them on her own. It has also become her to go to meal to take to family or friends in need. I just love it.
The combination of cilantro and cranberries is just perfect. The tanginess of the cranberries are balanced by the kick from the cilantro. And mellowed out by the Monterrey Jack cheese. While this meal makes the best dinner with your Thanksgiving leftovers. Don't just have them in the fall, make them all year long. Need a quick way to get some turkey meat, check your local grocery store for roasted turkey meat, I was thrilled when I found out mine carried it. Or in a pinch use chicken, Cran-Chicken Enchiladas.
So cheers to family dinners, stuffing yourself full to the brim and fabulous food.
Enjoy!
XOXO San
Ingredients
2-1/2 cups shredded cooked turkey
1 - 16-oz. can whole cranberry sauce
1 - 15-oz. can black beans, rinsed and drained
1 & ½ cups bottled salsa
1 ½ cup shredded Monterey Jack cheese
½ cup fat-free sour cream
¼ cup snipped fresh cilantro
1 teaspoon ground cumin
½ teaspoon salt
½ teaspoon ground black pepper
8 - 7- to 8-inch whole wheat or regular flour tortillas
Directions
Preheat oven to 375 degrees F. Lightly coat a 3-quart rectangular baking dish with cooking spray or 9x13 pan; set aside.
Prepare filling. In a large bowl mixing bowl stir together turkey, half the cranberry sauce, beans, 1/2 cup of the salsa, 3/4 cup of the cheese, sour cream, cilantro, cumin, salt, and pepper. Spoon about 2/3 cup filling on each tortilla. Roll up the tortilla and place in the pan seam sides down. Once all of the filling and tortillas are used, set the pan aside.
Make the sauce to pour over the enchiladas. Stir together remaining cranberry sauce and salsa. Spoon the filling over filled tortillas. Cover the enchiladas with foil. Bake for 35 minutes. Remove foil and top the enchiladas with cheese and place back in the oven for 5 to 10 minutes more or until heated through and cheese is melted. Sprinkle with cilantro and sour cream.
Notes
https://www.dashofsanity.com/cran-turkey-enchiladas/
Don't forget to pin this to your favorite board.
Save