Cran-Turkey Chili your Thanksgiving leftover turkey reconstructed into an easy, delicious chili dinner.
Traditional holiday ingredients in a non-traditional form.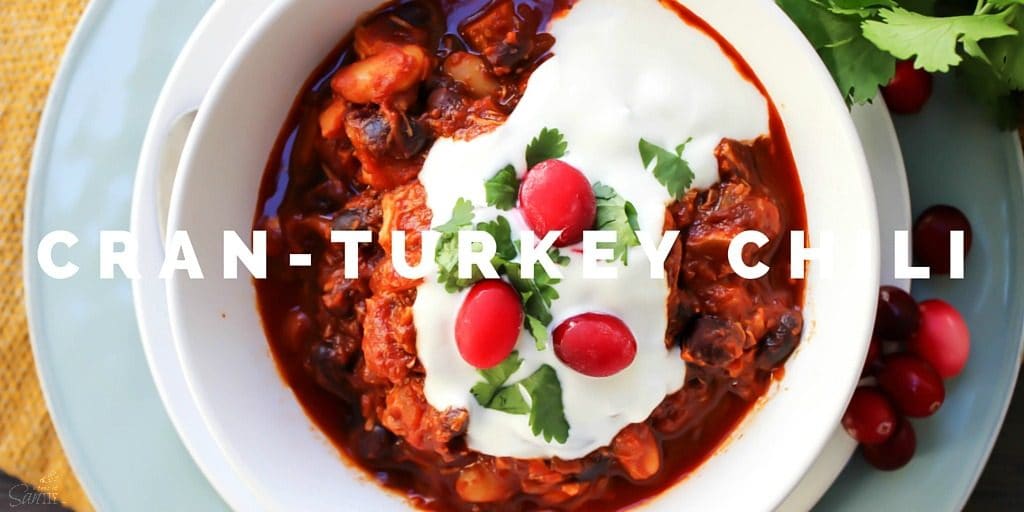 I talk to my sisters daily. Like seriously I am not sure there is a day that passes that I don't at least talk to one of them for 30 minutes or more. I love that we are best friends and are invested in each other and our families. My sister, Tami lives the farthest away from me, only 40 minutes so really not far, but we don't see each other as often. But our phone conversations are the best. And this recipe for Cran-Turkey Chili is a result of one of those calls. I swear when we collaborate we come up with brilliant ideas, and this recipe is a stroke of genius.
This chili allows you to use some of your left over Thanksgiving or holiday turkey and cranberries and recreates into something with a kick. Traditional ingredients in a non-traditional form.
This chili is a great balance of sweet & spice. Want an extra kick, add some heat with some hot pepper sauce. I didn't do that because I am feeding 5 little kids but I know for people like my dad, you will want it. Want to make this into a Cheesy Chili Bake check out how here.
So bored with turkey sandwiches try this Cran-Turkey Chili – it is mind blowing, well not really but you get the idea.
Enjoy!
XOXO San
Ingredients
3 cups of cooked turkey, chopped into chunks
1 can whole cranberry sauce
1 can white kidney beans, drained and rinsed
1 can black beans, drained and rinsed
2/3 cup white diced onion
3 ½ tablespoons chili powder
½ teaspoon garlic salt
3 cups tomato sauce
¾ cup salsa
Cilantro
Sour cream
Fresh cranberries
Directions
In a large saucepan over medium heat, add 1 tablespoon of butter and onion, sauté until onion is translucent and tender. Add turkey and stir together. Then add all of the following: tomato sauce, salsa, cranberry sauce, chili seasoning, garlic salt, white kidney beans and black beans. Mix well, and bring to a boil. Reduce heat to low and simmer, covered for an hour, stirring occasionally. If you want to let it cook longer, please do, I let mine simmer up to 2 hours for great flavor.
Remove from heat and serve garnished with sour cream, cilantro and 1 or 2 fresh cranberries on top.
Notes
Recipe A Dash of Sanity original
https://www.dashofsanity.com/cran-turkey-chili/
Need some other ideas for a chili dinner? Check out some of my friends recipes.
Wine & Glue Healthy Turkey Chili
Love Bakes Good Cakes Like Wendy's Chili
365 Days of Baking and More 20-Minute Chili Casserole
Don't forget to pin this to your favorite Pinterest board.

Save