Copycat Starbucks Reduced-Fat Cinnamon Swirl Coffee Cake the classic cinnamon swirled coffee cake with crumb topping that they serve at your local Starbucks but even better!

So being a frequent Starbucks customer, I am of course signed up for their rewards program. If you haven't checked it out, it is totally worth it. Perks like free drinks, coupons, and a free drink on your birthday, which is my favorite.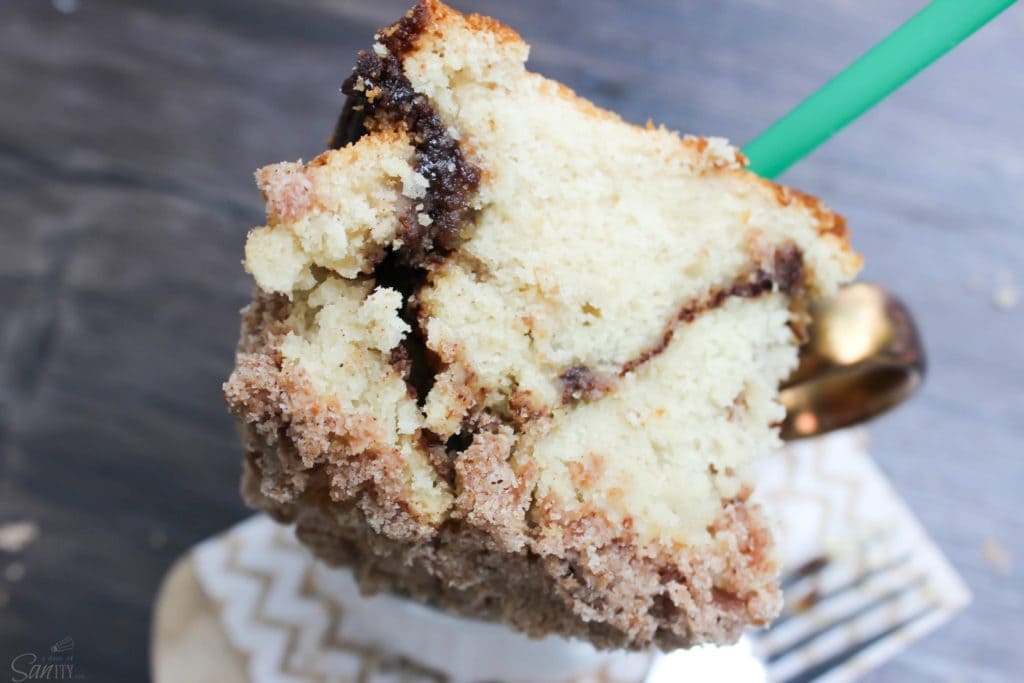 Besides my free birthday drink, I also love when they send emails about their bonus days, meaning you buy a certain item, you get a certain amount of bonus stars. My sisters, Tami and Nicole and I always compare who got the best email. We thought at first we all got the same deals, but one day we figured about that we were each getting different rewards and bonuses. Usually we don't even buy the extra bonus items, but then there are those times that I do. And one of those bonus emails is what inspired me to make this Copycat Starbucks Reduced-Fat Cinnamon Swirl Coffee Cake recipe. I bought a piece for my son Madden and he loved it. He requested it the next morning and the next. So I decided to give it a try and make my own.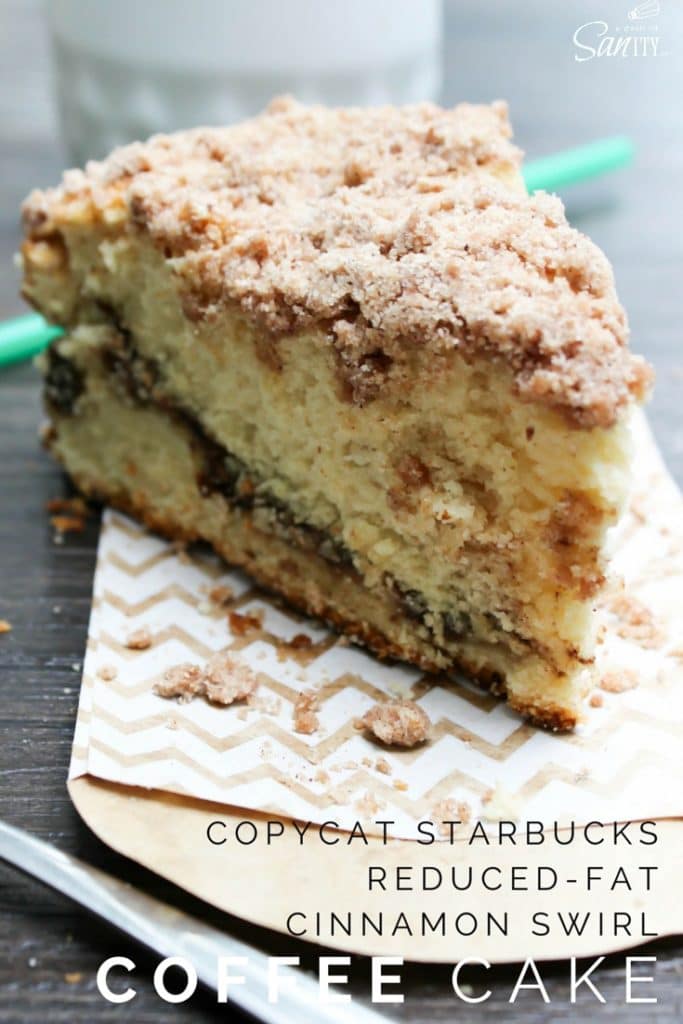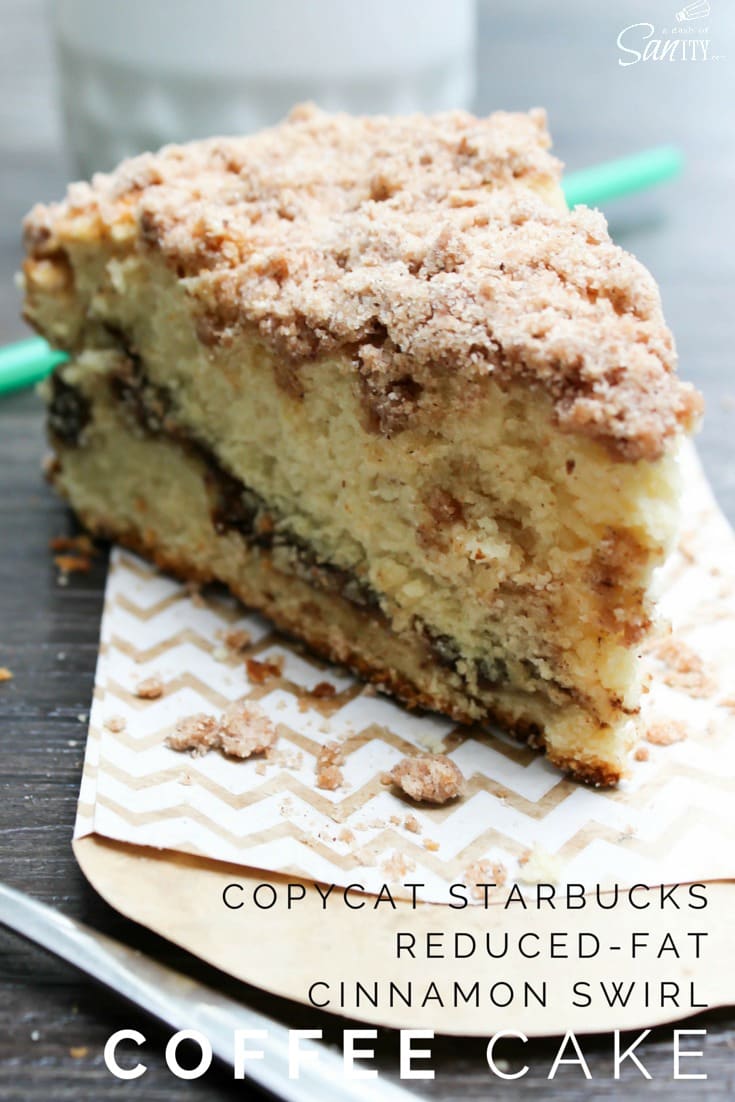 After Madden took his first bite of my homemade Copycat Starbucks Reduced-Fat Cinnamon Swirl Coffee Cake he exclaimed, "Mom this is even better than Starbucks!" I will say, I agreed! It wasn't as crumbly, as the Starbucks version.
Friends, I can't wait for you to try this Copycat Starbucks Reduced-Fat Cinnamon Swirl Coffee Cake. Enjoy a piece or two with your favorite morning drink whether coffee, juice or my favorite steam milked with lots and lots of caramel.
XOXO San
Don't forget to pin this to your favorite Pinterest board for later.
Copycat Starbucks Reduced-Fat Cinnamon Swirl Coffee Cake
Ingredients
Streusel Topping

2/3 cups granulated sugar
2/3 cup all-purpose flour
1 ¾ teaspoons ground cinnamon
4 tablespoons salted-butter, melted, if you don't use salted butter add 1/8 teaspoon salt

Filling

1 cup light brown sugar
1 ½ tablespoon ground cinnamon
1 teaspoon unsweetened cocoa powder

Reduced Fat Coffee Cake

6 tablespoons cinnamon applesauce
6 tablespoons butter
1 teaspoon salt
1 1/2 cups granulated sugar
1/3 cup brown sugar
2 1/2 teaspoons baking powder
2 teaspoons vanilla extract
3 large eggs
3/4 cup fat-free sour cream
1 ¼ cups skim milk
3 3/4 cups all-purpose flour
Directions
Preheat the oven to 350°F. Lightly grease a 12'' round pan or 9" x 13" pan.
Prepare the topping by mixing together sugar, flour and cinnamon. Once it is combine stir in melted butter, stirring till well combined. Set aside.
Prepare the filling by stirring together all of the ingredients in a small, set aside.
*The cocoa powder is used just strictly for color, not flavor; you may select to leave it out. I do not, what is pictured is with the cocoa.
Make coffee cake by beating together applesauce, butter, salt, sugars, baking powder, and vanilla in a large mixing bowl until smooth.
Add the eggs one at a time, beating well after each addition.
In small bowl whisk together the fat-free sour cream and skim milk until well combined.
Gently beat in flour mixture to the butter mixture alternating with the milk/sour cream until combined.
Pour ½ of the coffee cake batter into the prepared pan.
Then sprinkle the filling evenly on top of the coffee cake batter.
Spread the remaining batter over the filling. Then use a knife to gently swirl the filling into the batter. Like you would when making a marble cake. Don't over swirl it, because then you will mix the two and not see the swirl. I go through the cake once and call it good.
Now sprinkle the topping evenly over the coffee cake.
Place in pre-heated oven and bake 55-60 minutes or until the cake until has dark golden brown edges; and a toothpick inserted into the center comes out clean.
*Tip to tell if it is done, press gently in the middle if it springs back it is done.
Once coffee cake is done remove from oven and cool for 20-30 minutes.
Cut, serve and devour!
Notes
https://www.dashofsanity.com/copycat-starbucks-reduced-fat-cinnamon-swirl-coffee-cake-recipe/
Save