Copycat Starbucks Michigan Cherry Oat Bars – A slice of cherry pie heaven without a fork or any mess. Can it get better than this? No it can't.
These Copycat Starbucks Michigan Cherry Oat Bars made me a cherry lover that I have become.

While I pretty much love every treat a Starbucks, I never tried their Michigan Cherry Oat Bars well because I was never too keen on cherries. Then my son Cannon wanted one and I thought this was the perfect chance for me to try the one and only item I have not tried at Starbucks. So we ordered it, and I convinced him that I needed to try it first, to make sure I knew he would like it or not.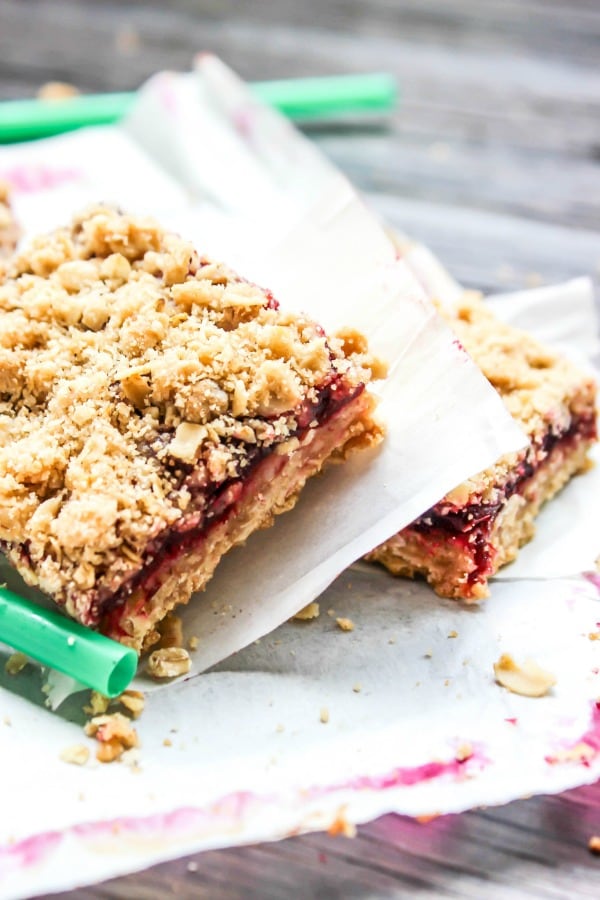 Then came that "moment", a moment that many of us can relate to. To lie or not to lie. To lie and tell my son it was horrible and he would hate it, only to then inhale it myself, probably in one or two bites because it is that dang good. Or the truth and tell him it is good and hope that he shares it with me.
I waffled, then took one more little nibble, he glared, I stared and then he said "mom you're tricking me". He could read my mind, so I handed it over and that was it. He took one bite and exclaimed yum! A few moments later, he handed me the last bite and I declined telling him I wanted him to have it, so he did.
Simple, sweet moments like these I will always cherish.
These Copycat Starbucks Michigan Cherry Oat Bars are not only taste better than the original, but you can eat the whole pan of 12 bars and no one would ever know.
Enjoy! XOXO San
My favorite kitchen item I used to make these COPYCAT STARBUCKS MICHIGAN CHERRY OAT BARS.
This post may contain affiliate links. See my Full Disclosure for further details.
9-inch Square Pan: A must have for this recipe! I love dark metal pans over light metal I feel like they just bake more evenly, this is just my personal opinion. I love this pan and have had it for 2 years now and haven't had one issue.
Pastry Blender: If I mention getting this item in the post than to me it is a necessity. You could also substitute this kitchen item using two table forks but that just takes more time and does not get the same consistency as a pastry blender does.
Mixing Bowls: I love having a variety of sizes of mixing bowls. From small to large, I find that having at least 3 bowls of different sizes has been an essential in my kitchen. I prefer Pyrex because of the durability.
Looking for some other oat bar ideas? Check out some of my favorites:Caramel Apple Oat Bars, No Bake Quinoa Oat Bars,  Strawberry Oatmeal Bars
Don't forget to pin this to your favorite Pinterest board for later.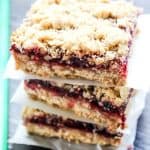 Copycat Starbucks Michigan Cherry Oat Bars
Ingredients
1 ¼

cups

flour

1 ½

cups

quick oats

½

cup

rolled oats

1

cup

brown sugar

1

tsp

baking powder

½

teaspoon

salt

¾

cup

room temperature butter

1

cup

cherry filling

see below

Cherry Filling

2

cups

fresh cherries

stems removed and seeded

1/3

cups

sugar

3-4

tablespoons

cornstarch

Juice from one lemon
Instructions
Prepare Cherry Filling by adding cherries to a small sauce pan, stir in sugar, lemon juice and corn starch. Bring mixture to a boil over medium heat, once it starts to boil cook for 10 minutes. It should have started to thicken, if not cook for a few more minutes. Once thickened remove from heat and let it sit at room temp until cool. Pour into a bowl and cover, refrigerate until ready to use.

*I typically will make this a day or two before and set in the fridge until I am ready to make the bars.

Preheat the oven to 350° and spray 9×9 inch square pan then line with parchment paper.

Add all of the dry bar ingredients into a large mixing bowl and mix together using your hands.

Add butter, using a pastry blender or your hands work the mixture into crumbs/pea sized pieces. It will become a soft and crumbly mixture.

Add 2/3 of the crumb mixture to the prepared pan and firmly pat down. Then top with cooled cherry filling. Add evenly the remaining crumb mixture on top of the cherries. Place in oven and bake for 30-35 minutes or until a light golden brown.

Let bars completely cool. Cut bars into 9-12 serving and serve.

Store at room temperature or my favorite in the fridge.
Recipe Notes
Recipe adapted from Blueberry Oat Bars from
Food Librarian
ORIGINAL RECIPE IMAGE POSTED ON JULY 15, 2015.
Save