Copycat Starbucks Chocolate Chip Cookies a classic chocolate chip cookie with crisp buttery edges and dark chocolate chips. And here is the Starbucks secret…shhh…they use whole wheat & white flour! Who knew, right? And despite the fact of the whole wheat flour, my kids still loved these. Win for me! So pour a cup of milk or grab your favorite Starbucks drink, because you will want to sit down and savor every bite.


I just love chocolate chip cookies. I literally make them once a week. Just kidding, not kidding. If I miss a week, my kids notice. I used to make them once a month, around that "time" of month. And I just made it for the cookie dough. But then when I made my Chocolate Chip Cookie Dough Bites, I stopped making cookies for the dough. And really made them for the cookies. Well, then with selling our home, building our dream home, then moving it with my parents while our house is finished (a two month delay that turned into 6 months) these cookies instantly became my comfort food to-go-to. And I now make them once a week, eat two cookies, and then give the rest away. Of course my kids each get two as well, but if I keep these cookies around I will eat the whole batch…they are that good.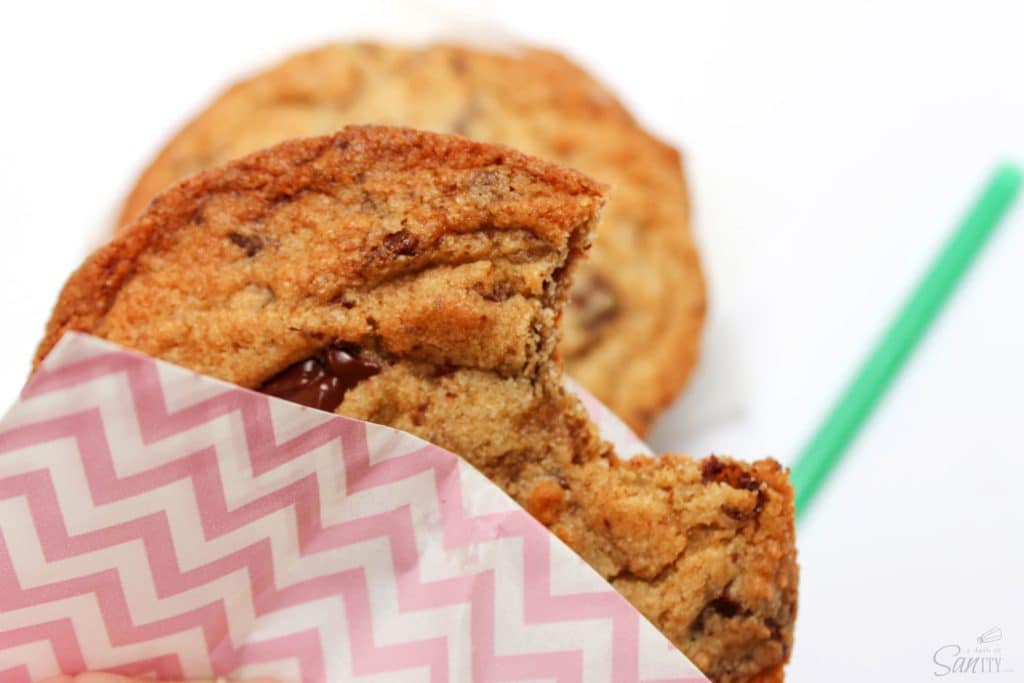 I can't wait for you to try these Copycat Starbucks Chocolate Chip Cookies, you and your kids will just love them.
Enjoy!
XOXO San
Copycat Starbucks Chocolate Chip Cookies
Ingredients
2 sticks of butter, softened
1 cup of sugar
1 cup of brown sugar
2 eggs
1 teaspoon vanilla
1 cup whole wheat flour
1 ½ cup all-purpose flour
1 teaspoon baking soda
1 teaspoon baking powder
2 Ghirardelli 60% Cocoa Chocolate Bars, a little under 2 cups
Directions
Preheat oven to 350 degrees.
In a large mixer, I used my KitchenAid cream together the butter, sugar and brown sugar until light and fluffy.
Mix in the vanilla and eggs.
In a small bowl stir together all of the dry ingredients, whole wheat flour, all-purpose flour baking soda and baking powder.
Gently mix in the dry ingredients to the wet ingredients, making sure to mix well.
Stir in 1 ½ cups of the chocolate chunks.
Scoop out 1/3 of cup of the dough. Break the 1/3 cup chunk in half, place on a baking sheet lined with parchment paper. Press in a few of the remaining chocolate chunks into the dough. Repeat with remaining dough and chocolate chunks. Have 6 cookies per pan, place in oven and bake 8-10 minutes or until edges are a golden brown. Remove from oven and place on a wire rack to cool. Serve.
Notes
https://www.dashofsanity.com/copycat-starbucks-chocolate-chip-cookies/
Don't forget to pin this to your favorite Pinterest board for later!

Save