This post may contain affiliate links. See my Full Disclosure for further details.
COPYCAT KFC BISCUITS light, flaky and buttery. And guess what you can have these biscuits in 20 minutes, no kidding!
I am a huge sucker for breakfast, it is actually my favorite meal of the day. One of my favorites being homemade biscuits and gravy, with sausage and eggs! Yum. I am drooling just thinking about it. I mean check out the flaky layers.
These are the best biscuits that will ever come from your kitchen and they are so easy to make. These taste just like the biscuits from KFC but better because they are homemade.
I got this recipe, 12 years ago, but didn't actually make it until 8 years ago. Since then I have never, ever made a breakfast that used frozen or refrigerated biscuits, as these are just as easy. Now, I can't say we haven't ever had those…store bought ones….my husband uses them when he is in charge. Needless to say, the kids have deemed me the biscuit champion.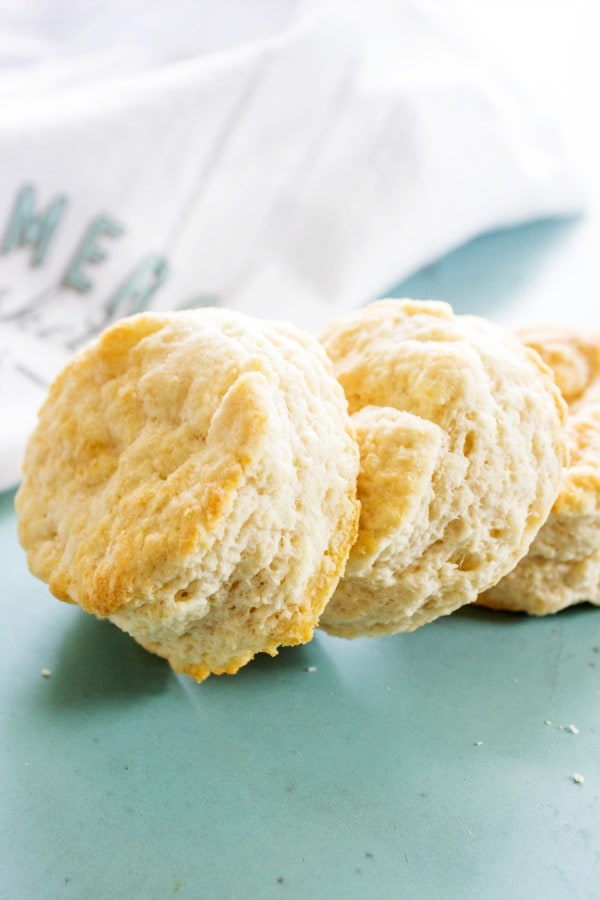 I hope you enjoy this recipe for COPYCAT KFC BISCUITS just as much as we have.
And while you are checking out this recipe, I have included a collection of some of the most amazing bread, scones and biscuits recipes. You have got to check it out, mouthwatering, no carb-dieting recipes that range from sweet to savory. Enjoy! XOXO San
My favorite kitchen items to use to make these COPYCAT KFC BISCUITS.
PASTRY BLENDER: If I mention getting this item in the post than to me it is a necessity. You could also substitute this kitchen item using two table forks but that just takes more time and does not get the same consistency as a pastry blender does.
BISCUIT CUTTER: Having this in your kitchen is not only great for these biscuits but as well as roll-out sugar cookies. I love the ruffled edges for biscuits and the smooth edge for cookies, so I prefer a biscuit cutter that has both and you can use each side. Having a variety of sizes is nice as well, especially if you still have some little ones around these are great for playdough.
MEASURING CUPS: nothing beats a good set of measuring cups that last a long time. I love metal measuring cups because of their durability.
MIXING BOWLS (METAL): I love having a variety of sizes of mixing bowls. From small to large, I find that having at least 3 bowls of different sizes has been an essential in my kitchen. For this biscuit recipe and a few others I actually prefer using metal over glass because of the stickiness of the dough.
Love biscuits? Check out these mouthwatering recipes: Italian Herb Biscuits, Cheddar Bay Red Lobster Biscuits, Pumpkin Buttermilk Biscuits, Easy Keto Drop Biscuits and Lemon Sugar Biscuit Donuts.
Don't forget to pin this for COPYCAT KFC BISCUITS to your favorite Pinterest board for later.
These Copycat KFC Biscuits light, flaky and buttery. And ready in 20 minutes.
Ingredients
2 cups all-purpose flour
1 tablespoon baking powder
2 teaspoons white granulated sugar
½ teaspoon cream of tartar
½ teaspoon salt
½ cup chilled butter, salted
2/3 cup milk
Directions
Preheat the oven to 415 degrees and line a baking sheet with parchment paper.
In a medium mixing bowl shift together flour, baking powder, sugar, cream of tartar and salt.
Using a pastry blender, your hands, or a knife and fork, cut in the butter until the flour resembles coarse crumbs.
Add the milk and stir with a fork until the mixture comes together. On a lightly floured surface pull out the dough and knead until it is smooth.
Roll out dough until it is ½ inch thick. Cut out dough using a 3 inch biscuit butter, or you can cut into squares. With remaining dough, reform and roll out to ½ inch and repeat until all the dough is used and made into biscuits.
Arrange biscuit dough on prepared baking sheet, and baked for 10-12 minutes, or until risen and a golden brown.
Serve immediately, or set on counter or serving dish until ready to serve.
Notes
recipe from Shauna Robinson, friend of a friend, of a friend of a friend, of my grandma's
https://www.dashofsanity.com/copycat-kfc-biscuits-collection-best-breads-scones-biscuits-recipes/
Post updated from original posting date December 2015.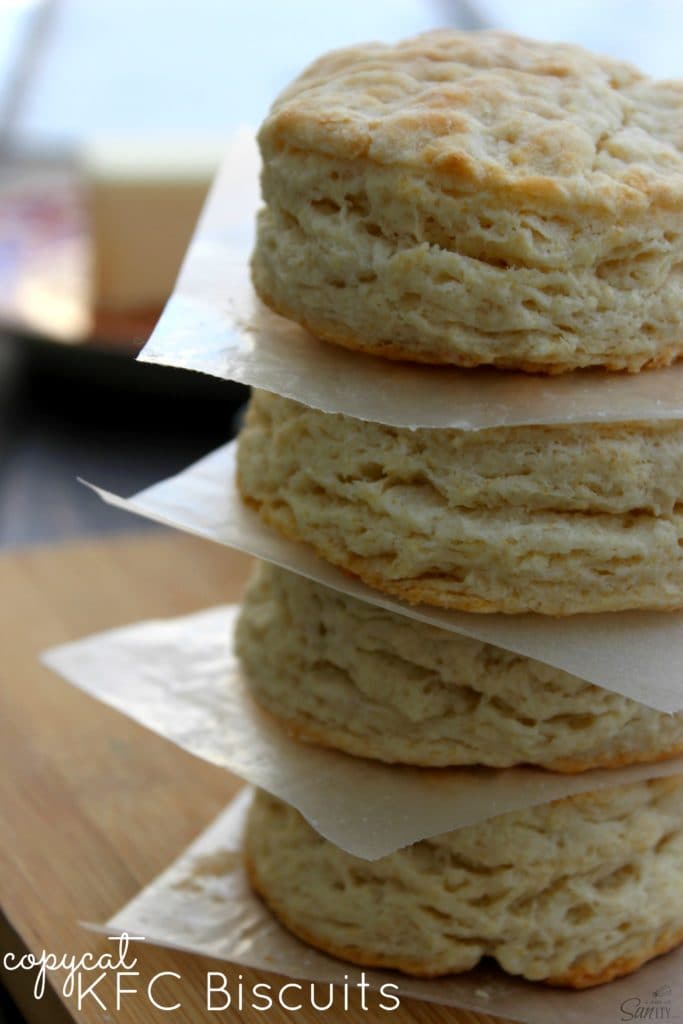 Save