This Copycat Carrabba's Grill Seasoning is the best grill seasoning I have ever had; on chicken, steak, pork or fish you can't go wrong. Push the standard seasoning aside and add some zest to your salt and pepper. Trust me it is oh, so good.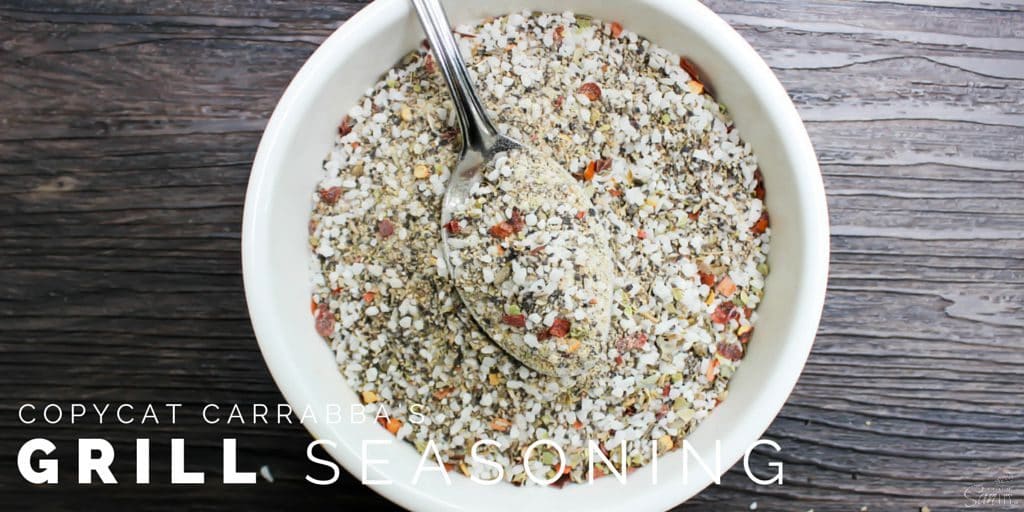 We love Carrabba's. It is one of our favorite restaurants to go to here in town. In fact it is the only chain restaurant we frequent, like 3-4 times a month. And mainly we go there for the grill seasoning and baste. And the fact that their kitchen is 90% scratch, huge perk! My husband loves the Chicken Bryan and I love their Prosciutto Wrapped Pork Tenderloin with Port Wine Fig Sauce. I am salivating now. Although my favorite dish there is their Sicilian Chicken Soup. Oh, man if you haven't tried it, you have got to make it. Crazy good.
This Copycat Carrabba's Grill Seasoning I love to load onto my meat but my kids only like a sprinkle. So season each how they would like, but try this seasoning. Not only is this seasoning amazing, but it stores in an air tight container indefinitely; as long as you store it in a dry, cool and dark cupboard.
From our favorite restaurant to your dinner table enjoy this Copycat Carrabba's Grill Seasoning. It will become a staple ingredient, trust me.
Enjoy!
XOXO San
Copycat Carrabba's Grill Seasoning
Ingredients
¼ cup kosher salt
2 tablespoons freshly ground black pepper
1 ½ teaspoons granulated garlic
1 ½ teaspoons granulated onion
1 ½ teaspoons dry oregano
¼ teaspoon crushed red peppers
Directions
In a small bowl mix together all of the ingredients. Transfer & store in an airtight container.
Notes
Recipe from Carrabba's Italian Grill Recipes from Around Our Family Table cook book
https://www.dashofsanity.com/copycat-carrabbas-grill-seasoning/
Save