This post may contain affiliate links. See my Full Disclosure for further details.
Cookies & Cream Nutella Ice Cream your summer just became a whole lot more delicious with this easy, no-churn homemade ice cream. Oreo chunks in a creamy chocolate Nutella ice cream, cookies & cream can't get much better than this. Ice cream + Nutella + Oreo cookies = ice cream bliss.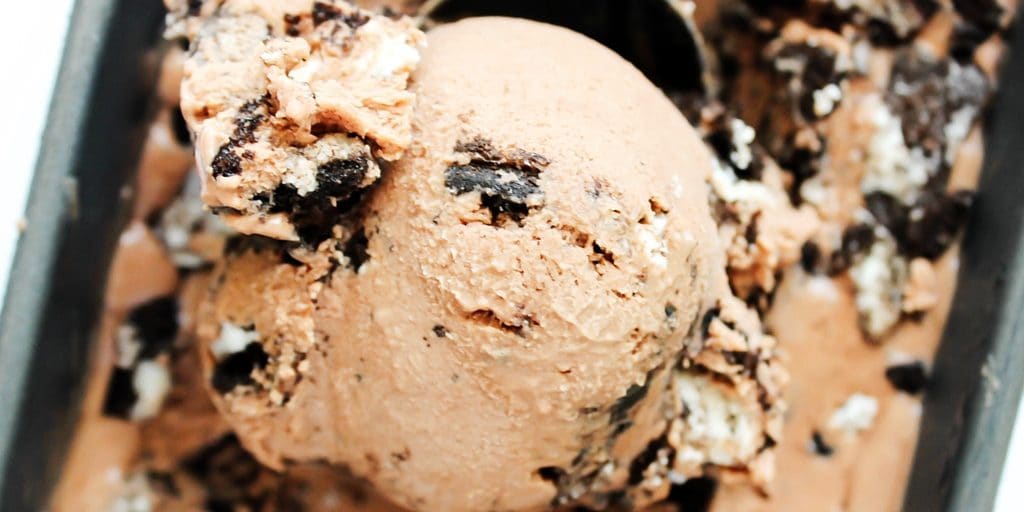 In our house Nutella cures many things. A broken heart, scratches & scrapes, it acts as a conflict resolution for my hubby & I (semi-kidding) and well kicks the late afternoon cravings with just a spoonful of this chocolaty hazelnut spread.

Last year I made Chocolate Chunk Nutella Ice Cream and I honestly thought Nutella ice cream couldn't get better. I was wrong. Adding Oreo cookies to Nutella ice cream makes the ultimate combo and it is oh so sinfully delicious. And the only reason I say sinfully is that literally after eating the entire pan of this, I had to beg for my kids forgiveness. Okay, now I didn't eat the whole pan, I shared but even after my "bite" my kids were yelling at me to stop because they knew I could, slash that would eat it all if they didn't start screaming at me.
Okay, I admit I kind of love Nutella and well Oreo cookies are one of my top 3 favorite cookies of all time.
This recipe for Cookies & Cream Nutella Ice Cream is so easy and it is a no-churn recipe, so no ice cream machine required. Friends you are going to love this.
Enjoy! XOXO San
My favorite kitchen items I used to make this COOKIES & CREAM NUTELLA ICE CREAM.
Blender – I love using my Blendtec blender to make this ice cream and would highly recommend that you use one too – make the process so easy! Really any blender would work.
Bread Loaf Pan – I use a large one of these to freeze and serve my ice cream in. I have a few of these on hand and use them for more than just baking.
Mixing Bowls: I love having a variety of sizes of mixing bowls. From small to large, I find that having at least 3 bowls of different sizes has been an essential in my kitchen. I prefer Pyrex because of the durability.
Looking for some other ice cream ideas? Check out some of my favorites: Chocolate Chunk Nutella Ice Cream, Low Carb Death By Chocolate Ice Cream, Unicorn Ice Cream – No Churn, Homemade Vanilla Ice Cream
Cookies & Cream Nutella Ice Cream
Ingredients
2 cups heavy whipping cream
2/3 cup chocolate milk
3/4 cup Nutella or any chocolate hazelnut spread will work
3/4 cup white granulated sugar
1/2 teaspoon vanilla extract
Pinch of salt
1 to 1 1/2 cups Oreo cookies, I used double stuffed, crumbled, between 10-13 Oreos
Directions
In a blender, I used my Blendtec blender puree Nutella, sugar, cream, salt, and vanilla until creamy and smooth. Set the blender in the fridge and chill the mixture in the refrigerator until chilled. Once chilled set in the freezer, set in the freezer for 45 minutes. Remove from freezer and blend for 15-20 seconds. Pour in a serving dish and place back in freezer for 45 minutes.
Remove from the freezer and whisk, add Oreo cookies and gently mix in, then place back in freezer for another 45 minutes. Repeat process one to two more times, I did just one. Then leave in freezer until frozen.
When you remove from the freezer, immediately serve. This ice cream will melt faster than your typical store bought ice cream.
Notes
https://www.dashofsanity.com/cookies-cream-nutella-ice-cream/
Don't forget to pin this ice cream recipe to your favorite Pinterest board.
Love Nutella & Oreo cookies like I do check out these recipes that have one or both of the ingredients. Bring on the yum!
Save