COCONUT KNOTS otherwise known as Coco Knots are deliciously sweet puff pastry that's ready in 30 minutes. You're just a few ingredients from eating the best pastry you've ever had.
I love pastries. Sort of obsessed.
I will take a light, delicate pastry over Starbucks and that is saying a lot. That I would love about these Coconut Knots is that this recipe only requires a few simple ingredients and is ready to devour in less than 30 minutes. A simple twist with puff pastry dough, coconut extract and egg, you can enjoy this fancy pastry at home.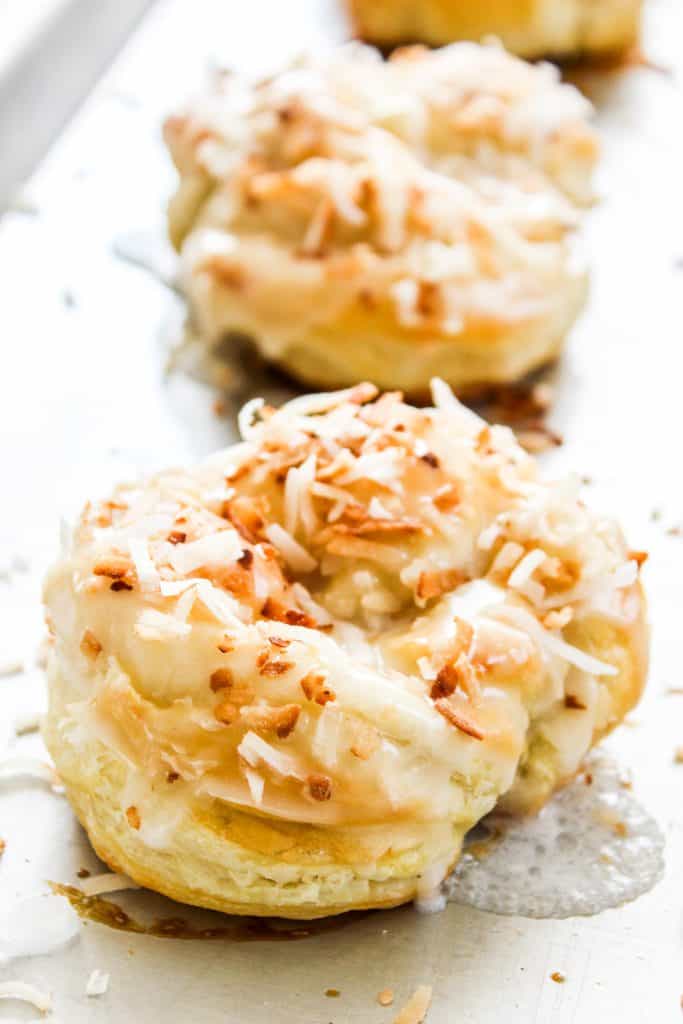 It was an unbelievable experience to partner with Princess Cruises for this post. All opinions expressed are my own.
Now one would like that being a food blogger, I just automatically come up with these amazing treats or ideas on my own. Well sometimes that happens but a majority of the time they are inspired by an event or something I have recently eaten.
This recipe for Coconut Knots was inspired by my recent trip with Princess Cruises to Alaska. Aboard any Princess Cruise, you will have some of the best pasty combinations you can think of including Nutella Donuts! I love their pastries and muffins. This last trip my sister and I ate at least 2 bran muffins a day. They were the best thing to pack as a snack on excursions. We had a little baggy we would put them in and eat it along the way.
I think the bran muffins were special to my sister and I because we grew up eating them.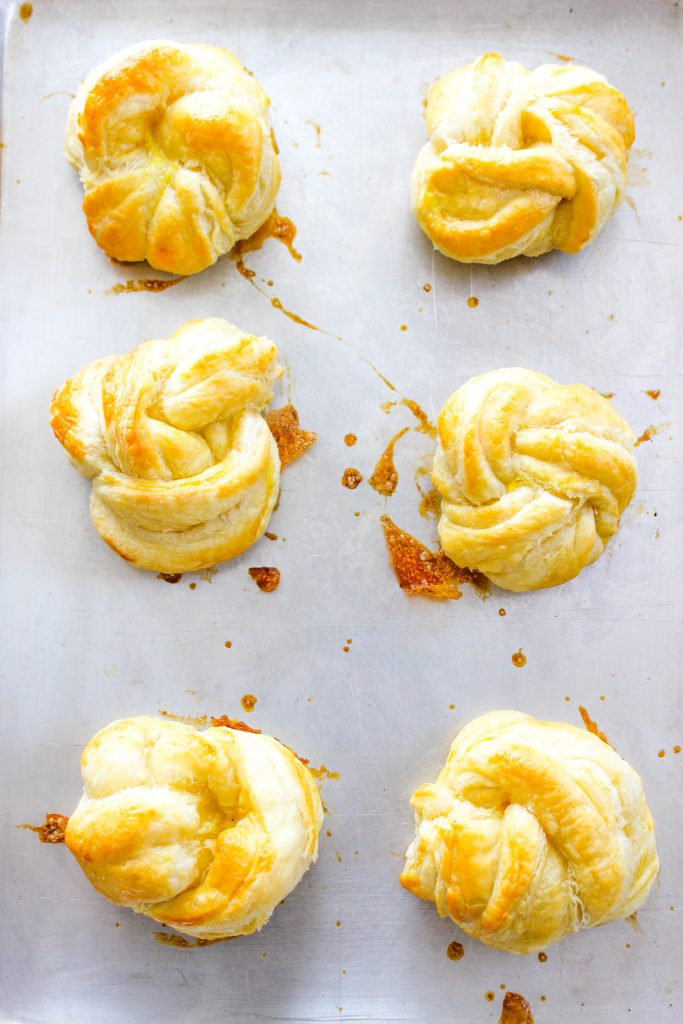 Aboard the Alaskan cruise, we ate like we were kings and queens. Wined & dined every night and loved every second of it. From eating in the main dining hall, the grill and the buffet line, we made sure to try it all.
I had three standout favorites including milkshakes, cheese sauce (always my favorite) and pastries.
That's why I am sharing this recipe for the Coconut Knots. While we could talk food all day – I mean I had the best fish tacos that I have ever had in my life and halibut cakes with tartar sauce. I want to talk about a few other things I completely loved in Alaska.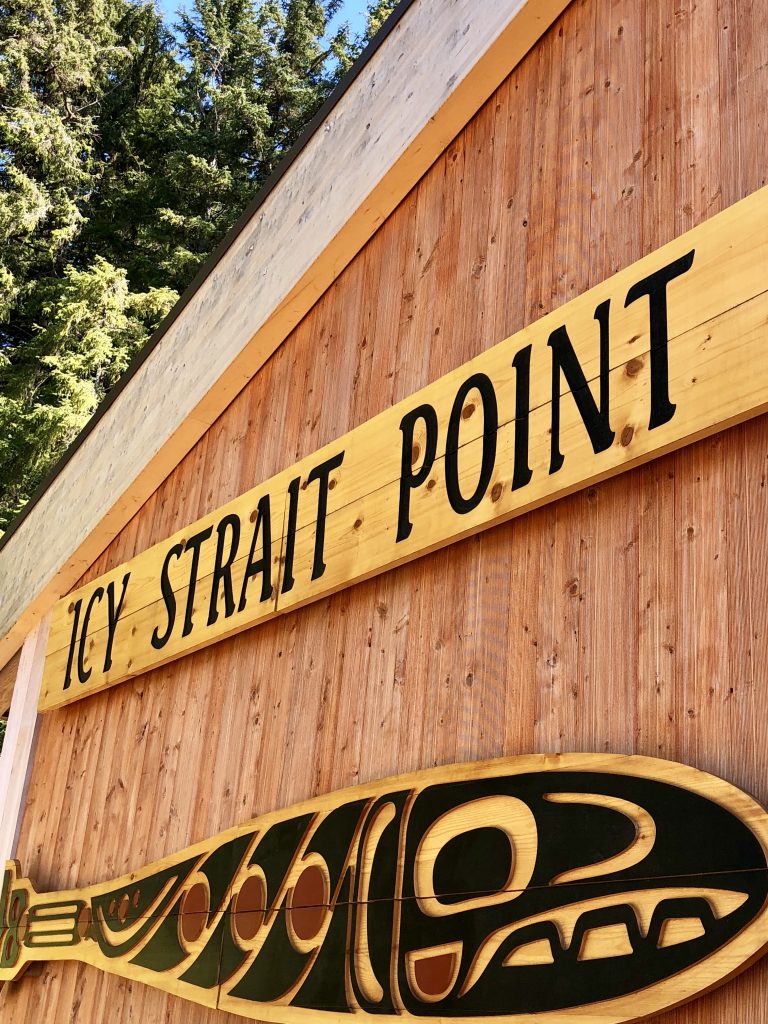 I've touched on my experience with bears and the views from the seaplane in my post of Mango Salsa, you need to check the videos out here. But I want to talk today about Icy Strait Point. The first stop along this beautiful Alaskan cruise.
Icy Strait Point is the one privately owned port along the way. Unique? Yes, and they are very proud of this. The one thing I will say is that this is a great time to schedule an excursion but if you don't you can enjoy a nature walk which to me resembled a fairy garden or thick forest in Avatar. You can walk the town and enjoy even a stroll along a paved path on the ocean.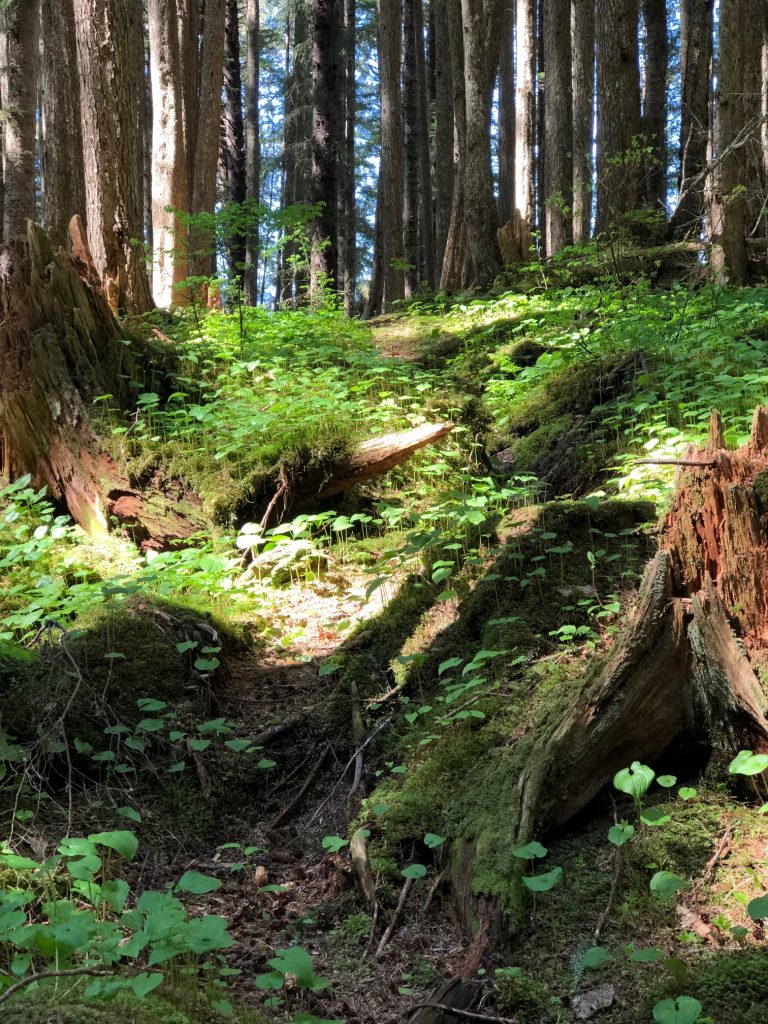 With all of the best thing to do is rent a bike to ride around this small port. The town they said is just a mile walk, while that may be the case we were there over a weekend and nothing is open but one or two places, literally this small town is closed on the weekends. So if you are looking to shop in town, you won't be able to and in fact, I don't even remember seeing a store, while I am sure they had one somewhere.
The best shopping you can do will be at the port.
But the bikes were the second biggest highlight for my sister and I on the cruise, you know from beside seeing the bears 30 feet away. It was fun to ride from the port to the town, ride to the harbor and bike along the ocean while watching whales. Yes, we saw our first whale walking off the boat to shore. We maybe screamed a bit.
Honestly, at this port, I would wait to buy souvenirs. Things to be seemed a bit pricey and the homemade donuts well, I would just eat the pasties on the ship they are so much better. While those are a few things you can skip on. Don't skip the Bear & Whale Watching Excursion.
This was fun, easy and relaxing. They mention that this hike maybe strenuous and to wear hiking boots, there is no need. You are on a path the entire time and this was an easy walk. All people of ages, shapes, and sizes did just fine and you will too!
We saw our first real bear on this adventure and loved it. While this bear was much farther away, it was our first one in the wilderness so we were excited. The whale watching was next and it was amazing. Chilly though, so make sure to bring along hats and gloves, while we had amazing weather the breeze from the ocean can be bone chilly.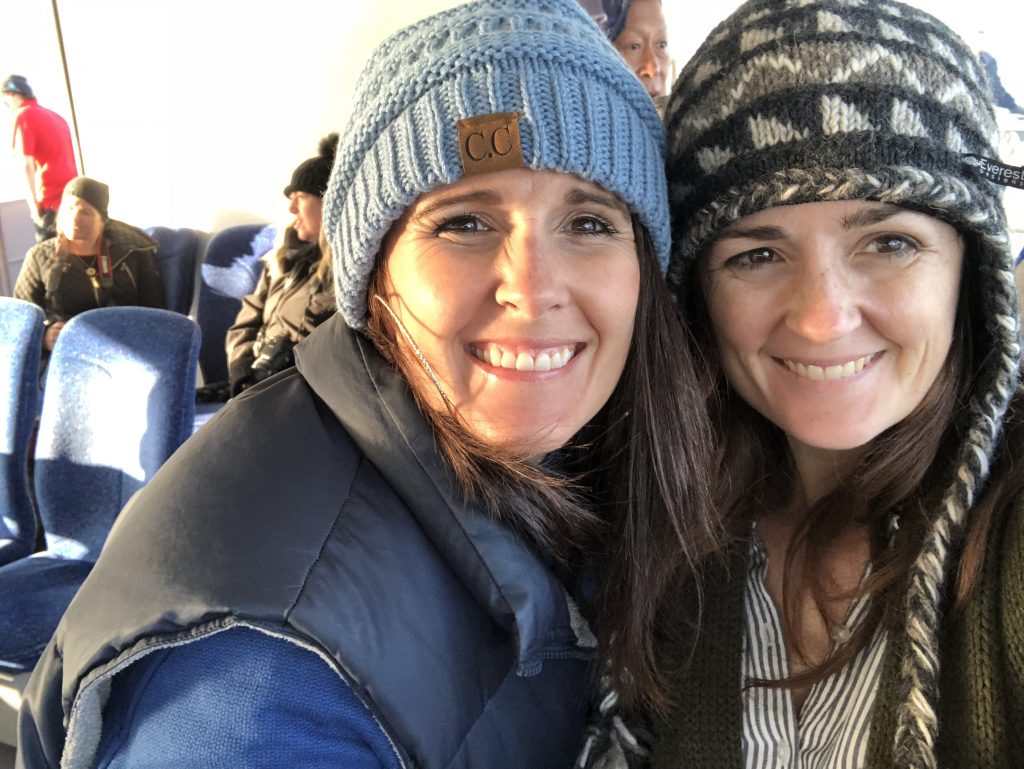 On the whale watching excursion if you want to see some sea otters just ask the captain. My sister asked and made it known how much she loved sea otters and well when he told that he would take her to see them, she freaked out and hugged him. He beamed and felt so appreciated. My sister nearly cried when we pulled up to them in the boat and there was a baby floating on the mama's stomach. Nicole's dreams became true.
Vacation and time away from the grind are exactly that the mind, body, and spirit need. I felt completely blessed to spend a week with my sister sailing the ocean and seeing one of the most captivating states. Alaska's beauty is majestic. The glaciers breathtaking and the people are down to earth and humble. The best thing we heard from a Jueno native who was working in Icy Strait Point for the summer was, "What do the Olive Garden breadstick taste like?". They only have McDonald's and he sees commercials on TV for the Olive Garden and that is the thing he wants to try most.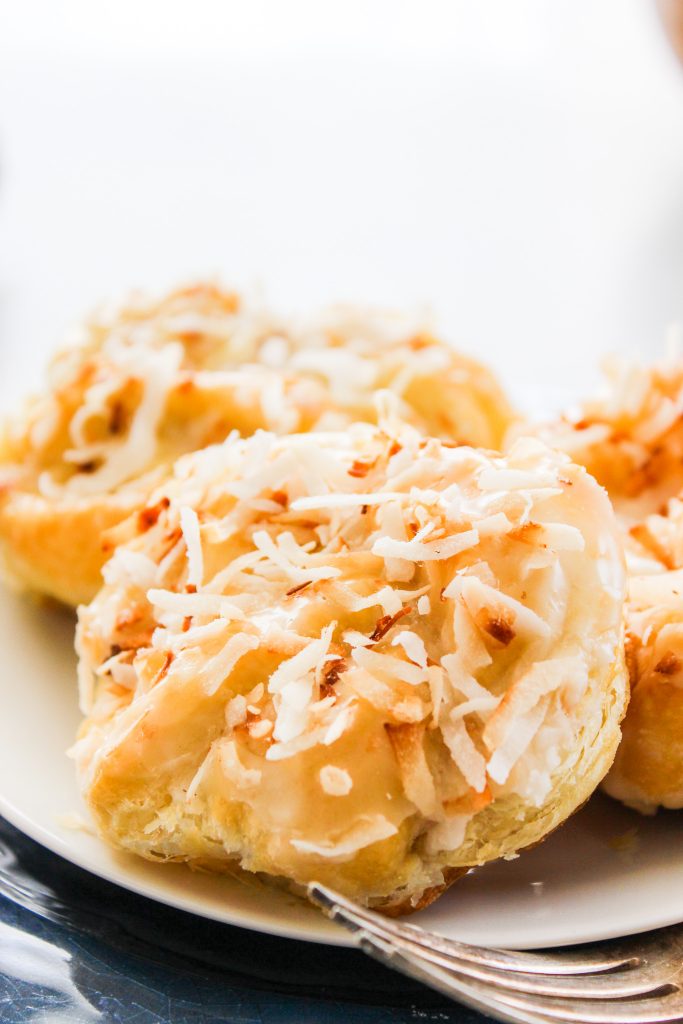 It all comes down to perspective and experiences to make you appreciate all that you have. I would take their halibut cakes over an Olive Garden breadstick anyway.
Enjoy these Coconut Knots friends! I know I sure will, while I sit here with my sister and remanence. XOXO San
My favorite kitchen items I used to make these Coconut Knots.
This post may contain affiliate links. See my Full Disclosure for further details.
MIXING BOWLS: I love having a variety of sizes of mixing bowls. From small to large, I find that having at least 3 bowls of different sizes have been essential in my kitchen. I prefer Pyrex because of the durability.
SHEET PAN: I love using a larger sheet pan while cooking because I am feeding my family of seven. I love aluminum for when I do sheet pan meals. I would start with this 13 by 18 half sheet pan. I love these pans so much that I have 9!
Don't forget to pin this to your favorite Pinterest board for later.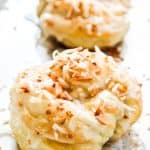 Coconut Knots
COCONUT KNOTS otherwise known as Coco Knots are deliciously sweet puff pastry that's ready in 30 minutes. You're just a few ingredients from eating the best pastry you've ever had.
Ingredients
2

Puff Pastry sheets

1

egg

1

teaspoon

water

2

teaspoon

coconut extract
Coconut Glaze
1 2/3

cup

powedered sugar

1 1/2

tablespoons

coconut extract

milk

as needed

1/3

cup

shredded sweetened coconut
Instructions
Preheat oven to 400°F. Mix together egg, water, and coconut extract, then set aside. Line baking sheet with parchment paper and set aside.

On floured surface unfold pastry and roll out into a rectangle. Cut each sheet into 3 strips.

Fold each strip in half from top to bottom. Then make a knot or roll - whichever works and looks best.

Place on baking sheet and brush with egg wash.

Bake for 20 minutes or until golden brown - not sure on exact time.

Whisk together powdered sugar and coconut extract, may need a little milk to get the right consistency but I want it thick so you can see the glaze, add more powder sugar if needed.

Dip the top of knots into glaze or brush on cooled knots. Top immediately with toasted coconut.
Nutrition Facts
Coconut Knots
Amount Per Serving
Calories 509
Calories from Fat 315
% Daily Value*
Total Fat 35g 54%
Cholesterol 27mg 9%
Sodium 216mg 9%
Potassium 87mg 2%
Total Carbohydrates 38g 13%
Protein 7g 14%
* Percent Daily Values are based on a 2000 calorie diet.
Save