It was a pleasure collaborating with General Mills on this post for Christmas Sugar Cookie Bars. All opinions expressed are my own.
Christmas Sugar Cookie Bars are simple, tasty & festive.
I love baking over the holidays. Who else is with me? My favorite baked goods to make are, of course, sweets. From cookies, cakes, candies and breads, I love baking throughout the entire month of December, primarily because of all the delicious sweets exiting my oven. Don't get me wrong, I love savory dishes as well, but it is my sweet tooth that takes control around Christmas.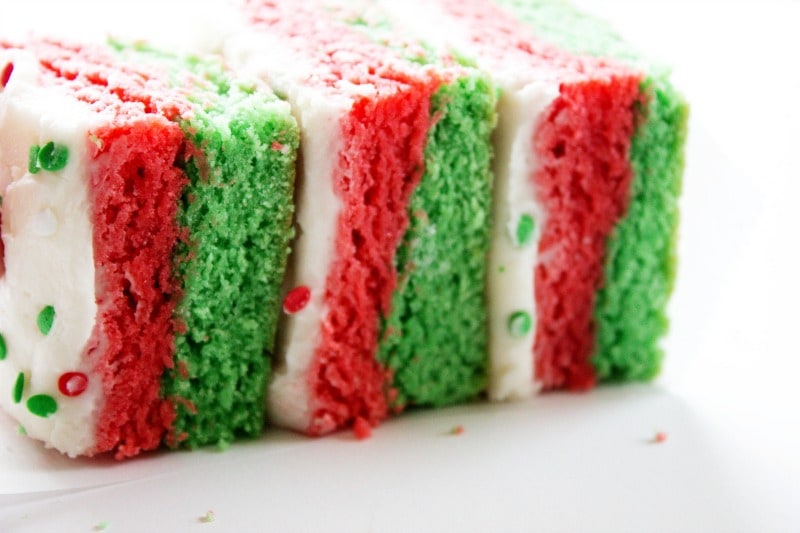 The only down fall of being a baker during the holiday season is… well… can you guess? Running to the store three times a day. I've sometimes made multiple trips to and from our local Walmart getting additional flour, eggs or milk. So I loved it when I found that this year, items I usually use more of all baking season are now in a larger size, like baking soda and flour.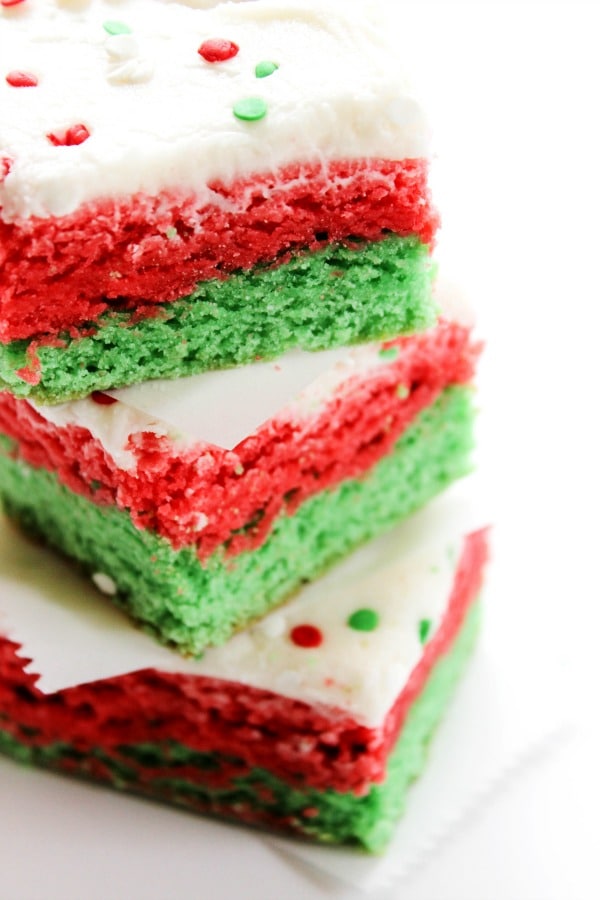 These Christmas Sugar Cookie Bars require both of those. While I only need 1/2 teaspoon of Arm &  Hammer Baking Soda, I use baking soda for more than just these cookies, so picking up a 2lb. box was perfect.
From cookies and cakes, to cleaning up spills or eliminating odors, I love having Arm & Hammer baking soda on hand.
This holiday season bake up a storm with these Christmas Sugar Cookie Bars. They are so easy yet taste delicious and add a festive touch to any kitchen. Bakers not these are thick sugar cookie bars, if you are looking for something thinner halve the recipe or bake in the larger pan, this will require you to adjust the baking time. Happy Holidays friends. XOXO San
Christmas Sugar Cookie Bars
Ingredients
1 cup butter, softened
2 cups sugar
4 eggs
2 tsp clear almond extract or clear vanilla extract
5 cups flour
1 tsp salt
1/2 tsp baking soda
Green food coloring
Red food coloring

Frosting

4 cups confectioners' sugar
1/2 cup butter, room temp
5 tablespoons milk
1 teaspoon almond extract or clear vanilla extract
Directions
Preheat oven to 375 degrees. Line a 13 x 9 in pan with parchment paper.
In a small mixing bowl combine flour, salt and baking soda, set aside.
Using an electric mixer cream butter and sugar until light and fluffy.
Beat in eggs one at a time. Stir in almond extract.
Then with the mixer on low, slowly add the flour mixture, mixing until just combined.
Evenly divide dough into two small mixing bowls.
In one bowl add 6 drop of green food coloring, stir to mix in the coloring. Continue to mix in more green food coloring until you get the color you desire.
In the other bowl add 6 drop of red food coloring, stir to mix in the coloring. Continue to mix in more red food coloring until you get the color you desire.
Spread the dough to the prepared pan, I added the green first but you could do either one. Then add the remaing dough on top and spread, this was red for me.
Bake for 25-30 minutes. Test at 20 minutes with a toothpick to check the baking process, then recheck at 25 minutes. Tester should come out clean when bars are done baking. Allow to cool completely before frosting.
Frosting
In a large bowl, cream together the confectioners' sugar and butter until smooth. Gradually mix in the milk and almond or vanilla with an electric mixer until smooth and stiff, about 5 minutes. Spread over cookie bars. Top with sprinkles. Cut, serve and devour. Happy Holidays!
Notes
https://www.dashofsanity.com/christmas-sugar-cookie-bars/
Don't forget to pin this to your favorite Pinterest board for later.
Save