CHICKEN POT PIE SOUP – a deliciously simple soup recipe made from scratch. A fantastic classic comfort food brought to you in bowl.
I am a huge fan of soup in the fall and winter months, wait actually all year long. And typically I have a soup I stick to for the season, like summer we do a lot of my Authentic Chicken Tortilla Soup and for fall and winter I stick to this CHICKEN POT PIE SOUP. I can't even really begin to describe how amazing this soup is; creamy, warm and just full of comfort. And guess what you really don't even miss the crust from the chicken pot pie, seriously.
Last week, I went over my friend Zora's house and as I walked in I could smell dinner. I thought something along the line of a pot pie. When I asked what it was she said it was a chicken Pot Pie Soup and I just had to try it. Because Zora is one of the nicest ladies I have had the pleasure of calling my friend, she got me a spoon.
Oh, it was amazing! I loved it and immediately asked for the recipe. She said, "I just threw it together." But she gave me the list of ingredients and a few days later, my family and I enjoyed the same soup!
Now, I know many people have a pot pie soup they love, but there is a secret ingredient that elevates this soup to a whole new level of soup awesomeness.
So here it is, the secret shared from my friend Zora to you….Montreal Steak seasoning!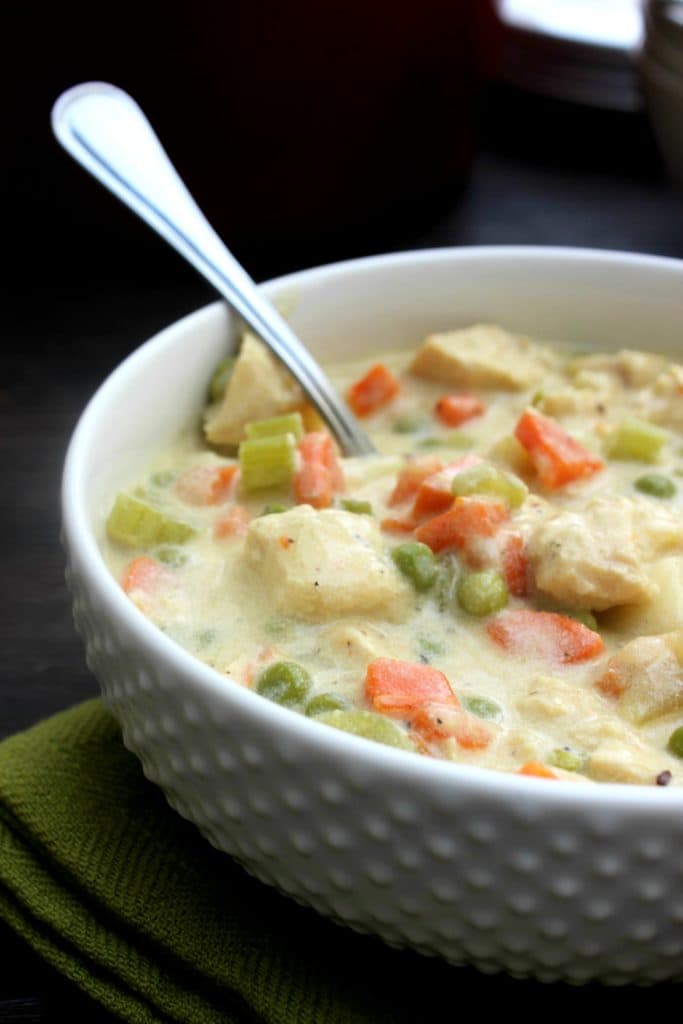 Seriously people, you have got to try this. It is oh, so good and will not disappoint.
Enjoy this fall and winter season with a classic comfort food. If you are a pot pie fan, but not looking for a soup tonight, be sure to check out these other pot pie inspired recipes: Chicken Pot Pie (more traditional and a classic), Double Crust Chicken Pot Pie (who doesn't love more crust?) and these Mini Chicken Pot Pies Recipe (great for kids). XOXO San
My favorite kitchen items to make this CHICKEN POT PIE SOUP are below, you will want of few of these just for your everyday cooking.
Pots: So I am a total pan snob after having an assortment of brands in our cupboard over the years. After getting some Calpho pans on sale at my local grocer, I won't try anything more. They are affordable and durable – a win, win in our home.
Measuring Cups: Nothing beats a good set of measuring cups that last a long time. I love metal measuring cups because of their durability.
Measuring Spoons: I have to have a metal set of measuring spoons on hand. The plastic ones just don't last long in our house partly due to the garbage disposal.
 
Don't forget to pin these CHICKEN POT PIE SOUP to your favorite Pinterest board for later.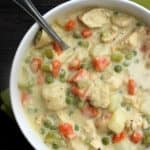 CHICKEN POT PIE SOUP
CHICKEN POT PIE SOUP - a deliciously simple soup recipe made from scratch. A fantastic classic comfort food brought to you in bowl.
Ingredients
2

cups

cooked chicken

cubed

2

medium potatoes

peeled and cubed

3

tablespoons

butter

2-3

tablespoons

flour

1

small yellow onion

finely chopped

4

celery ribs

chopped

10

ounces

frozen peas

3

carrots

chopped

1 1/2

cups

heavy cream or half-an-half

whole milk would work too

4

cups

water

2 1/2

tablespoons

chicken base

4

teaspoons

Montreal Steak seasoning
Instructions
Bring a large pot of water to a boil, once water is boiling add in potatoes and cook until tender. Strain potatoes from pot and set them aside in a bowl.

In a large pot, over medium to high heat add butter, once butter has started to melt add in carrots, cook for 1-2 minutes, then add in onion and celery, season vegetables with 2 teaspoons of Montreal Steak seasoning. Cook until onions are translucent. Add in water and chicken base, bring is a boil. Let it cook over medium heat for 10-15 minutes. In a water bottle or cup with lid add ½ cup of ½ & ½ with the flour, shake vigorously. Add in the remainder of the milk to the pot and then add in flour mixture. Add in frozen peas, potatoes and cubed chicken, season with salt and pepper and add an additional 1-2 teaspoons of Montreal Steak seasoning. Let it simmer 30 minutes, until the soup starts to thicken.

Remove from heat and let it sit for 5-10 minutes to cool, then serve.
Nutrition Facts
CHICKEN POT PIE SOUP
Amount Per Serving
Calories 262
Calories from Fat 126
% Daily Value*
Total Fat 14g 22%
Cholesterol 54mg 18%
Sodium 531mg 22%
Potassium 600mg 17%
Total Carbohydrates 20g 7%
Protein 13g 26%
* Percent Daily Values are based on a 2000 calorie diet.
This recipe was first post in October 2014.
This post may contain affiliate links. See my Full Disclosure for further details.
Save