Thank you to Albertsons for inspiring this post and #MySignatureExperiece. Recipe and all opinions expressed are my own.
Two of my favorite comfort foods collide into one with this Chicken Parmesan Meatloaf. It's an easy meal with a twist on an American classic.  Friends, this isn't your grandma's meatloaf.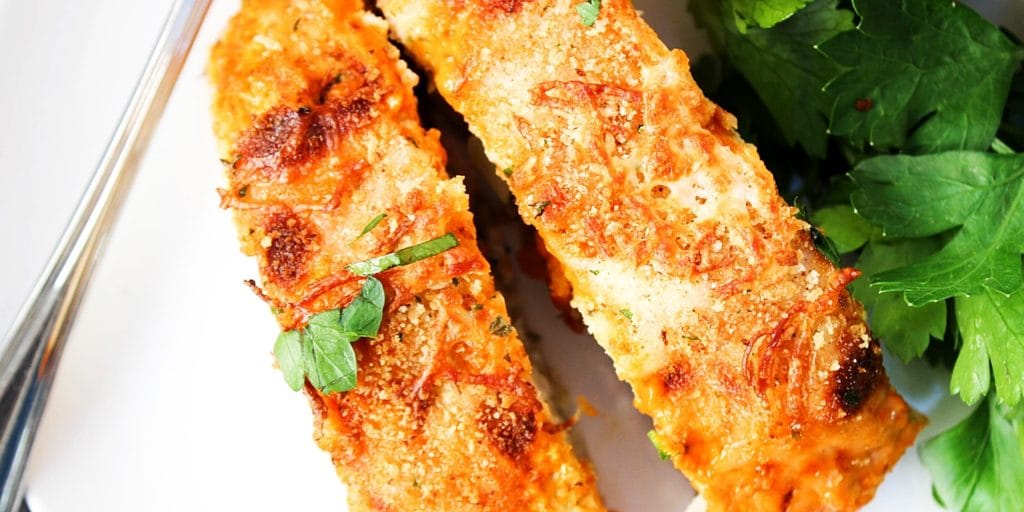 Today, I will not be sharing a traditional post. While I am still sharing a delicious recipe that your family will love, I want to share an experience that really got me thinking.
It is not very often when I work with a brand that their message hits me at my core. I love all companies I work with, and that's why I work with them. But, this experience was a little different. I recently was asked by Albertsons and Safeway to attend a launch of their new Signature product line in L.A. This included making dessert and chatting with Tiffani Thiessen (my childhood idol). Of course when they asked me, I was uber excited about meeting Tiffani, and she really is just a gem. But when they said "Let us create a Signature moment with you" (#MySignatureMoments), I was intrigued and excited. I loved the fact they wanted to create something special just for me.
Albertsons and Safeway's new product Signature line was echoed by their hashtag #MySignatureMoments. Throughout the two days, I got to hear their message. What I saw was them really knowing their customers' wants and needs, then honing in on products that make their shoppers' lives better in addition to helping them create Signature moment for them and their families. So whether it is creating and making dinner together, sitting around the table chatting, or settling down from the day, they have something for all of those times. With over 4,000 products under their new Signature line, they have you covered. What spoke to me was when Chef Jeff Anderson said something to the effect of "We want to offer our customers products that help them create Signature moments in their lives." That hit me. It is exactly what I want for my family and in my life. They were speaking to what A Dash of Sanity is all about – creating moments that resonate with you throughout your life – the moments that matter most.
Besides whipping up some easy, fun and delicious desserts with Tiffani, including Signature ice-cream cookie sandwiches, the highlight for me was tasting their soup collection and having Chef Anderson ask us what we would make with it. When I tried my favorite soup from their collection, Signature Café Tuscan Tomato & Basil Bisque, I knew instantly I would try it with a meatloaf twist. I love meatloaf, and it is a childhood favorite and personal signature moment. My mom always used ketchup, and I thought I would just substitute it with this soup. But when I got home, I thought, "Oh man, this would be great with chicken," so I made this recipe of Chicken Parmesan Meatloaf, and the flavor was spot on.
Another highlight was making our own flat breads; we got to roll out the dough – which was the best dough ever – and then top them off using all Signature brand products. Cooked on the grill and devoured by us all, it was a fun to see everyone's twist on their flatbread. But I'd have to say mine was the best.
Not only did we get to try the soup, we also got to try and sample several products from the six Signature sectors. The product that surprised me the most was in my welcome bag; it was their Signature Care Makeup Remover Wipes. I have sensitive skin and the make-up removers I have used in the past always make my skin really oily. As soon as I tried one of these out, I was shocked and woke up in the morning with normal skin – not shiny, oily, or spotty skin. I was shocked, and after a week, I still love these towelettes. I will be using them from now on. And this week we grabbed Signature Farms salads and Signature Café soups for lunch at my son's school. We'll definitely go back for more. Reasonably priced and filled to the brim, these soups and salads don't lack in flavor.
I started A Dash of Sanity because I wanted to share the things that brought sanity into my life, recipes, moments and ideas that made my life easier and in return happier. And #MySignatureMoments spoke to that directly. By the end, I knew that Albertsons and Safeway are working hard to help their company and shoppers, basically their brand "family", come together and create moments that matter most. They offer a wide range of products to simplify your life, making it easier for you and I to create our signature moments.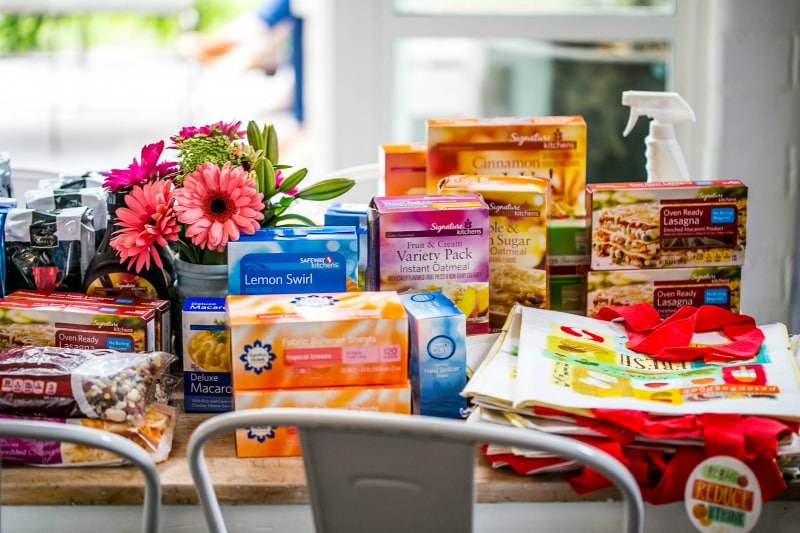 Cheers to fantastic food, recipes with a twist, and moments that stick with us and make us who we are. Thank you to Albertsons and Safeway for helping me exactly understand and convey the message of creating #MySignatureMoments. XOXO San
Just a note friends: While I buy my Signature products here in Colorado at my local Albertsons and Safeway stores, you can also find them at all exclusively Albertsons Companies grocery stores, including Jewel-Osco, ACME, Vons, Pavilions, Randalls, Tom Thumb, Shaws, Star Market, United Express, United and Carrs/Safeway."
And thanks to my friend Courtney at Sweet C's Designs for the beautiful photos she took of the event and of me! Love you girl.
Chicken Parmesan Meatloaf & Creating Signature Experiences
Ingredients
1 lb. Signature ground chicken
½ yellow onion, diced
2-3 cloves garlic, minded
¼ fennel
1 teaspoon Signature Kitchens Italian seasoning
½ teaspoon Signature Kitchens dried thyme
½ teaspoon Signature Kitchens dried oregano
¼ teaspoon Signature Kitchens dried basil
¼ teaspoons Signature Kitchens dried parsley
½ teaspoon salt
1 egg
¼ cup Signature Italian breadcrumbs

SEE NOTE BELOW

½ cup Signature Kitchens grated parmesan cheese

Topping

6-8 ounces Signature Cafe Tuscan Tomato & Basil Bisque
6 slices provolone cheese
1 tablespoon fresh parsley, chopped
1 teaspoon Signature Kitchens bread crumbs
1 teaspoon Signature Kitchens parmesan cheese
Directions
Preheat oven to 350 degrees. Lightly grease a baking sheet with cooking spray and set aside.
In a large mixing bowl, combine the ground chicken, egg, breadcrumbs, Italian seasoning, thyme, oregano, basil, garlic, onion, salt, pepper and parmesan cheese. Gently fold together until combined, be sure to not over mix because the meat will become tough.
Form into a loaf, liked pictured and place on prepared baking sheet. Top the meatloaf with soup making sure it is completely covered about 6-8 ounces.
Place meatloaf in the preheated oven and bake for 30 minutes, remove from oven and add provolone cheese, place back in the oven and bake 10 minutes. Remove from oven and top with additional bread crumbs and parmesan cheese. Adjust oven temperature to high broil and place meatloaf back int he oven, watching carefully not to burn. Broil for 3-5 minutes until cheese is a light golden brown and bread crumbs are toasted. Remove the meatloaf from the oven and sprinkle fresh parsley.
Rest meatloaf for 5 minutes. While meatloaf is resting heat remaining soup following directions on the container. Slice meatloaf and top with remaining soup, if so desired. Serve immediately.
NOTE: Chicken is not like beef in a meatloaf, if you would like the more traditional texture of meatloaf omit the breadcrumbs and add 3-4 slices of French bread cut into 1-inch cubes. Add the bread cubes in the directions where you would add the breadcrumbs.
https://www.dashofsanity.com/chicken-parmesan-meatloaf-creating-signature-experiences/
Don't forget to pin this to your favorite Pinterest board.
Save