This post may contain affiliate links. See my Full Disclosure for further details.
THESE CHEWY OATMEAL PEANUT BUTTER BUTTERSCOTCH COOKIES WILL QUICKLY BECOME A COOKIE JAR FAVORITE.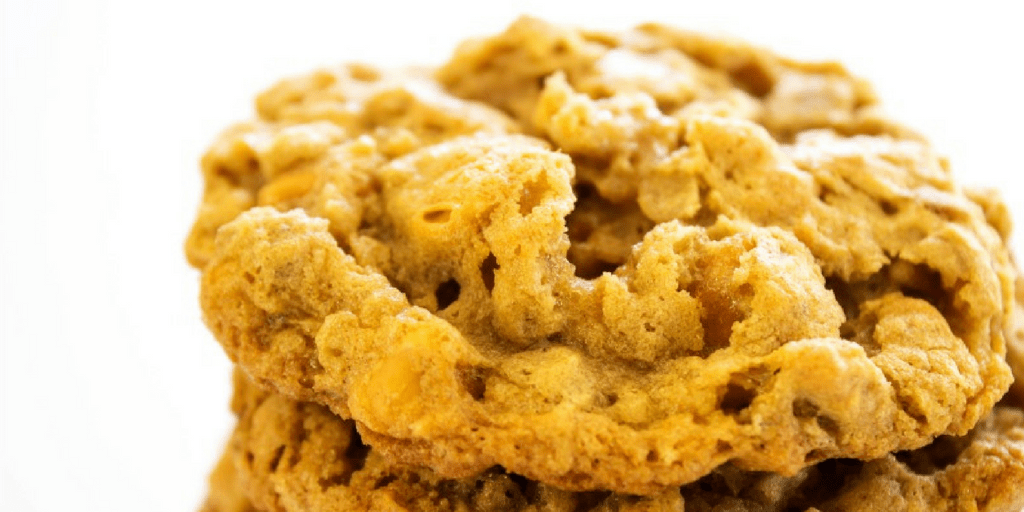 So this past week I was laid up really sick. So my hubby was in charge of most of our meals and snacks. Of course that meant we went out to eat more than normal, making an appearance at our family favorite restaurant Carrabba's. Sunday evenings we always have dessert after dinner, so the past two weeks my husband had that duty. The first week he made cookies. He loves butterscotch chips, like obsessed. He is always telling me that I need make butterscotch cookies but I haven't yet because the rest of us love chocolate chips so much.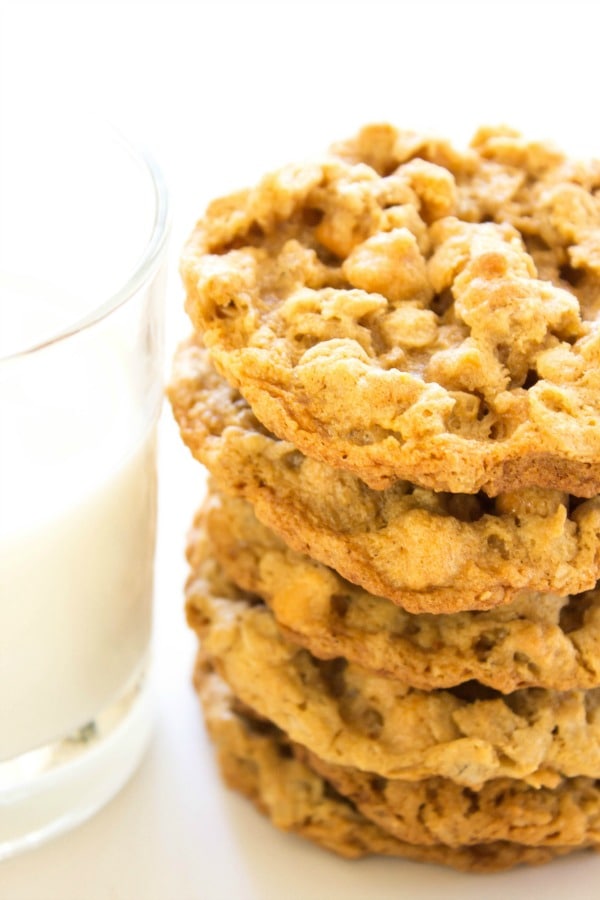 He pulled up my Best Ever Chewy Chocolate Chip Cookies and revised the recipe to make Butterscotch Chip Cookies. OH. MY. GOODNESS. These cookies did not turn out at all. He not only substituted the chocolate chips for butterscotch chips but margarine for butter….that is where he went all wrong. These cookies….well here is a picture to let you know how they turned out.
It's funny how many comments bloggers get from readers who say "I made this recipe and changed this and that and it didn't turn out – can you tell me why?" – well because you changed it. Luckily my husband realized his mistake when they took the cookies out of the oven. LOL. And he realized that butterscotch chips are uber sweet and powerful and need a balance. I told him once I was better I would show him how to make a delicious butterscotch cookie.
I used my Best Ever Monster Cookies recipe – and just changed out the M&M's for butterscotch chips and they turned out to be cookie perfection. Now that we have made these, my kids are loving butterscotch chips too – my hubby has started something. They are excited to try butterscotch chips in other things as well now too. I can't wait to whip up a batch of Butterscotch Banana Muffins – I love the combination of banana and butterscotch. And with teacher appreciation week coming up – I plan on making these cute little jars with Oatmeal Butterscotch Cookie Mix in them, making a perfect gift for all those hard working teachers. And while I love like butterscotch, I love oatmeal more. So while we will still make these, I think I will be alternating them with Old Fashioned Iced Oatmeal Cookies and The Best Gluten-Free Oatmeal Cookies (as we think Jersey our daughter might have a sensitivity to gluten).
Grab a glass of milk and get ready to devour 1, 2 or 5 of these Chewy Oatmeal Peanut Butter Butterscotch Cookies. Enjoy! XOXO San
Don't forget to pin this to your favorite Pinterest board for later.
CHEWY OATMEAL PEANUT BUTTER BUTTERSCOTCH COOKIES
Ingredients
3 eggs
1 1/2 cups packed brown sugar
1 cup white sugar
1 teaspoon vanilla extract
1 tablespoon honey
2 teaspoons baking soda
1/2 cup butter
1 1/2 cups peanut butter
4 1/2 cups rolled oats
11.4 ounce bag butterscotch chips
Directions
Preheat oven to 350 degrees F (175 degrees C).
In a large mixing bowl bowl beat together butter and peanut butter until well combined. Add brown sugar and sugar and beat until smooth.
Beat in eggs.
Add honey and baking soda and mix in. Stir in oats and butterscotch chips.
Use a cookie dough scooper to put on un-greased cookie sheet. Bake for 12 minutes.
Do not over bake.
These cookies are flat and chewy - take them out at 12 minutes, cool on the pan for a few minutes then remove from pan and enjoy!
https://www.dashofsanity.com/chewy-oatmeal-peanut-butter-butterscotch-cookies/
Save