Insanely delicious, this CARROT CAKE MONKEY BREAD is so easy and loaded with shredded carrots, coconut, pecans and drizzled with cream cheese frosting.
This post is sponsored by Pillsbury™, but all opinions are my own.
I am completely in love with this spring twist on monkey bread. This recipe for CARROT CAKE MONKEY BREAD is a collision of two of my favorite sweet treats. Made with a gooey honey caramel sauce, it elevates this pull apart bread to a whole new level of awesomeness.
Having monkey bread was an Easter morning tradition in my house growing up. We would always eat it before we heading off to church and an Easter egg hunt. Then we would come home to  a big brunch. Later in the day, after we calmed down from the sugar high from the candy filled Easter baskets, we would have a traditional Easter dinner.
While most kids looked forward to the sweet treats and gum in their baskets, I preferred monkey bread.
Literally, if I make monkey bread and no one is around, I may just have to make another because it's possible that I will devour it.
This Easter I wanted to try something new and give our traditional monkey bread a twist and combine it with my favorite spring cake. I love, love, love carrot cake with a cream cheese icing and pecans. When coming up with the perfect recipe I was struggling. I didn't want to make the dough from scratch because I don't have the time on Easter morning, and I wanted to make it as simple as possible.
I decided to go with refrigerated biscuits, but when I went to pick them up on my weekly trip to the grocer, I noticed the Pillsbury Grands!™ Refrigerated Cinnamon Rolls with Cream Cheese Icing sitting right next to them at Walmart.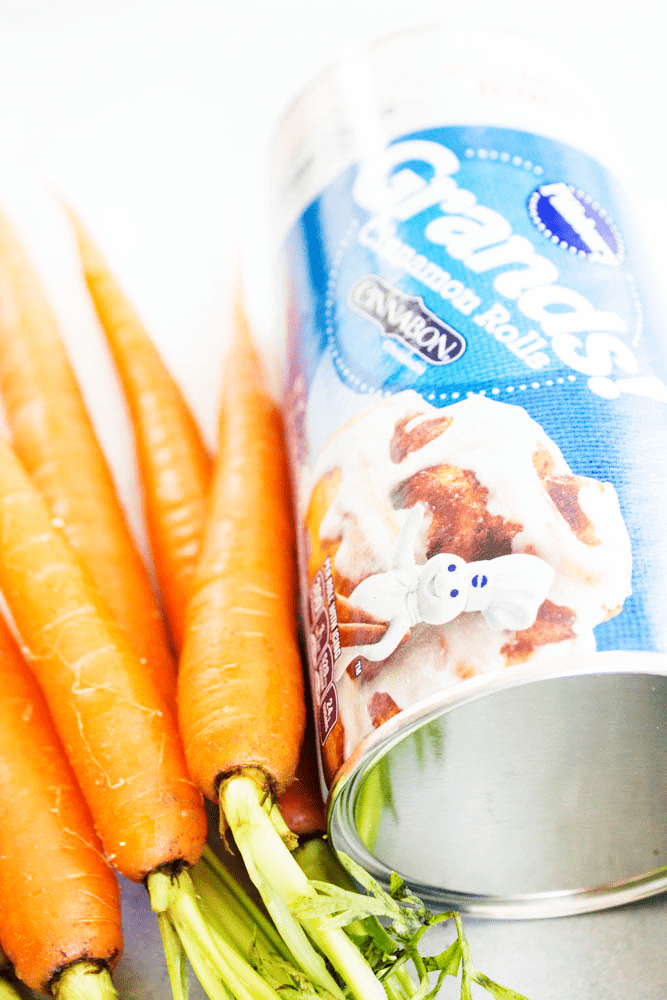 I had an ah-ha moment. Using the Pillsbury Grands!™ Cinnamon Rolls with the icing would save me from making the icing and the cinnamon rolls are already loaded with cinnamon, eliminating another ingredient and step.
I couldn't wait to get home and see if this CARROT CAKE MONKEY BREAD would be a success.
It was when I got home and start the process that I realized I would need to change two things. One, the gooey caramel glaze that holds the monkey bread together. I couldn't go with the traditional brown sugar, cinnamon and butter glaze because it would overpower the carrots and coconut in the rolls – you wouldn't be able to get much flavor from them.
That is when I went with a honey, brown sugar and butter glaze. Oh man friends, this is absolutely delicious. Honey adds the perfect amount of sweetness without overpowering the cinnamon rolls, carrots and coconut.
The second things I changed was I decided not to cut up the Pillsbury Grands!™ Cinnamon Rolls and left them whole. This would allow the carrot cake filling to stay intact and make it easier while less messy when pulling it apart.
Not only did this CARROT CAKE MONKEY BREAD just turn out completely stunning, it makes a great table centerpiece too. It was a real crowd pleaser.
It passed the monkey bread test when my son, Madden, the pickiest eater in our family, asked for a second piece.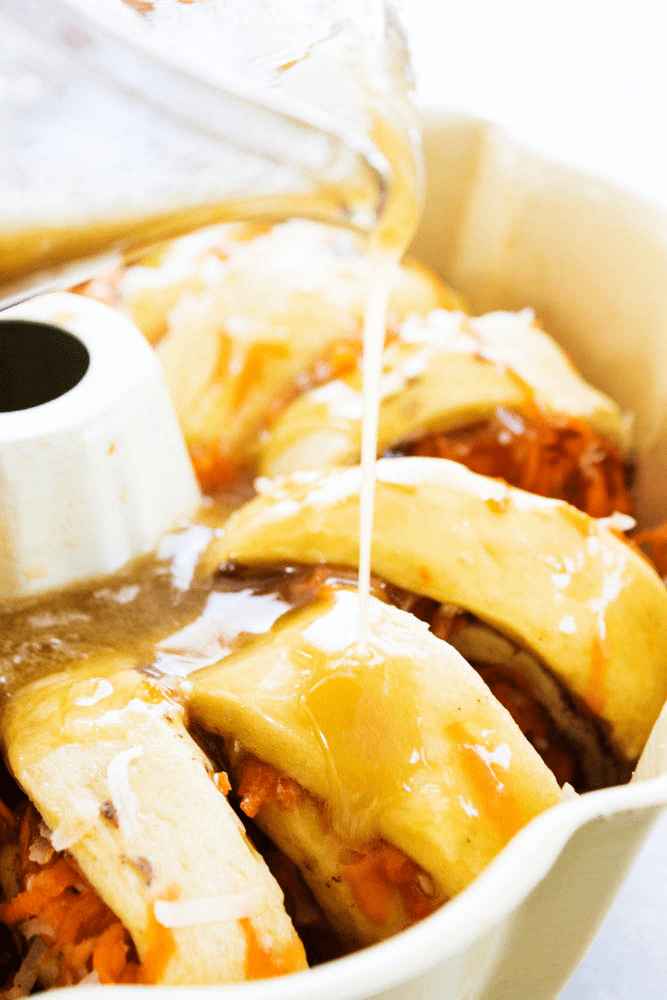 I was a little worried that the kids wouldn't like the carrot filling, but they loved it. Jersey, my 9-year old daughter, wants to make this for her teachers because it is the most beautiful monkey bread that I have ever made. In her eyes, I became a baking all-star.
I have to admit, I thought this monkey bread would be a recipe I might only serve for Easter. I was wrong. This will be one of those dishes I'll take to brunches, family get-togethers and of course, Easter at my mom's house.
A real crowd pleaser, incredibly easy to make and mouthwatering delicious, this CARROT CAKE MONKEY BREAD recipe is one you need to make real soon. Everyone will love it, including the picky eater.
I'm looking forward to the beautiful spring weather this CARROT CAKE MONKEY BREAD gracing our table. XOXO San
Don't forget to pin this recipe for CARROT CAKE MONKEY BREAD to your favorite Pinterest board for later.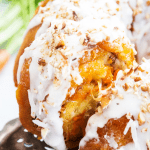 CARROT CAKE MONKEY BREAD
Insanely delicious this CARROT CAKE MONKEY BREAD is so easy and loaded with shredded carrots, coconut, pecans and drizzled with cream cheese frosting.

Course:
Breakfast, Dessert, Side Dish
Ingredients
3

cans

Pillsbury Grands!™ Refrigerated Cinnamon Rolls with Cream Cheese Icing

1 1/4

cup

unsweetened coocnut

4

cups

shredded carrots

3/4

cup

sugar
STICKY SAUCE
1/2

cup

butter

1/2

cup

honey

1/2

cup

brown sugar
TOPPING
1/4

cup

toasted coconut

1/4

cup

finely chopped pecans

cream cheese frosting

that came with the Pillsbury Cinnamon Rolls
Instructions
Preheat oven to 350 degrees. Spray a bundt pan with cooking spray, set aside.

In a medium mixing bowl combine shredded carrots, coconut and sugar, toss to combine.

Remove the cinnamon rolls from their packing. Completely unroll the cinnamon rolls with the cinnamon side facing up.

Evenly spread the shredded carrot and coconut mixture on top of the cinnamon rolls. Roll the cinnamon rolls back up, like pictured above.

Place the cinnamon rolls in the bundt pan, laying on their side and placing side by side, see image above if you have any questions on this.

In a small microwavable mixing bowl combine butter, brown sugar and honey. Heat for 1 minute, remove and stir to combine. Place back in the microwave and heat another minute, stir to combine.

Pour honey and butter mixture evenly over the rolls.

Place in the oven and bake for 40-45 minutes.

If the top of the monkey bread starts to brown just place a piece of foil over the top to prevent any burning.

Remove from oven and allow to cool for 10 minutes.

Toast coconut by placing on a baking sheet lined with parchment paper. Spread evenly on pan and place in oven on a low broil. Broil until it starts to become a light golden brown. Watch closely so that you don't burn it.

Take all 3 of the cream cheese icings that came with the Pillsbury Cinnamon Rolls and combine this in a small bowl. I like to add 1 teaspoon of almond extract to the icing and stir to combine.

Gently push a rubber spatula or butter knife down the sides and the center of the bundt pan to loosen the monkey bread from the sides of the pan.

Invert the bread onto a plate.

Heat cream cheese icing for 30-45 seconds to make it a little runny, pour over monkey bread and sprinkle with toasted coconut and pecans. Serve immediately or save for later.
Nutrition Facts
CARROT CAKE MONKEY BREAD
Amount Per Serving
Calories 240
Calories from Fat 117
% Daily Value*
Total Fat 13g 20%
Cholesterol 16mg 5%
Sodium 90mg 4%
Potassium 177mg 5%
Total Carbohydrates 32g 11%
Protein 1g 2%
* Percent Daily Values are based on a 2000 calorie diet.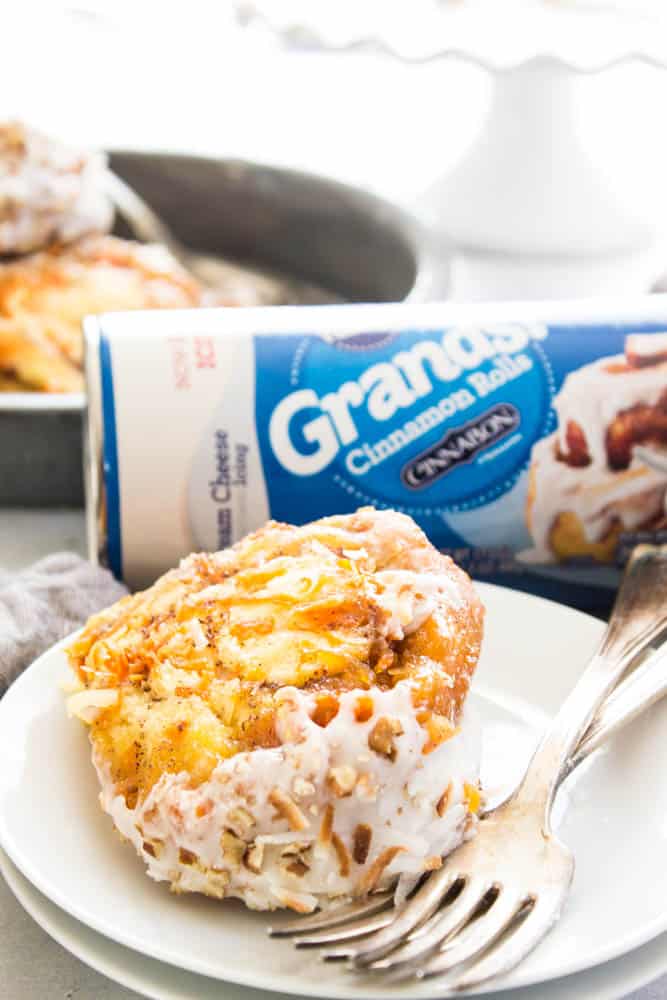 Save